Found May 30, 2012 on Fox Sports Florida:
PLAYERS:
Nick Markakis
,
Jose Lobaton
,
Ben Zobrist
,
David Price
,
Wei-Yin Chen
,
Jeremy Hellickson
,
Matt Moore
,
Jake Arrieta
,
Miguel Gonzalez
,
Tommy Hunter
,
Adam Jones
,
Chris Davis
,
JJ Hardy
,
Jason Hammel
,
Brian Matusz
,
Evan Longoria
,
Hideki Matsui
,
Drew Sutton
,
Luke Scott
,
Alex Cobb
,
Carlos Pena
,
BJ Upton
,
Joe Maddon
TEAMS:
Baltimore Orioles
,
Tampa Bay Rays
,
Chicago White Sox
,
Boston Red Sox
ST. PETERSBURG -- The battle for bragging rights in the AL East suddenly doesn't look like all that much to brag about. It was only a week ago that the Baltimore Orioles and Tampa Bay Rays were setting the pace atop the division, picking up steam heading toward their three-game series starting Friday night at Tropicana Field. But right now, the impending showdown for supremacy hardly resembles the Clash of the Titans. Both the Rays and the O's find themselves stumbling into the weekend set, while somehow still managing to hang on at the top of the division. Clinging to a ledge is more like it, considering how things have gone for each team lately. The Rays come into the series fresh off of suffering their first sweep of the season, courtesy of the sizzling Chicago White Sox, who extended their winning streak to eight games with a 4-3 win Wednesday afternoon at the Trop. Tampa Bay, on the other hand, scratched out only six runs on 14 hits in their three losses to the Chisox, going 1-for-12 with runners in scoring position. The Rays have now suffered four losses in five games and totaled less than five hits three times in the last five games. That's hardly the momentum they hoped to have heading to the series with the Orioles, especially after taking two of three last weekend from the Red Sox at Fenway Park. The good news for the Rays is that Baltimore has been even less effective lately. The Orioles have dropped three consecutive series, lost seven of their last nine games and four in a row -- including the first two on the road this week in Toronto. That leaves with in danger of getting swept as well on their way to the Trop, though they currently lead the Rays by a half game (29-21 to 29-22) pending the outcome of their contest with the Jays Wednesday night. Making matters worse is that fact that the Orioles could be without Gold Glove rightfielder and offensive catalyst Nick Markakis, who injured his wrist taking a swing in his final at-bat during Tuesday night's 8-6 loss to Toronto. X-Rays taken Wednesday were negative, but Markakis -- batting .256 with eight homers, 13 doubles and 26 RBI -- could be sidelined for some or all of the Tampa Bay series. Baltimore already has eight players on the disabled list so losing Markakis for any amount of time would be a blow. But that's something the Rays can relate to quite well, with nine players on the DL (down from 10 after Jose Lobaton's return) and no plans to get leftfielder and sparkplug leadoff man Desmond Jennings back until after the O's series ends. Of course, the fact that both teams have been struggling doesn't diminish the importance of the series. "For us, they're at the top of the standings right there with us and it would be good for us to get a couple of wins in that series at least," said Ben Zobrist. "If we can do that, then we'll forget about these three games against the Sox I think." Lefthander David Price (6-3, 2.71) gets the start Friday night at 7:10 p.m. against Baltimore lefty Wei-Yin Chen (4-1, 3.31), with Jeremy Hellickson (4-1, 2.83) going for the Rays Saturday at 4 p.m. against a still-to-be-named starter for Baltimore. Rookie southpaw Matt Moore (1-5, 4.76) will take the mound Sunday at 1:40, once again against a yet-determined O's hurler. That begs the question: Where has Baltimore's pitching gone lately? During the team's hot start this season, strong pitching was part of the winning formula, but O's arms have noticeable cooled during the recent downturn. Their Opening Day starter Jake Arrieta got shelled Tuesday night in Toronto, knocked out in the fifth, allowing seven runs (six earned) on six hits and three walks as the Blue Jays eventually built a 8-1 lead. Arrieta, who is 0-4 with an 8.00 ERA since his last win May 2, was relieved by rookie call-up Miguel Gonzalez. But Gonzalez was promptly was burned by three consecutive run-producing singles. Welcome to the big leagues. Righthander Tommy Hunter, an early candidate for the Opening Day starter, has had his own share of troubles. His lack of success led Tuesday to his demotion to Triple-A Norfolk -- the second time this month he's been sent down. After being recalled after the first time around, Hunter proceeded to go 0-4 with a 6.55 ERA. The last straw came Monday when Hunter got bounced by the Jays after just three innings, giving up eight hits and six runs to fall to 2-3 with a 5.59 ERA. The Orioles also committed three errors in the game -- a malady that has also undermined the Rays uncharacteristically throughout the season. In fact, Baltimore and Tampa Bay lead the American League in errors so far with 47 and 43 respectively. That's not to say everything has turned south for the Orioles lately. Centerfielder Adam Jones remains a driving force, batting .317 with 17 homers and 34 RBI, with first baseman Chris Davis hitting .315 with nine homers and shortstop J.J. Hardy at .260 with 10 homers and 24 RBI. Chen and Jason Hammel (6-1, 2.78) have been the two bright spots in the starting rotation, while Brian Matusz has struggled (4-5, 4.82) along with Arrieta and Hunter. The Rays have had to patch things together without starters Evan Longoria (out for at least another month with a hamstring tear) and Jennings (starting a rehab assignment in the minors to come back from a knee sprain). The addition of slugger Hideki Matsui has added an additional offensive dimension every time he steps to the plate. Matsui went 0-for-2 Wednesday off the bench following his big homer in his debut Tuesday. He is now the first player in baseball history to play 10 seasons of Japan Pro Baseball and 10 seasons of Major League Baseball. Newly acquired Drew Sutton has done well overall since joining the team last week, but he missed two balls in the first inning Wednesday against Chicago that were the kind of plays Longoria routinely made -- allowing the Sox to jump ahead 1-0. The Rays tied the game 1-1 on designated hitter Luke Scott's opposite-field homer, his ninth of the season. But the hard-hitting White Sox were simply too much for Tampa Bay to handle. They got to starter Alex Cobb for two runs in the top of the third and built a 4-1 lead in the fifth, knocking him out of the game with nine hits. Chicago's offense is hitting .300 with 106 runs scored (6.6 per game) over their last 16 contests. They're also batting .462 with runners in scoring position over their last six games and .303 in that category in May. Their streak of 15 straight games with a homer came to an end Wednesday, but the Sox have still won 12 of 13 games and 16 of their last 22. The Rays had their own chances to pull it out. Carlos Pena's two-run homer from the lead-off spot in the sixth inning -- his eighth blast of the season -- made it 4-3. And in the ninth, Pena walked and Matt Joyce singled with one out, but B.J. Upton and Scott popped out to end the threat and the game. "We had it at the end right there," said Rays manager Joe Maddon. "The guys coming up in that situation did not get it done. Regardless if we were missing people or not, we expect more of ourselves than that. It's not about the people we're missing. The people that are here, we have to figure out more ways to be creative, be more resourceful and get these runs. "We're playing hard, but we're also making mistakes. We're not playing at a high level of baseball right now. Too many mistakes on the field; things that we're not used to doing. We have to get better there also. Again, we don't make excuses. The people that are out there, we have to do a better job, whether it's catching the ball or having better at bats when it's necessary." The upshot is the AL East lead is truly one for the taking. True, the Rays and Orioles have spent most of the time at the top (for the record, Tampa Bay has enjoyed 30 out of a possible 54 days with at least a share of first place, and 11 with sole possession). But heading into Wednesday's action, the first and last place teams in the division were separated by a mere 3.5 games, with all teams above .500. -- with the Yankees in third at 26-23, the Jays at 26-24 and the Red Sox at 25-24. Since 1994, when the current divisional format started, Wednesday marked only the second day that all five AL East teams had a winning record this late in the season (not including the outcome of games Wednesday night). The only other time it happened was June 10, 2008. Considering all their injuries to key players, the Rays could be in far worse shape. Even with the sweep by the Sox, they are an AL-best 22-14 since April 21 with a major-league-leading 2.87 ERA, including an MLB-best ERA of 2.07 from the bullpen. The down side is they are 4-8 in their last 12 games at the Trop after a 13-1 start. But they have an ideal opportunity to get back on their feet this weekend against the an Orioles team in a state of flux, regardless of their first-place standing. Maddon isn't surprised that the Orioles, long the doormat of the AL East, are still hanging in at the top. "I mentioned that in spring training -- I thought they were a lot better," he said. "I though the Blue Jays were a lot better. None of this is surprising to me. And again, I want to make it perfectly clear, I'm very pleased with where we're at right now. I know it's always upsetting to lose a couple of games in a row, but take everything into consideration right now -- and I'll take it."
Original Story:
http://www.foxsportsflorida.com/05/30...
THE BACKYARD
BEST OF MAXIM
RELATED ARTICLES
ST. PETERSBURG After a month in the making, Matsui Mania descended upon Tropicana Field with one Godzilla-worthy wallop. Veteran slugger Hideki Matsui may have taken his time moving up the ranks of the Tampa Bay Rays' minor leagues, accompanied each step of the way by a throng of some 50 Japanese media members. But he wasted absolutely no time Tuesday night endearing himself...
Baltimore Orioles outfielder Nick Markakis was held out of the lineup for Wednesday's game against the Blue Jays with soreness in his right wrist. It's the first game he's missed this season. Markakis was injured on a swing in the ninth-inning of Tuesday's loss at Toronto. X-rays taken after the game were negative, but Markakis is scheduled to see a hand specialist...
Baltimore Orioles catcher Matt Wieters has been ejected from Tuesday night's game against the Toronto Blue Jays for arguing with home plate umpire Doug Eddings. Wieters received his first career ejection for arguing balls and strikes with Eddings during Toronto's three-run fifth inning, removing his mask and yelling at Eddings after Rajai Davis grounded an RBI single to...
In 2008, the Tampa Bay Rays were the surprise team of the year. Having finished the 2007 season with the worst record in Major League Baseball little was expected of them in 2008. However, during the off-season, the Rays made some changes. Most profoundly they changed their name from the Devil Rays to the Rays. They also changed their uniforms, which can now be found on online stores...
Perhaps my favorite part about being a baseball fan is keeping tabs on the Minor Leagues. I am a prospect hugger and I take no shame in saying this. I follow all the big prospect guys on Twitter and I take in as many Penn League games as I can up here in Burlington. One thing I know is that there are plenty of you out there just like me, so this feature is for you. It is manageable...
The Tampa Bay Rays made it official after weeks of speculation that Hideki Matsui is now a Ray. The 38 year old Matsui was called up from Triple A Durham after a 2-1 loss to the White Sox in Chicago with the Rays managing only 3 hits.   Riddled with injuries it was only short period of time before the Rays had to do something. The current roster looks nothing like we expected leading...
He's the closest thing the Baltimore Orioles have had to an Iron Man since Cal Ripken Jr. retired. Nick Markakis missed his first game of the season Wednesday and just his sixth in the past three-plus seasons with a right wrist injury. Markakis was hurt on a swing in the ninth inning Tuesday, and he will be examined by a specialist Thursday. X-rays taken Wednesday were negative...
Watch closely as a fan in Tampa grabs this foul ball off the bat of Jose Molina Wednesday night.  Warning: don't watch too closely. I'm not even sure a belt would have solved this wardrobe malfunction. Did his shorts rip? Did he watch the rest of the game in his skivvies? Is this one of the worst things you've seen at a baseball game? I have to hand it to the guy.  He went...
The Baltimore Orioles have the game's most elite prospect in pitcher in Dylan Bundy.  To say he dominated the South Atlantic League before his recent promotion to the High-A Carolina League... [[ This is a content summary only. Visit my website for full links, other content, and more! ]]
Table of Contents Here's the table of contents for today's edition of Daily Notes. 1. Featured Game: Baltimore at Toronto, 19:07 ET (Free Game) 2. Other Notable Games 3. Today's Complete Schedule Featured Game: Baltimore at Toronto, 19:07 ET Regarding These Teams, Their Respective Places in the AL East I'm not lying to you or your face when I say that these teams enter Wednesday...
On Tuesday night, the Orioles dropped their fourth game in a row as they lost to the Toronto Blue Jays, 8-6. With the loss, Baltimore has lost three straight series; however, they are still tied for first place in the American League East with the Tampa Bay Rays at 29-21. Once again, the Orioles got a shaky start from a pitcher – this time, Jake Arrieta – and much like Tommy...
Folks, are we worried about the Baltimore Orioles now? Tonight, they lost their fifth game in a row, as the Toronto Blue Jays defeated them, 4-1. Once again, the Orioles lose a series, and this time they were swept. The Jays treated the Orioles like a mule, and they once again brought the pain, as they scored all their runs off solo homers. Jason Hammel became the latest Baltimore...
MLB News

Delivered to your inbox

You'll also receive Yardbarker's daily Top 10, featuring the best sports stories from around the web. Customize your newsletter to get articles on your favorite sports and teams. And the best part? It's free!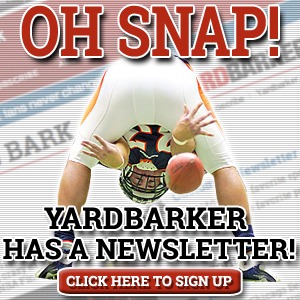 Latest Rumors
The Backyard

Today's Best Stuff

For Bloggers

Join the Yardbarker Network for more promotion, traffic, and money.

Company Info

Help

What is Yardbarker?

Yardbarker is the largest network of sports blogs and pro athlete blogs on the web. This site is the hub of the Yardbarker Network, where our editors and algorithms curate the best sports content from our network and beyond.