Found December 10, 2012 on Midwest Sports Fans:
PLAYERS:
James Shields
,
Ken Rosenthal
,
Wade Davis
,
Wil Myers
,
Mike Montgomery
,
Zack Greinke
,
David Price
,
Jeremy Hellickson
,
Matt Moore
,
Jeff Niemann
,
Alex Cobb
,
Jeremy Guthrie
,
Ervin Santana
,
BJ Upton
,
Mark Quinn
TEAMS:
Tampa Bay Rays
,
Kansas City Royals
,
Los Angeles Dodgers
,
Atlanta Braves
Depending who you listen to, the Kansas City Royals have either: a) made the necessary move to push themselves closer to contention, or b) Tampa Bay Rays GM Andrew Friedman has once again outsmarted the baseball world. Late Sunday evening, it was announced by Ken Rosenthal that the Tampa Bay Rays had dealt former All-Star James Shields and fellow right-hander Wade Davis to the Kansas City Royals for prospects Wil Myers, Jake Odorizzi, Mike Montgomery, and Patrick Leonard. Much will be written and more will be said about Sunday night's blockbuster. Like any deal involving highly touted prospects, the answers will not truly be known for years to come. I seem to be one of the few that believe it should benefit both teams. Royals Get Ace They Desperately Needed The centerpiece of the deal is James Shields. Shields, however, represents two very different things to these teams. As talented a pitcher as Shields is, he won't fit the Rays' model of using young talented arms for much longer. To the Royals, he represents hope. To them, he's the "missing piece." James Shields has gone from the middle of the Rays' rotation to the very top of the Royals' in a trade that sent uber-prospect Wil Meyers to Tampa Bay. (Image credit: Wikipedia) Everyone knows exactly how good Shields is. He's a 200-inning workhorse who strikes out nearly a hitter an inning while not allowing many free passes (he holds the 4th best career K/BB ratio among active starters). For Kansas City, he's the stud pitcher they haven't had since Zack Greinke. Almost every team in baseball would love to have him near the top of their rotation; but for the Rays, he was expendable. As good as Shields is, he was the elder statesman of one of the best young pitching staffs in baseball. He will be 31 in 2013. While he should have a couple more peak seasons before the inevitable decline that comes with time, his value would probably never be as high again as it is right now. The Rays could afford to trade Shields because they have a young rotation that is the envy of nearly every other team in baseball. Without Shields, and not yet considering the return Tampa got, their rotation now stands as David Price, Jeremy Hellickson, Matt Moore, Jeff Niemann and one of Alex Cobb or Chris Archer. In Kansas City? Shields is the undisputed king of a rotation that now features mid-season acquisition Jeremy Guthrie (who had a 3.16ERA in his time with KC), newly acquired Ervin Santana (who despite a dreadful 2012, had been very good the previous two seasons), and, also acquired in the deal, Tampa Bay afterthought Wade Davis (who I will get to shortly). The Royals are loaded with good young talent in both their lineup and their bullpen. Those have not been the issue the past two seasons. The major problem has been a black hole in the rotation. I firmly believe this trade, with other factors taken in to consideration like the weak AL Central and the added Wild Card spot, make the Royals a playoff contender next season. Few will expect them to win the World Series, in fact I doubt many will give them a snowball's chance. But this was the time for the franchise to make this move. To put things into perspective, the Royals currently have the longest playoff drought in Major League Baseball. They have not played October baseball since 1985. Kansas City needed to do this. Rays Bolster System With 4 Promising Prospects But the deal had a steep asking price. The Royals gave up a veritable "Who's who" of their farm system in Wil Myers, Jake Odorizzi, Mike Montgomery and Patrick Leonard. The Rays would have been crazy not to roll the dice on this talent. Myers is a potential star, and he could slide right into Rays lineup with the recent departure of B.J. Upton. In 2012, Myers' numbers looked like this: .343/.414/.731 at AA (35 games); .304/.378/.554 at AAA (99 games). He was one of the finest players in the minors last season, and he will contend for AL Rookie of the Year as soon as he gets his shot. Jake Odorizzi was part of the Greinke trade from Milawakee. He had a good K/BB ratio and a 2.93 ERA at AAA. While all pitching prospects are bigger question marks, his upside would be attractive to any team. With a team as rich as the Rays are in pitching, you can add his name to a laundry list of guys where "at least one of them will work out." You could say the same, albeit on a smaller scale, about Mike Montgomery. After 2011, Montgomery was named the Royals' top prospect by Baseball America. A bad 2012 led to a big drop in his perceived value. He's a cautionary tale in the amount of hype we put in prospects, but he's still very young, and very talented. Another good, young, arm. Patrick Leonard was the Royals' 5th round pick in 2011. Through one season of rookie ball, he has shown great power, good patience (30 walks over 268 plate appearances), and decent speed. The X-Factor The interesting x-factor is Wade Davis. Davis seemed to carve out a solid role for himself in the Rays' bullpen last season, but he will likely be expected to return to the starting rotation on a much weaker Royals team. Davis went 25-22 with a 4.22 ERA as a starter for the Rays. He's a 4th or 5th starter at best. But if he can be above average in the number 4 slot, he could add consistency where there has been none for years in Missouri. Win-Win For Both Sides As anyone who listens to the "Call to the Bullpen" Podcast knows, I am a firm believer that the best deals are those that benefit both sides. Lopsided deals are obviously most fans' dream. But the reality is, if two teams have success coming out of a trade, they will be more likely to scratch each other's backs in the future. For the Royals, this trade is a victory. Yes, they may have given up a potential superstar in Myers. But he is without a single game of MLB experience. He could very easily become another Jeff Francouer or Mark Quinn. Montgomery acts as a cautionary tale about investing too much in a pitcher like Odorizzi. We always remember the prospects that get traded and become superstars. We often forget those that fail to live up to anything. Kansas City has been burned more times than virtually any other team by underwhelming prospects. They couldn't afford that risk when they could have an immediate future. For Tampa bay, this is Andrew Friedman once again outsmarting the rest of baseball. He got the most possible value out of a homegrown success, both on the field, and now on the market. He was also able to sweeten his return by shipping off a fungible reliever. If just one of these four men becomes a star, or two or more can provide them six seasons of cheap labor at above replacement value, they got a great return. Maybe he does have that "Extra 2%." The post Rays-Royals Trade of James Shields for Wil Meyers, et al, a Win-Win For Both Sides appeared first on Midwest Sports Fans.
Original Story:
http://feedproxy.google.com/~r/Midwes...
THE BACKYARD
BEST OF MAXIM
RELATED ARTICLES
The Kansas City Royals and Tampa Bay Rays completed a huge swap of talent late on Sunday night, with the Rays sending starting pitcher James Shields, reliever (or potential starter) Wade Davis, and a player to be named later to the Royals for four prospects: Wil Myers, Jake Odorizzi, Mike Montgomery, and Patrick Leonard. The motive for the trade seems obvious for the Royals:...
The Royals' blockbuster trade with Tampa Bay for James Shields and Wade Davis shows that they're ready to start mortgaging their future to win in the present, something that hasn't happened around Kansas City for years. To do it, the Royals gave up outfielder Wil Myers, widely regarded as the top prospect in the minor leagues, and right-hander Jake Odorizzi, considered...
Jon Heyman is reporting that the Kansas City Royals have traded prized outfield prospect Wil Myers to the Tampa Bay Rays for starting pitcher James Shields and reliever Wade Davis. ** Heyman confirmed that it's Shields, Davis & PTBNL for Myers, right-hander Jake Odorizzi, left-hander Mike Montgomery and third baseman Patrick Leonard. I've been saying all along that the Royals...
The Kansas City Royals acquired former All-Star James Shields and fellow right-hander Wade Davis from the Tampa Bay Rays on Sunday night for outfielder Wil Myers and a package of minor league prospects. Kansas City has been working all offseason to shore up a starting rotation that has been abysmal for years, re-signing Jeremy Guthrie and acquiring Ervin Santana from the Los Angeles...
KANSAS CITY, MO (December 9, 2012) – The Kansas City Royals tonight acquired right-handed starting pitchers James Shields and Wade Davis and a player to be named or cash considerations from the Tampa Bay Rays in exchange for minor league outfielder Wil Myers, right-handed pitcher Jake Odorizzi, left-handed pitcher Mike Montgomery and third baseman Patrick Leonard. Shields, who...
Table of Contents Here's the table of contents for today's edition of Daily Notes. 1. Very Assorted Headlines 2. Largely Unhelpful Video: Cubs Prospect Nelson Perez, Homering 3. SCOUT Leaderboards: Dominican Winter League Very Assorted Headlines Detroit Signs Catcher Brayan Pena The American League champion Detroit Tigers signed catcher Brayan Pena on Monday to a one-year deal...
It's no secret that I don't think the Kansas City Royals made a very good trade last night. In my view, the price was just too high, and the Royals weren't in a position where their team needed to give up that kind of future value to improve their chances of winning in 2013. Reasonable folks can disagree, of course. There's a case to be made that the Royals are closer...
The Kansas City Royals and the Tampa Bay Rays made a big trade tonight, with Kansas City acquiring James Shields and Wade Davis in exchange for top prospects Wil Myers, Jake Odorizzi, Mike Montgomery, and Patrick Leonard. That's a pretty big return in prospects, with Myers being one of the top prospects in the game. A lot of the reactions I saw said the Rays clearly won this deal...
Was the Royals` strategy in their swap of Wil Myers and more prospects for James Shields and Wade Davis based on a broken windows theory?
KANSAS CITY, Mo. For a stretch, Jake Odorizzi kept the snapshot in his mind: One day, if the stars were aligned, he'd become the Royals' main man, the stopper, the crown jewel of the giant crown along I-70. Instead, he'll go down in Kansas City history as the man traded for one ace, then traded two years later for another. History's funny like that. "(It&...
MLB News

Delivered to your inbox

You'll also receive Yardbarker's daily Top 10, featuring the best sports stories from around the web. Customize your newsletter to get articles on your favorite sports and teams. And the best part? It's free!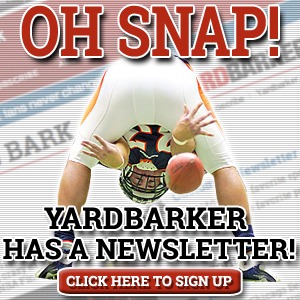 Latest Rumors
Best of Yardbarker

Today's Best Stuff

For Bloggers

Join the Yardbarker Network for more promotion, traffic, and money.

Company Info

Help

What is Yardbarker?

Yardbarker is the largest network of sports blogs and pro athlete blogs on the web. This site is the hub of the Yardbarker Network, where our editors and algorithms curate the best sports content from our network and beyond.