Found April 19, 2012 on Fox Sports:
PLAYERS:
Derek Jeter
,
Josh Hamilton
,
Josh Willingham
,
Hiroki Kuroda
,
Alex Rodriguez
,
Brett Gardner
,
Robinson Cano
,
Curtis Granderson
,
Bobby Valentine
,
Terry Francona
,
Kevin Youkilis
,
Clay Buchholz
,
Felix Doubront
,
Daniel Bard
,
Honus Wagner
TEAMS:
New York Yankees
,
Texas Rangers
,
Minnesota Twins
,
Boston Red Sox
It was before the Yankees' second game of the season -- just 24 hours into their reconnaissance mission against the Rays (which, by the way, ended in a disastrous sweep). Derek Jeter took one look at the lineup card and saw he'd been busted down a rank to DH for the day. Jeter never said a word about the enforced rest, but the expression on his face required no forensic analysis. "You think Derek is happy about this?" one member of the organization asked rhetorically. He didn't wait for an answer. Jeter, who turns 38 in June, has much to prove to the world, including his manager Joe Girardi, about his durability as an everyday shortstop. The captain isn't interested in scaling back to 125-30 games a year. He wants no part of the rotation at DH, even if it creates room for an extra right-handed hitter when the Yankees face a lefty. Jeter still thinks he belongs on the field 150 times a summer, and if you think that's delusional, consider what a confidante recently said about Jeter's long-term goal. "Derek wants to play until he's 45," the friend said. "Whether the Yankees will let him do it, I don't know. We'll see if they offer him another contract (after 2013). But Derek still has a lot left in him." So far, Jeter is off to a surreal start. After racking up three more hits against the Twins on Wednesday night, including his fourth HR of the season, Jeter raised his average to .389, third-best in the American League. Of course, the April sample size is too small to be conclusive, but Jeter's resurgence pre-dates Opening Day. Since last July 5, when he reached his 3,000th career hit, Jeter is batting .334, and had raised his average almost 70 points against right-handed pitching. This year alone, Jeter is 11-for-19 (.579) against lefties. Even more startling is Jeter's surge in power: The four home runs represent his best start ever after 12 games. Only Josh Hamilton and Josh Willingham have hit more HRs in the American League. That 1.089 OPS is crazy, though, it's otherworldly, and logic says Jeter's home run/at-bat ratio will eventually recede to its career norm (one every 40 or so at-bats instead of its current 1-per-13). But more and more, Jeter is demonstrating that his .270 average in 2010 was an aberration, and not the ushering in of a career-ending decline phase. While Jeter politely traces his comeback to the relief of finally surpassing 3,000 hits, friends insist there's a second version to the story. Jeter, they say, rediscovered his swing while on the disabled list in Tampa in May and June, when he paired up with Gary Denbo, the Yankees' former hitting instructor. With help from a trusted friend, Jeter uncluttered his mechanics, streamlining his approach through the strike zone. He's looked like a 20-something ever since at the plate, although Girardi will inevitably be torn between riding Jeter's hot streak and the need to rest a star who's pushing 40. That's no small conflict, given the Yankees' uneven performance so far. Even with so little data to work with, team officials are concerned about Hiroki Kuroda's transition to the American League (he's been battered in two of his first three starts) and Alex Rodriguez's .222 average and one home run in 45 at-bats. To make matters worse, Brett Gardner, who was hitting .321, is now on the disabled list with an elbow injury. The Yankees took their first steps toward addressing the deficit by flip-flopping A-Rod and Robinson Cano in the 3-4 slots -- at least against right-handed pitching. The idea, of course, is to create better opportunities for Rodriguez with Cano hitting behind him, instead of vice versa. But until there's a change in A-Rod's hitting pattern, and until Cano and Curtis Granderson get hot, Jeter is catalyzing the lineup on his own. Question is, can he carry the Bombers through a semi-critical six-game stretch against the Red Sox and Rangers? There's always a reason to pay attention to a Yankees' weekend in Fenway, and this one is no different. The Sox are already in crisis, and Bobby Valentine, in particular, is being targeted by fans who are wondering what they've inherited in the post-Terry Francona era. The fact that Valentine was booed during Wednesday's 6-3 loss to Texas wasn't lost on him. Bobby V is smart enough to understand that questioning Kevin Youkilis (and being in last place) strips him of whatever equity he might've had with a fan base that trusted Francona. That's why Valentine needs a strong series from the back of his rotation -- Clay Buchholz, Felix Doubront and Daniel Bard. He needs them to shut down Jeter even more than Girardi needs his captain to keep hitting. And therein lies the Yankees' catch-22: Can Girardi stick to his plan of resting/DH'ing Jeter once a week? Or does he allow Jeter to run the table on his hot streak? History says it's better to be cautious, even at the risk of alienating Jeter. Only two shortstops in major league history topped .800 OPS in their age-38 seasons -- Honus Wagner in 1912 and Luke Appling in 1949. The rest were either in fast decline or had held on only as part-timers, failing to get enough plate appearances to qualify for the batting title. Jeter, however, has no interest in precedent. He's being driven by a separate agenda, which includes shaking his fist at history. For now, it's working. Or as his friend says, "Derek is loving every minute of this."
Original Story:
http://msn.foxsports.com/mlb/story/De...
THE BACKYARD
BEST OF MAXIM
RELATED ARTICLES
IF THOSE WALLS COULD TALK
The Yankees shortstop's 5,425 square-foot penthouse on the 88th floor at Trump World Tower in Manhattan is again on the market for the princely sum of $17.95 million.
TweetThe NY Post landed an exclusive look at Derek Jeter's 18 million dollar, jaw dropping, New York bachelor pad and it will make you jealous.  The New York Yankee shortstop has new digs and they are on the 88th-floor penthouse at the top of the Trump World Tower at UN Plaza. The penthouse has a mere 5,425-square-foot and features 360-degree views of Manhattan, four bedrooms...
One of the early surprises of the season is the offensive output of Derek Jeter. Going into tonight's matchup against Minnesota, Jeter is hitting a robust .366 with 2 HRs and 6 RBI. The slow bat that turned him into a below league average hitter the last couple of years has disappeared. I was ready to see him get his 3,000th hit and start the countdown of...
Here's the closest most people will ever get to seeing the inside of Derek Jeter's swinging East Side Manhattan bachelor pad— unless you're a window washer or a single lady. It's a peak at a never-before-seen look inside the New York Yankees shortstop's incredible 88th-floor penthouse atop Trump World Tower at UN Plaza next to the East River according to The...
  Yankees superstar, Derek Jeter is putting his New York Trump Towers bachelor pad on the market. The penthouse is on the 88th floor and is 5,425-square feet with a 360 degree view of NYC. Other features include; ultra-suede wallpaper for the 16-foot-high walls. A pool table, a poker table that seats eight, a dining-room table [...]
Siena College will award Derek Jeter a Doctor of Humane Letters at its commencement ceremony May 13 at the Times Union Center in Albany. DJ is being honored for his Turn 2 Foundation's charity work... Full story at Bob's Blitz ~ http://www.bobsblitz.com
The $100 million club in Major League Baseball is certainly one of exclusivity—only 35 players in total have surpassed that salary mark since starting pitcher Kevin Brown first crossed that threshold in 1999. However, the signing of a nine-figure contract hasn't exactly proved to be beneficial and certainly hasn't guaranteed future success. Just who are the top five players...
Think 'Derek Jeter hasn't lifted one out of the infield all spring, Joel Sherman. Or 'Tiger Woods is XYZ,' Mark Cannizzaro. Lather, rinse, repeat. Every time you check your email, think -- gotta... Full story at Bob's Blitz ~ http://www.bobsblitz.com
Derek Jeter DH Nick Swisher 1B Robinson Cano 2B Alex Rodriguez 3B Andruw Jones RF Curtis Granderson CF Eduardo Nunez SS Brett Gardner LF Chris Stewart C CC Sabathia LHP - Teixeira will sit due to flu-like symptoms. - Just a normal off day for Russell Martin, who is currently hitting .160 after going hitless in his last 9 ABs. Seems like he could use the day, no?...
This strikes me as a good call. @PeteAbeValentine just said that Bard will start on Sunday against the Yankees. #RedSoxThere had been talk of starting Lester, given the off day today, but Bard improved dramatically in his second start, whereas Lester had his first bad outing in his third start and could probably use a day off.The Yankees, by the way, are not exactly running away...
MLB News

Delivered to your inbox

You'll also receive Yardbarker's daily Top 10, featuring the best sports stories from around the web. Customize your newsletter to get articles on your favorite sports and teams. And the best part? It's free!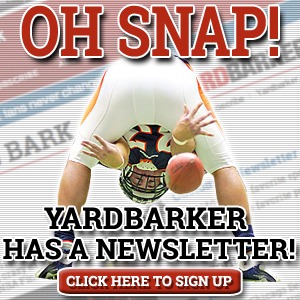 Latest Rumors
The Backyard

Today's Best Stuff

For Bloggers

Join the Yardbarker Network for more promotion, traffic, and money.

Company Info

Help

What is Yardbarker?

Yardbarker is the largest network of sports blogs and pro athlete blogs on the web. This site is the hub of the Yardbarker Network, where our editors and algorithms curate the best sports content from our network and beyond.