Found October 28, 2011 on Redlegs Review:
One of the perks of having the oldest franchise in professional sports is the long list of unusual names that have played for the team. Throughout it's 142-year history, Cincinnati has accumulated a who's-who of outrageous player names. And for your viewing and reading pleasure, I've compiled a 25-man roster full of the best I could find. Caution: If you don't find some of the following names to be amusing, I seriously question (with the utmost respect) if you have any sense of humor at all. Cincinnati Reds All-Time, All-Name Team C - *Bubbles Hargrave (1921-28) 1B - Snake Deal (1906) 2B - Chappy Charles (1909-10) SS - Pee-Wee Wanninger (1927) 3B - Skeeter Barnes (1983-84, '89) LF - Buttercup Dickerson (1978-79) CF - Icicle Reeder (1884) RF - Jim Greengrass (1952-55) P - Mysterious Walker (1910) Reserves: INF - Pokey Reese (1997-2001) INF - Cookie Rojas (1962) C - Spud Davis (1937-38) OF - Cuckoo Christensen (1926-27) OF - Bug Holliday...
Original Story:
http://feedproxy.google.com/~r/TheRed...
THE BACKYARD
BEST OF MAXIM
RELATED ARTICLES
Cordero ranks 12th on the all-time saves list with 327. That is second among active players, trailing only Mariano Rivera. The Reds made a huge splash in free agency when they solidified their closer role with Francisco Cordero back in November of 2007. The team thought so highly of the right-hander that they were willing to sign him to the wealthiest contract ever given to...
We've spent a lot of time focusing on the Arizona Fall League and how Reds' prospects are performing there, but there are of course other players within the Reds' organization honing their skills in the various fall and winter leagues around baseball. This is a summary of those players, as well as a Spanish lesson. Aroldis Chapman - First off, we already know the Cuban...
The World Series wasn't the only game to be decided in 11 innings last night, as the Phoenix Desert Dogs lost to the Peoria Javelinas who scored two runs in the top of the 11th to win 7-5. -Brodie Greene came in as a pinch runner in the 10th but did not score, nor play in the 11th. -Aroldis Chapman saw his second action in the AFL, allowing a hit, an earned run, a walk...
So long, Fred Lewis and Chad Reineke. We barely knew ya'. Both players have elected to explore free agency, which is not surprising. Reineke, of course, is just organizational filler. Lewis, on the other hand, can be a useful part for a team that uses him correctly. No matter; Lewis was not and is not the answer to the left field conundrum that faces the Reds. How the club addresses...
Nice: The 2011 Sporting News All-Star teams were revealed on Thursday, with one member of the Reds making the cut. Second baseman Brandon Phillips was named to the NL squad by the magazine after a vote by 55 front offices members from around the big leagues. Phillips is a first-time honoree on the Sporting News NL All-Star team. Reds first baseman Joey Votto was on the list in 2010...
Drew Hayes took home the Minor League Baseball Class A Reliever of the Year Award. "I think Drew's numbers speak for themselves," said Jeff Graupe of the Reds' player development department. "He showed a plus fastball, a plus slider and he was great in late inning situations." I wouldn't quite rate his fastball as plus, but it is certainly a good fastball. His dominating...
The 23-year old posted a 3.60 ERA in 50 IP last year Perhaps the hottest topic for Reds fans this winter will be how Aroldis Chapman handles the transition from reliever to starter. One way he will try and successfully do so is through throwing in multiple offseason leagues. Last week provided a tuneup for the left-hander as he prepares for winter ball. Here is a look at...
Louisville, KY cops are looking for a bank robber that we think one of you might know, or see at the local shopping mall walking around in this mammoth 'C' Reds hat. Again, bank robbers, for the most part, are really stupid criminals. Can't hold a steady job and are too stupid to wear the simple 'C' hat. Why differentiate yourself, moron? One of your homeboys is going to...
* Former Red Scott Williamson auctioned off his World Series ring that he won as a member of the 2004 Boston Red Sox on Tuesday. The coveted piece of jewelry sold for $89,000. To read about the full story visit this link. * Reds second basemen Brandon Phillips was selected to the 2011 Sporting News NL All-Star squad on Thursday. He is only the second Red to make the list since...
In a post to Twitter, Jon Heyman says the Reds are expected to pick up the option for 2B Brandon Phillips if they cannot work out an extension. The 30-year-old Phillips has a $12 million option for 2012. Heyman also says it's a "closer call" as to whether or not Cincinnati will pick up Francisco Cordero's $12 million option, or buy him out for $1 million. Michael Baron:...
The Louisville Slugger Museum & Factory will bestow its 2011 Living Legend Award to a former Red on Friday, Nov. 11th, and that Red is none other than catching great Johnny Bench. He will accept the award during a special ceremony that kicks off the museum's eight-annual auction. Here is an excerpt from the official press release sent out by the museum: Bench...
Cincinnati Reds left-hander Aroldis Chapman has thrown twice here in the Arizona Fall League, and will make one start, on Monday, before heading off t...
Reds News

Delivered to your inbox

You'll also receive Yardbarker's daily Top 10, featuring the best sports stories from around the web. Customize your newsletter to get articles on your favorite sports and teams. And the best part? It's free!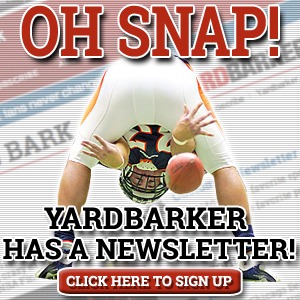 Latest Rumors
Best of Yardbarker

Today's Best Stuff

For Bloggers

Join the Yardbarker Network for more promotion, traffic, and money.

Company Info

Help

What is Yardbarker?

Yardbarker is the largest network of sports blogs and pro athlete blogs on the web. This site is the hub of the Yardbarker Network, where our editors and algorithms curate the best sports content from our network and beyond.