Found March 05, 2013 on Fox Sports Ohio:
TEMPE, Ariz. The buzz question in the camp of the Cincinnati Reds this spring is: Aroldis Chapman or Mike Leake? Mike Leake or Aroldis Chapman?The Reds are experimenting this spring to see what works best for the good and betterment of the team. There is no question Chapman was one of the best closers in the game last season, but some segments of the organization envision him as a rotation guy par excellence.And while some already have Chapman toeing the rubber as a starter with Leake relegated to the bullpen, in the words of a George Gershwin song, It Aint Necessarily So.Both manager Dusty Baker and pitching coach Bryan Price are keeping their eyes wide open and their minds even more wide open.Both Leake and Chapman pitched Tuesday against the Los Angeles Angels of Anaheim and if numbers mean anything this round when to Leake. He started and pitched three innings no runs and four hits to Chapmans two innings, one run (a home run to Howie Kendrick) and three hits (24 pitches) in his first inning.There are things the organization is curious about, said Baker. We havent made the decision yet. Other people have made the decision and assume that the decision has been made. It hasnt.We have no choice but to wait to make the decision because you cant live too far in the future. You have to let things play themselves out, Baker added. Like last year played itself out big-time.Chapman was in the spring rotation last year, but injuries to projected closer Ryan Madson, plus relievers Nick Masset and Bill Bray forced Chapmans move to the bullpen.This is one of those things that can go for a while before a decision is made, said Price. If weve learned anything over the last few years during spring training, it is that we sometimes have to make choices we didnt anticipate. Last year was a great example the reason Chapman ended up in our bullpen.And Baker dropped his feelings into the mix by saying, We won 97 games last year and nearly half were Chapmans saves or wins (38 saves, five wins).Baker, as is Price, is a big fan of Leake and not ready to dump him into a bullpen seat without a stern shove from Chapman.We are going to take the best 12 pitchers in their best suited positions when we head out, said Price. We know there is some division about it what is best for the pitcher and what is best for the team. We want to take our best team because we are built to win and we feel we have a team that can win, so deciding the roles that is best suited for everybody is important.The situation now is a bit divisive on all fronts, some for and some against, and Price understands that, too.We have a right to speak candidly about how we think, but in the end we have to be unified in putting our best team on the field for Opening Day, he said. And the best team is still a question.Of Leake in the bullpen, Price says, I dont think Leake is best suited for that, even though most guys in the bullpen have been starters in their past.To me, though, Mike Leake is a very good major-league pitcher who hasnt had his best seasons yet and is capable of being a very good starting pitcher, Price added. He has shown that already, especially in 2011 (12-9, 3.86 in 26 starts). I think his future is giving us 30 starts and 200 innings.The thing I dont want to get lost in all this is the fact that Mike Leake is an outstanding pitcher and it isnt a matter of, Hey, we feel like were weak in one spot in our rotation, said Price. There is no feeling like that. The question is, do we feel Aroldis can be a quality top-of-the-rotation type pitcher. We know he can close for a team that is ready to challenge for a championship.Are we better suited with him staying in his familiar closing role or testing the waters with him as a starter. It is a fascinating situation because wed like to see what he can do in 28 to 30 starts. But is that in the best interest of this years team? Thats what you have to consider first and foremost.Leake knows there is competition and knows there are people in his corner and says, Thats why Im not worried about it and dont think about it. No, I dont exactly understand it, but it is whatever they do. I dont know or understand completely, but they have their reasons.He doesnt think about it until he asked about it, as in after Tuesdays appearance.Do I like to be counted out? Yes and no. I like to be counted out because it gives me a little fire and it makes me feel I need to prove a little more. It is nice to be respected and feel like I belong.While nobody is counting him out, Leake feels a bit that way and says, A little bit counted out, but I kind of like it. I like to be the guy who comes in and surprises rather than to be just counted on.
Original Story:
http://www.foxsportsohio.com/03/05/13...
THE BACKYARD
BEST OF MAXIM
RELATED ARTICLES
The Reds haven't won a baseball game in a week, and two of their biggest stars (Joey Votto and Brandon Phillips) are currently on leave due to the World Baseball Classic, but have no fear, I have some great nuggets to share with you. Dive on in. + Danny Knobler of CBS Sports says the Reds are making two bold moves by sliding Aroldis Chapman into the bullpen and Shin-Soo...
One of the challenges when it comes to ranking players by position in fantasy baseball is trying to determine which player is going to have that breakout season and return a profit to your auction buy or draft pick. When reviewing the list of third basemen for the 2013 season, my pick to break out is Todd Frazier of the Cincinnati Reds. Frazier took over at third base for the Reds...
Nothing. That's just the true and simple answer. Most people don't pay any attention to spring training numbers unless a player just has gaudy stats and someone wants to make a mention of them, like Reds prospect Henry Rodriguez who is currently hitting .571 (8-14) with a .600 OBP as of Monday morning. For one thing, the sample size you get during spring training just isn...
Ryan Ludwick and Miguel Olivo hit three-run homers Wednesday night and the Cincinnati Reds piled up 18 hits for a 12-2 victory over Canada's team in the World Baseball Classic. The Canadians managed only four hits in a tuneup for their opening WBC game on Saturday. Reds first baseman Joey Votto, who is on Canada's team, didn't play. Mark Hardy, who pitched for Double...
SCOTTSDALE, Ariz. Usually, hard feelings do not occur until a game begins. Not Monday. Cincinnati manager Dusty Baker would not shake D-backs manager Kirk Gibsons hand at the pregame lineup exchange because the D-backs opted against using a DH at Salt River Fields. Newcomer Brandon McCarthy has not had an official at-bat since 2009, spending his entire career in the American League...
BAD BLOOD
Stemming from a pregame argument over the use of the DH, Reds skipper Dusty Baker refused to shake D-Backs manager Kirk Gibson's hand after Monday's game.
SALT RIVER AT TAKLING STICK, Ariz. Cincinnati Reds third base coach Mark Berry took all the drama and intrigue out of Joey Vottos announcement Monday morning.As Votto walked toward a media gathering to say yes or no to playing for Team Canada in the World Baseball Classic, Berry broke into a lusty and off-key rendition of, O Canada.So, yes. Yes, Votto will play for his native country...
Organizational Talent Rankings via Baseball America 2012 (7) | 2011 (6) | 2010 (17) | 2009 (14) | 2008 (3) 2012 Affiliate Records MLB: [97-65] NL Central AAA: [51-93] International League – Louisville AA: [68-70] Southern League – Pensacola A+: [72-68] California League – Bakersfield A: [60-78] Midwest League – Dayton Graduated Prospects Zack Cozart (SS); Devin Mesoraco...
Here is the media pack that covers the CINCINNATI REDS. Newspaper- The predominant newspaper in town is the Cincinnati Enquirer. The paper's online sports page includes a dedicated section on the Reds.  John Fay (Twitter) is the lead beat writer along with Tom Groeschen (Twitter). The pair also write for the paper's Reds Blog. You'll also
Brandon McCarthy pitched three innings in his second start, allowing a home run in the first inning to Zack Cozart, and the Arizona Diamondbacks took advantage of some sloppy Cincinnati play to beat the Reds 7-2 Monday. Johnny Cueto went three innings in his second start for Cincinnati. He slipped in the first inning, causing concern for the Reds because he strained an oblique in...
Cincinnati's has one of the easier opening day rosters to predict after returning most of their players from a 97-win season. Dusty Baker's management style utilizes all 25 of the active roster spots and there still is some competition for utility infield and bullpen jobs as the season approaches.
MLB News

Delivered to your inbox

You'll also receive Yardbarker's daily Top 10, featuring the best sports stories from around the web. Customize your newsletter to get articles on your favorite sports and teams. And the best part? It's free!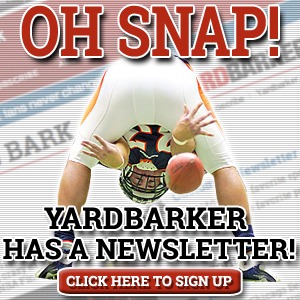 Latest Rumors
The Backyard

Today's Best Stuff

For Bloggers

Join the Yardbarker Network for more promotion, traffic, and money.

Company Info

Help

What is Yardbarker?

Yardbarker is the largest network of sports blogs and pro athlete blogs on the web. This site is the hub of the Yardbarker Network, where our editors and algorithms curate the best sports content from our network and beyond.