Found March 05, 2012 on Mets Merized Online:
Mets second base prospect Reese Havens hasn't participated in workouts in over a week due to continued problems with his sore back. Yesterday, manager Terry Collins told reporters that Havens will get a cortisone shot today to try and relieve the stiffness he is experiencing. "Reese Havens, when he's healthy, is an outstanding, fun-looking player," Collins said. "He's one of those guys you just know the ceiling — if we can get him in the lineup, he's going to play in the big leagues." Havens, 25, has been hampered by side and back issues for the better part of his four professional seasons with the Mets and has been limited to only 213 professional games during that span. He underwent surgery last year to remove an inch of a rib, which was believed to be the cause of his back problems, and this season was expected to be his chance to shine and secure the second base job for the Mets at some point this season or next. "It's been embarrassing," Havens said. "Everybody has expectati
Original Story:
http://metsmerizedonline.com/2012/03/...
THE BACKYARD
BEST OF MAXIM
RELATED ARTICLES
What a difference a day makes.  Just as the whether changed in Port St. Lucie, so too did the New York Mets run of an injury free Spring (that didn't take long).  Yesterday it was reported that a strained oblique sidelined David Wright from the team's intrasquad game, though the thirdbasemen did participate in fielding drills and scaling back his activity was viewed as a precautionary...
Ask me who the Mets traded for Keith Hernandez and I'll immediately tell you Neil Allen and Rick Ownbey. Who'd they trade for Sid Fernandez ? Bob Bailor and Carlos Diaz. I remember most Mets trades like they were yesterday. But when I thought about Tim Teufel, an important member of the 1986 World Champion Mets, who was even better in 1987 when he batted .300, I remembered he...
Yesterday, Mike Pelfrey put his revamped sinker to the test and the early results were very encouraging. The big right-hander tossed two hitless innings yesterday in an intrasquad game at Digital Domain Park. He struck out two and walked one over his two hitless innings and even shattered Valentino Pascucci's bat with a sinker. Pelf worked exclusively from the stretch in an...
New York Mets ace Johan Santana pitched two scoreless innings against St. Louis on Tuesday in his first game facing major league hitters in 18 months. Santana gave up one hit and one walk. He threw 29 pitches, 17 for strikes, in the Mets' second game of spring training. The two-time Cy Young winner last pitched to big league hitters on Sept. 2, 2010, in a game against Atlanta...
Terry Collins said David Wright had a positive day in the weight room Tuesday as he works back from left rib-cage discomfort, but that the third baseman would not enter Grapefruit League action at least until next week. "He felt great," Collins said. "We'll see when they'll let him go back on the field. But he said there's no pain at all, no discomfort at all. So,...
Judge Jed S. Rakoff of the US District Court in Manhattan is scheduled to issue a ruling today in the $386 million clawback lawsuit filed by the trustee Irving Picard against Fred Wilpon and Saul Katz. If the judge finds that there is not enough evidence to prove that the Mets owners willfully blinded themselves to the Ponzi scheme, Rakoff could grant the motion for summary judgment...
SAN FERNANDO, Calif. -- Disgraced ex-New York Mets outfielder Lenny Dykstra on Monday was sentenced to three years in a California state prison after pleading no contest to grand theft auto and providing a false financial statement. Los Angeles County Superior Court Judge Cynthia Ulfig sentenced Dykstra after refusing to allow him to withdraw his plea and said the scam to lease...
Ike Davis is cursed! Last year it was his lingering ankle injury and this year it's Valley Fever. "A fever? You're writing about a guy with a cold?" It's actually a lot more serious than that. I'm not a doctor — I'm a professor, remember? — but I did stay at a Holiday Inn Express last night, and at the very worst that makes me qualified to read up on what Valley...
A judge ruled on Monday that New York Mets principal owner Fred Wilpon must pay as much as $83 million to the trustee attempting to recover funds for those involved in Bernard Madoff's Ponzi scheme. U.S. District Court Judge Jed S. Rakoff also ruled that the sides will go to trial on March 19 over an additional $303 million - the amount trustee Irving H. Picard is seeking. ...
Former New York Mets player Lenny Dykstra completed his fall from graces on Monday when he was sentenced Monday three years in prison after pleading no contest to grand theft auto. According to CNN: Los Angeles Superior Court Judge Cynthia Ulfig denied Dykstra's motion to withdraw his plea. He pleaded no contest in October to three counts of grand theft auto and filing a false...
The Mets played two games today, with half of the team going to Osceola County Stadium in Kissimmee to play the Astros and the other half staying home at Digital Domain Park in Port St. Lucie against the Cardinals. The Mets beat the St. Louis Cardinals by the score of 8 to 6, and the Mets lost to the Astros by the score of 4-1. The Cardinals Game: The biggest story of today's games...
Does it make me a horrible person if I want the Mets to lose their shirts to Irving Picard?Probably. But the way I see it, I'm going straight to hell anyway. And if that's where I'm going, I'd like to see the Mets relevant again before I get there. So yeah, it's good news to hear that a U.S. District Judge has ruled that the Picard vs. Wilpons suit will go on...
Mets News

Delivered to your inbox

You'll also receive Yardbarker's daily Top 10, featuring the best sports stories from around the web. Customize your newsletter to get articles on your favorite sports and teams. And the best part? It's free!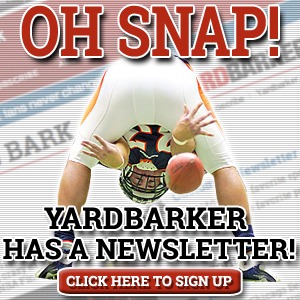 Latest Rumors
Best of Yardbarker

Today's Best Stuff

For Bloggers

Join the Yardbarker Network for more promotion, traffic, and money.

Company Info

Help

What is Yardbarker?

Yardbarker is the largest network of sports blogs and pro athlete blogs on the web. This site is the hub of the Yardbarker Network, where our editors and algorithms curate the best sports content from our network and beyond.