Found February 08, 2013 on Fox Sports Detroit:
PLAYERS:
Alex Avila
,
Tiger Woods
,
Fred Couples
,
Cliff Lee
,
Alex Rodriguez
,
Takashi Saito
,
Kobe Bryant
,
Brandon Roy
,
Troy Polamalu
,
Hines Ward
,
Chris Canty
,
Victor Martinez
,
Torii Hunter
TEAMS:
Detroit Tigers
,
Philadelphia Phillies
,
New York Yankees
,
Arizona Diamondbacks
,
Los Angeles Lakers
,
Minnesota Timberwolves
,
Pittsburgh Steelers
,
New York Giants
DETROIT -- Alex Avila had a glow about him during the recent TigerFest at Comerica Park that made those around him smile, too. Whether the greater cause of his visible joy was pondering becoming a father for the first time or knowing his knees no longer throbbed like bad toothaches was debatable. What's not debatable is, Detroits catcher has plenty to smile about with so much to anticipate in 2013. Last season, the knees, particularly the left one, limited him and contributed to a sizable drop-off in offensive production. Avila said platelet-rich plasma taken from blood out of his arm and re-injected into his left knee has rejuvenated the stiff and aching joint plagued by tendinitis. There is a night-and-day difference between the knee this offseason and the last one, Avila said. "The PRP injections worked. "We talked of doing it since the middle of last season, but you need to take five to seven days off after the injections. I did not want to take that kind of time off during the season ... and so the day after the World Series, we did it here (at the Detroit Medical Center). "My own blood regenerated the healing process. They separated the platelets from the blood and re-injected it. It worked great. PRP injections have become popular with athletes in recent years. Golfers Tiger Woods and Fred Couples; baseballs Cliff Lee, Alex Rodriguez and Takashi Saito; basketballs Kobe Bryant and Brandon Roy; and footballs Troy Polamalu, Hines Ward and Chris Canty have sworn by its benefits. I am very, very anxious to get going on the season, Avila said. Once the holidays were over, I went to bed every night thinking about this season. His eyes twinkled just recalling those thoughts, and he couldn't wait for the pitchers and catchers reporting date of Tuesday in Lakeland, Fla. Avila drove there on Super Bowl Sunday to begin spring training early. The best time for feeling good at the plate is the first month, Avila said. You get the kinks worked out. "You get on the batting tee and in the cage every single day, and get your swing (down). Then theres live batting practice against the pitchers and the games. I cant wait. The Tigers are getting designated hitter Victor Martinez back from a season lost to knee surgery. They also signed some offensive firepower in free-agent right fielder Torii Hunter. Imagine what might happen if they have the 2011 version of Avila back in the batting order, too. Avila hit .295 with 19 homers and 82 RBIs in 2011, when he finished 12th in MVP voting and won the Silver Slugger Award. He also started the All-Star Game at catcher for the American League. He dropped to .243, nine homers and 48 RBIs last season. His physical limitations began one month into the season, and there were only a few brief stretches when his knees felt decent. I dont like to make excuses if I was healthy enough to be out there, Avila, 26, said. But now I can put that behind me and train in full heath. Ive had several MRIs, and the knees check out great. Barring an injury, I should be able to catch for a long time. "I would think about the knee every time I hit. It was like I was holding back. The left knee is my back leg on my swing -- the one I push off on. Try getting power into your swing when you cant push off. Good luck. Thats why Avilas slugging percentage dropped from a robust .506 to an anemic .384. But I dont want to talk anymore about my knees once spring training begins, Avila said. Im healthy. Im good. Im good to go. And Avila and his wife, Kristina, are awaiting the arrival of more than just another baseball season. We are expecting our first child, a girl, on April 10, Avila said. We are scheduled to begin an 11-day road trip to the West Coast the next day. Good timing. Avila shook his head and laughed. We havent settled on a name yet, he said. We cant wait for it, though. I cant wait to be a father. Once again, his eyes twinkled.
Original Story:
http://www.foxsportsdetroit.com/02/08...
THE BACKYARD
BEST OF MAXIM
RELATED ARTICLES
DETROIT, Michigan — According to a Sports Illustrated story dated yesterday, a report has come out that links Tigers SS Jhonny Peralta to Tony Bosch, a man being currently being investigated by Major League Baseball for giving out performance enhancing drugs. So far, Peralta is the 12th MLB player to have come up in Bosch's [...]
Miguel Cabrera is a bona fide superstar and coming off a phenomenal season that saw the Detroit Tigers slugger earn the 2012 AL MVP after a historic year at the plate. A season so outstanding that Cabrera won the Triple Crown, the first player since Carl Yastrzemski accomplished the feat in 1967. Being an MVP and Triple Crown winner, Cabrera remains a hot commodity and is always...
Tigers shortstop Jhonny Peralta says he has never used performance-enhancing drugs after his name was reportedly found in the records of the man who ran a Florida clinic being investigated by Major League Baseball. SI.com, citing unidentified sources, reports Peralta was listed in the records of Anthony Bosch, who operated the now-closed anti-aging clinic. Peralta says through attorney...
According to a Sports Illustrated report, Detroit Tigers shortstop Jhonny Peralta is the 12th major-league player to show up in the records of Tony Bosch, director of the controversial Biogenesis clinic in Florida. The clinic is being investigated by Major League Baseball for links to performance-enhancing drugs. According to SI, Peralta was not directly linked to PEDs by Bosch...
Jhonny Peralta, come on down! SI.com's Tom Verducci reports that Peralta's name was found in the records of Tony Bosch, the director of the South Florida clinic that allegedly sold performance-enhancing drugs to Alex Rodriguez and other major leaguers. Peralta reportedly does not appear to be directly tied to PEDs in the records, and in a statement the Tigers shortstop denied...
Maybe it's just me, but does anyone else find it hard to believe Max Scherzer has already spent three of his five Major League seasons with the Tigers? I feel like it wasn't that long ago that we were raving about his potential as an Arizona farmhand. But alas, time moves on, and last year Scherzer finally began living up to his insane potential. His strikeout rate was an astounding...
Jhonny Peralta is the most recent name to be linked to the Biogenesis PED scandal.  Another player's name was expected to be released yesterday after Jesus Montero was linked.  However, the connection that both Montero and Peralta have to the clinic is not clear. Peralta's name was not mentioned with any PEDs says Tom Verducci of Sports Illustrated.  This is similar...
Austin Jackson has been solid as the Tigers' everyday center fielder for three years now, and that won't change in 2013. The question remains, which Jackson will the Tigers get, the 2011 version that saw his average plummet, or the 2012 version with a strong walk rate and a .300 average?
SI.com's Tom Verducci revealed that Tigers shortstop Jhonny Peralta's name was found within the records of a clinic who has been linked to possibly providing performance-enhancing drugs to Major League ballplayers. Verducci cited unnamed sources who scoured the records of Anthony Bosch's now closed anti-aging clinic in Miami.  SI would not go as far to say that Peralta was...
Texas wide receiver Torii Hunter Jr. adds his name to the Notre Dame football recruiting list for 2013. You obviously recognize that name, as he's the son of major-league baseball outfielder Torii Hunter, now with the Detroit Tigers and formerly with Minnesota Twins (1997-2007) and Los Angeles Angels of Anaheim (2008-2012) Hunter, Torii Jr. (WR, 6-0, 180, Prosper, Texas, Prosper...
Continuing ahead with our gander back at 2012 and the preview of what 2013 could have in store, we move to the only position that still has some uncertainty about it; left field. Can Andy Dirks play every day? Will Quintin Berry find a role again? Can Brennan Boesch make an impact?
MLB News

Delivered to your inbox

You'll also receive Yardbarker's daily Top 10, featuring the best sports stories from around the web. Customize your newsletter to get articles on your favorite sports and teams. And the best part? It's free!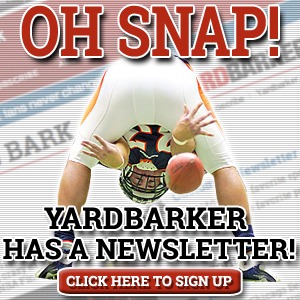 Latest Rumors
The Backyard

Today's Best Stuff

For Bloggers

Join the Yardbarker Network for more promotion, traffic, and money.

Company Info

Help

What is Yardbarker?

Yardbarker is the largest network of sports blogs and pro athlete blogs on the web. This site is the hub of the Yardbarker Network, where our editors and algorithms curate the best sports content from our network and beyond.