Found January 19, 2012 on 213 Miles From Shea:
Back again with two more gems from the Baseball Hall of Fame's Shop. While going through their merchandise, I ran across these two items. With this hat and this shirt, you can remember the good times when the thought of a Mets dynasty in the NL East was a little less than a crazy pipe dream, Willie Randolph, a young David Wright and Jose Reyes, a 40 homer machine in Carlos Beltran, the rotating rotation, the hope for Oliver Perez, etc. I think I'm just shocked that these still exist.
Especially the hat, back in 2006, the hat that was easiest to find was the one for the Division Series, and not the once that said Division Champs. Tweet
Original Story:
http://www.213milesfromshea.com/2012/...
THE BACKYARD
BEST OF MAXIM
RELATED ARTICLES
I went to one of Carlos Beltran's last home games as a Met against the Cardinals and there was a large contingent of fans in right field, in fact the crowd was larger then what had become normal in June/July. Many have questioned why Jose Reyes wasn't traded at the deadline, most feel we would have received more in return from a trade then the two picks.  The same rumblings...
Check out these photos from the Mets on Twitter. David Wright stopped by Citi Field for an up close look at the new outfield walls. Wright: "I'm excited about the changes…I can't wait until April"
The reality of trading David Wright is you probably won't get the type of haul the Rangers received for Mark Teixeira back in 2007. Prospects have become one of the most overvalued commodities in the game today. Teams ask for A-list prospects for B-level talent, and teams with A-level talent more than often see offers with B-prospects as the centerpiece. That's why making...
After posing this question via twitter, a debate ensued between myself and several Met bloggers including our own Joe D. and Brandon Butler. I thought I would ask the MMO faithful this same query: Would you do anything to sign Josh Hamilton next winter? Even if it meant losing David Wright? Personally, I think it is something to consider. Now that the Rangers have inked Japanese...
Buster Olney of ESPN.com, talked to three evaluators about Wright's game. From an AL evaluator: "He will have value at the trade deadline if healthy and performing as usual. He will bring compensation as a free agent, so his value to Mets is fairly high, and a team acquiring him will have to give up more than the value of a couple of high draft picks. He's a very good player...
  Construction has been ongoing all off season.  As you can see this ball park will still be expansive, but it will just be a little more hitter friedly.  Rememeber those balls that David Wright used to hit out to right center field in Shea, well he may be able to do that once again now that it is no long 415 feet at Citi Field. The dimensions of the home run line will all be...
As February nears, so too does the start of spring training. In a normal year, that would likely bring with it, the thoughts of what might happen. Could this be the first time in 26 seasons that the Mets return a World Series title to Flushing? The first home run title since HoJo? The first batting title since that guy who now plays in Miami? What does the 2012 season have in...
Who is the best position player in Mets history? The immediate answer is Darryl Strawberry although a quick look at the record book shows that Jose Reyes and David Wright also deserve consideration for that honor. Let's look at their overall lines and then break the players down by categories. Rk Player R Age G PA AB H 2B 3B HR RBI BB SO HBP SB...
When George Harrison was selected for the Rock and Roll Hall of Fame, everyone assumed that Eric Clapton would do the induction speech. Clapton passed on the honor, not wanting to become the "spokesman" for Harrison's legacy, as he had already acted as musical director for the "Concert for George," an all-star tribute to the late Beatle. I felt like Clapton when the news...
In a post to his Crossroads column for ESPN.com, Buster Olney says he expects the Mets to shop and eventually trade David Wright this summer. Teams have been reluctant to trade multiple prospects in deals for young hitters lately, Olney points out, thus concluding, "The Mets could get at least one young player they like in return (for Wright), as they did in trading Carlos Beltran...
Terry Collins did an outstanding job today answering questions from Mets fans on Twitter. Here are some of the highlights: Are you worried Wright trade rumors could distract him & the team? David Wright is a true professional – he understands that rumors are part of the business. With so many new faces in the clubhouse this year, what do you do to help the team gel together...
The past few days have given me time to think, and, or course, attention drifts to the upcoming baseball season. Usually, this time of year has the optimism of spring training. With the Yankees making moves to improve their pitching, the Mets have done little. The Mets' projected payroll for 2012 is $90 million, which is a long separation to that of the Yankees, Phillies and most...
MLB News

Delivered to your inbox

You'll also receive Yardbarker's daily Top 10, featuring the best sports stories from around the web. Customize your newsletter to get articles on your favorite sports and teams. And the best part? It's free!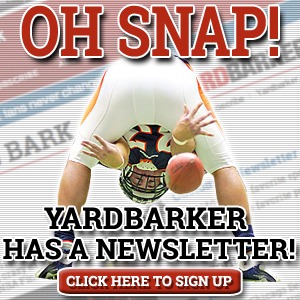 Latest Rumors
Best of Yardbarker

Today's Best Stuff

For Bloggers

Join the Yardbarker Network for more promotion, traffic, and money.

Company Info

Help

What is Yardbarker?

Yardbarker is the largest network of sports blogs and pro athlete blogs on the web. This site is the hub of the Yardbarker Network, where our editors and algorithms curate the best sports content from our network and beyond.