Found November 11, 2012 on MetsOnline:
So… Supposedly the Mets are so broke that they're not going to extend R.A. Dickey or David Wright. Also, supposedly, emphasis on the supposedly, the Wilpons will probably be forced to tell the team in two years or so. And… SUPPOSEDLY, buying out Jason Bay was done with the intention of passing along payroll to the next owner so that the Wilpons wouldn't have to pay Bay's full salary. Here's where I'm getting this: Source who would DEF know tells me Wilpon/Mets are broke, can't extend R.A. or Wright and have maybe two years left before they lose team. — Michael Salfino (@MichaelSalfino) November 11, 2012 And Mets lack of cash, I'm told, is the reason they deferred Bay. More than a baseball decision, they just pass that along to next owner. — Michael Salfino (@MichaelSalfino) November 11, 2012 And you all know I don't pull that source thing like, ever. So trust me on this. — Michael Salfino (@MichaelSalfino) November 11, 2012 Um… Michael Salfino… What? You're basically telling the world that everything that Sandy Alderson and the Wilpons say about Wright and Dickey is false. Actually, your source says this, not you, … sorry. Mr. Salfino's tweets suggest that the Mets plan on keeping Wright and Dickey this season to sell tickets and then just not retain them for the future, either trading them during the summer or just letting their contracts expire. Both players have expiring contracts, so trading them at the deadline wouldn't bring back as much return as trading them this offseason–especially after Dickey's career year. I'm not suggesting either player will be traded. As many other people believe, I think there's a 50% chance Dickey gets traded this offseason. On the other hand, I think there is a 5% chance that David Wright is traded this offseason. Look… If the Mets do not extend Wright this winter, they will lie to the fans and say that they plan on extending him after the 2013 season–or something like that–and then they'll just let him go or trade him at the deadline. Remember, if the players aren't extended this offseason, they will NEVER be extended. If Mr. Salfino thinks the Wilpons plan on not re-signing both players. What will happen in 2014? I'm pretty sure all of the fans would start marching outside of Citi Field with "SELL THE METS" signs. At least, I will… My gut says that Michael Salfino's source is wrong. But, if he is right, us fans will go crazy… THE METS ABSOLUTELY HAVE TO RETAIN DAVID WRIGHT. THAT'S THE BOTTOM LINE. 
Original Story:
http://metsonline.com/report-the-wilp...
THE BACKYARD
BEST OF MAXIM
RELATED ARTICLES
It is a tiny bit surprising that we do not have any kind of idea how the Mets are going to handle their two biggest starts — R.A. Dickey and David Wright. Sure, the club picked up the option on both players but would it really be a surprise if either one or both of those players were elsewhere come Opening Day? There has been very little concrete news about which direction...
Matt Cerrone of MetsBlog says he's heard that Sandy Alderson and David Wright are just $20 million dollars apart on a new contract extension. However, based on what I'm hearing, Wright's camp is thinking seven years and at least $130 million guaranteed, while the Mets are thinking more like six years and around $110 million. Frankly, that's close enough to make me confident...
A source has told Dan Martin of the New York Post that the Mets may very well bring back center fielder Andres Torres for another season. A second straight brutal season at the plate likely means the Mets will non-tender Andres Torres, but the team has not ruled out the possibility of bringing back the center fielder, according to a source. Despite hitting just .230 with a .664...
This usually is a fun time of the year when you get to speculate where the top free agents will land. The Mets make it easy on us, because we know they won't go after anybody of substance. No offense, Mike Nickeas and Anthony Recker. The most popular theory is the Mets will jump into the free-agent market when, 1) the Wilpons sell the team, 2) when they resolve their financial...
The Mets are willing to deal R.A. Dickey. Last week, Mets general manager Sandy Alderson opened up Pandora's Box by expressing a willingness to deal the National League Cy Young Award finalist if the right opportunity came about. Speaking at a banquet over the weekend –– where he received the Branch Rickey Award –– Dickey expressed a desire to stay in New York and continue...
The Franchise: The Name Says It All One of the many great things about the history of Baseball is the abundance of nicknames. Some are based around physical appearance of a player: The Splendid Splinter, Pee Wee, Three Finger, The Beard. For others, the way they played the game is summed up in a nickname: Mr. October, The Wizard, The Iron Horse, Nails. Other monikers can be classified...
The Mets announced they have named Jim Malone Strength and Conditioning Coordinator. Malone, 45, was the Mets' Strength and Conditioning Coach in 2002. He was the minor league Strength and Conditioning coordinator for the Kansas City Royals from 2000-2001 and the Cleveland Indians minor league Strength and Conditioning Coordinator from 2004-2005. Malone spent the previous seven...
There were a lot of things wrong with the Mets in 2012, but one thing they absolutely have to fix in 2013 is their outfield depth.  They have their eyes on some free agents that could help out their team a great deal but are somewhat high risks.  Among these people, the picks at the top of the list are Melky Cabrera and Shane Victorino.  Both can help the team out a great deal...
Photo by Michael BaronIt's not just the NY reporters who are speculating about Salty being on the block now that the Red Sox signed David Ross, Boston beat writers are also making the same conclusions.Scott Lauber of the Boston Herald also believes that the Ross signing could make Salty vulnerable and the Mets would be a fit. Lauber puts two and two together between the Mets...
Hear me discuss the breaking news from Mike Salfino about the Mets ownership situation. Brian Erni of Metsblog gives his thoughts on the failed Jason Bay signing and whether the Mets should trade David Wright and R.A. Dickey. I break down the Yankees new budget during the second half hour with Sensei John Kreese of Nomaas. CLICK HERE TO LISTEN DOWNLOAD THE MP3 If you like to listen...
The Mets and their wallets on are on ice A year ago at this time the Mets and Los Angeles Dodgers were in very similar situations. Both clubs were going through some difficult financial times, and we were hearing frequent rumblings about their respective owners having to sell their teams. Fast forward a year, and the Dodgers have been sold for $2 billion, and went on a spending...
Welcome back my friends… I've missed you. It has been a heckuva two weeks hasn't it? Hurricane Sandy arrived and we here on the East Coast have taken a battering and been left powerless, and no, I'm not talking about the Mets' outfield or the Yankees in the playoffs. My house, in particular, was without lights for a total of twelve days, twenty hours. The hurricane...
Mets News

Delivered to your inbox

You'll also receive Yardbarker's daily Top 10, featuring the best sports stories from around the web. Customize your newsletter to get articles on your favorite sports and teams. And the best part? It's free!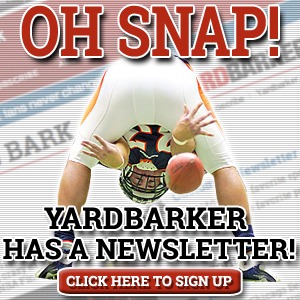 Latest Rumors
Best of Yardbarker

Today's Best Stuff

For Bloggers

Join the Yardbarker Network for more promotion, traffic, and money.

Company Info

Help

What is Yardbarker?

Yardbarker is the largest network of sports blogs and pro athlete blogs on the web. This site is the hub of the Yardbarker Network, where our editors and algorithms curate the best sports content from our network and beyond.