Found June 28, 2012 on Fox Sports North:
MINNEAPOLIS Stealing a base is both an art form and a mind game. It often requires speed, sure, but a base stealer must rely perhaps more on instincts than his speed to advance 90 feet from first base to second.There are plenty of factors involved in a steal. The pitcher on the mound often dictates a player's ability to take a sizeable lead at first base. A quick move may cut down a runners' ability to get a good jump. Meanwhile, a catcher with a strong arm can compensate for a pitcher who is slow to home. A combination of a quick move home and a quick throw to second can be nearly impossible to run against.Minnesota Twins outfielder Ben Revere is still learning the tricks of the trade, but he currently has a team-high 15 steals, which is tied for 14th-most in all of baseball. Considering he's done so in just 41 games makes it even more impressive."It's a learning process," Twins manager Ron Gardenhire said of Revere. "There's times when he'll take off and you're like, 'You've got no chance.' There's a lot to base running. But he's fun to watch. He's a guy that can really do some things. He can steal a lot of bases, and he outruns some mistakes, too, on the bases."The 24-year-old Revere is in just his second full season in the majors, but the speedy outfielder has already started to develop a reputation as a dangerous base stealer. That was evident earlier this week as the Twins hosted the White Sox at Target Field. After Revere singled against Chicago starter Jake Peavy in the first inning, Peavy kept a close eye on Revere at first base. Once, twice, three times Peavy threw over to first base with Joe Mauer at the plate, making sure Revere stayed close to the bag. When Josh Willingham came to the plate one batter later, Peavy again kept Revere close with a pair of pickoff attempts.It happened again in the fifth inning, after Revere led off with another single. Again with Mauer at the plate, Peavy threw over to first not once, not twice but three times. It ultimately didn't do a whole lot of good for the Chicago starter, as Revere swiped his 15th base of the year one at-bat later.Said Revere: "I try to do everything I can just to cause havoc on the base paths."So far, he's done just that. A year ago, Revere stole 34 bases, which set the Twins' rookie record for most steals in a season. In 2008 and 2009 with Low-A Beloit and High-A Fort Myers, respectively, Revere stole over 40 bases each season. Revere's confidence in his ability to steal bases may come off as cocky, but the young outfielder isn't being brash about anything. When he says he wants to lead the league in steals, it's not out of cockiness, but rather because he believes in his abilities.As of Thursday, Revere was nine steals behind baseball's leaders, Los Angeles' Dee Gordon and the Cubs' Tony Campana, who each have 24. Gordon has done so in over 100 more at-bats (278) than Revere (167), although the fleet-footed Campana (145 at-bats) has fewer than both.As he gains more experience, Revere continues to learn what it takes to become a prolific base stealer. He's been thrown out just three times in 18 attempts this year, a success rate of 83.3 percent. "It's all about timing the pitcher and everything up here," Revere said. "You can't just use straight speed or you're going to get thrown out nine out of 10 times. I'll go in the film room, watch some film on the pitcher, the pickoffs, see how long they hold the ball, what some reads are that I can get off them so I can get a good jump."Fellow outfielder Denard Span is third on the Twins with seven steals in 10 attempts. Span's season was limited to just 70 games last year and he finished with only six stolen bases. However, he stole 49 total bases in 2009 and 2010 combined.Like Revere, Span will watch film of opposing pitchers before games not only to be prepared for when he's at the plate, but also to anticipate what he'll do if and when he gets on base. And Span has been getting on base as Minnesota's leadoff man his .341 on-base percentage is fourth on the Twins."You just try to be aggressive and trust what you've seen, and when you see it just react and take off," Span said. "Also, you try not to get into a pattern of stealing on the first pitch every time. You've got to mix it up a little bit. Also, it's good to try to steal when the hitter's behind, when it's a breaking ball count or an off-speed count to give yourself extra time to be safe."Span and outfielder Darin Mastroianni will often have conversations in the dugout to discuss the opposing pitchers' pickoff moves or timing to home plate. While Mastroianni is another speed guy in Minnesota's lineup, he hasn't played all that much since the Twins called him up from Triple-A in early May just 25 games, including only 12 starts. Mastroianni only has two steals so far this season, but he's shown in the minor leagues that speed can be an asset for him. In 2009 with High-A Dunedin and Double-A New Hampshire in Toronto's minor league organization, Mastroianni stole a combined 70 bases in 131 games.His key to stealing bases: go early in the count."I prefer to go on the first pitch every time," Mastroianni said. "Obviously you can't do that just because guys will start pitching out, things like that early. But you've got to be ready to go on the first pitch all the way through the end of the at-bat, whether it's a 10-pitch at-bat or a four-pitch at-bat."The trio of speedy outfielders keep open lines of communication as they each help each other attempt to rack up stolen bases. It's paid off so far for Revere, who is easily on pace to surpass his stolen base total from a year ago. As Gardenhire said, there are times when Revere can get away with a mistake on the base paths simply because of his speed. But as Revere continues to learn the ways of opposing pitchers and figure out when is the best time to make a move toward second, his stolen base totals will continue to rise."That's one of my goals is to hopefully get the most stolen bases in all of baseball," Revere said. "It's just I want to get on base. I know the defense, they're aware that I'm a base stealer, so they're going to be watching me."Watching Revere and throwing him out, however, are two different things.Follow Tyler Mason on Twitter.
Original Story:
http://www.foxsportsnorth.com/06/28/1...
THE BACKYARD
BEST OF MAXIM
RELATED ARTICLES
MINNEAPOLIS The Minnesota Twins on Friday signed catcher Ryan Doumit to a two-year contract extension. Doumit, who originally signed a one-year deal prior to this season, will make 3.5 million a year in 2013 and 2014.Though the contract extension comes halfway into Doumit's first season with the Twins, the eight-year veteran felt comfortable in Minnesota's clubhouse from...
MINNEAPOLIS Nick Blackburn was at a loss for words Wednesday when asked what more he can do to turn things around, shortly after he and the Minnesota Twins fell, 12-5, to the Chicago White Sox.The Twins are seemingly out of options, too, meaning they have no choice but to keep Blackburn in the rotation. Wednesday's outing was his worst this month, as the right-hander allowed...
The Minnesota Twins are recalling right-hander Cole De Vries from Triple-A Rochester to start the second game of Saturday's doubleheader against Kansas City. The Twins announced the decision on Friday, which will become official on Saturday. De Vries went 1-1 with a 4.20 ERA in his first stint with the Twins this season. He is a native of the Minneapolis suburb of Eden Prairie...
MINNEAPOLIS Two pitches.That was the life span of the first baseball used in Friday's game by Twins starter Brian Duensing. After a first-pitch ball, Kansas City's Alex Gordon fouled the second pitch off to the netting behind home plate. Minnesota's ball boy picked up the ball, taking it to its final resting place somewhere in the bowels of Target Field.Such is the life...
The Minnesota Twins and catcher Ryan Doumit have agreed to a new $7 million, two-year contract. The Twins announced the deal on Friday before opening a series against the Kansas City Royals. Doumit was signed a one-year deal with Minnesota in the offseason. The 32-year-old Doumit is hitting .271 with seven homers and 32 RBIs in his first season with the Twins. He has served as...
Catcher Ryan Doumit looked like solid trade material for a rebuilding team. Instead, he and the Twins agreed Friday to a two-year, $7 million contract extension that could keep him in Minnesota through 2014. "There's no doubt in my mind we're going to right this ship, and I'm glad to know I'll be aboard when we do," Doumit said. Doumit, 31, is a switch...
MINNEAPOLIS Some how, some way, the Minnesota Twins were only 7.5 games out of first place in the American League Central after beating the visiting Chicago White Sox on Monday. Given how deep of a hole the Twins have dug themselves into, that number just didn't seem right. Minnesota dropped the second game of the series Tuesday to Chicago to fall back to 8.5 games out of first...
The Minnesota Twins are nearing an extension with DH/catcher Ryan Doumit, who the club signed to a one year, $3 million deal this offseason.The news was first reported by Jerry Crasnick of ESPN. Doumit has been splitting time with Joe Mauer at catcher and DH, allowing Mauer's valuable bat to get plugged into the lineup more consistently. But while Doumit has value as...
With the trade deadline quickly approaching, I'm going to start looking at which teams will be buyers and which will be sellers.  I'll start with the sellers, teams looking to deal current/proven players for future potential (or save money).  In my opinion there are 7 teams that will be sellers barring a HUGE run in June (Minnesota Twins, Seattle Mariners, Oakland A'...
MINNEAPOLIS The Minnesota Twins optioned right-hander Jeff Manship to Triple-A Rochester and recalled right-hander Kyle Waldrop after Wednesday's game. Waldrop will join the Twins for Friday's series opener against Kansas City.Manship allowed three runs on five hits in one inning of relief in Wednesday's 12-5 loss to the White Sox. It raised his ERA on the season to...
MINNEAPOLIS For Kyle Waldrop, this day should have happened months ago.The right-handed reliever seemed like a sure bet to make the Minnesota Twins' 25-man roster out of spring training. But a right elbow strain landed him on the disabled list to start the season, and his opportunity for a spot on the opening-day roster was gone.Finally, after a lengthy rehab process that began...
MLB News

Delivered to your inbox

You'll also receive Yardbarker's daily Top 10, featuring the best sports stories from around the web. Customize your newsletter to get articles on your favorite sports and teams. And the best part? It's free!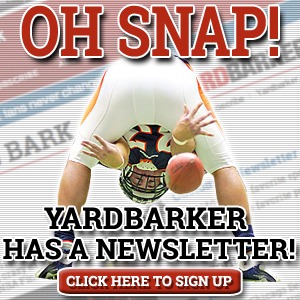 Latest Rumors
The Backyard

Today's Best Stuff

For Bloggers

Join the Yardbarker Network for more promotion, traffic, and money.

Company Info

Help

What is Yardbarker?

Yardbarker is the largest network of sports blogs and pro athlete blogs on the web. This site is the hub of the Yardbarker Network, where our editors and algorithms curate the best sports content from our network and beyond.