Found July 17, 2012 on Fox Sports North:
MINNEAPOLIS Minnesota Twins outfielders Denard Span and Ben Revere are both center fielders at heart. The problem is, only one of them can roam center field on any given day. For 2012, that's been Span's job.As a result, Revere has been the Twins' everyday right fielder, covering plenty of ground in the process. On Monday, he and Span showed just how valuable it can be to have two true center fielders roaming the outfield grass at the same time.Revere's highlight catch came first in Monday's game, at it appeared to be a game-changing play in the first inning. Revere robbed Baltimore's Adam Jones with runners on first and second and nobody out to prevent a run from scoring. Revere covered plenty of ground before diving and extending to make the play as the ball hooked toward the first base line.Revere has made so many plays like that since breaking into the majors that they almost appear routine for him."Those aren't easy plays," Twins manager Ron Gardenhire said. "The ball's slicing away from you, the sun at that time of the day is really tough out in right field. He does make things look easy, but they're not."Not to be outdone, Span turned in a few memorable catches of his own. He first took a hit away from Orioles second baseman Steve Tolleson for the final out of the sixth inning, sliding feet first into left-center field for the grab. One inning later, Span backtracked to the wall in left-center and crashed into the fence, taking extra bases away from former teammate J.J. Hardy. Span wasn't about to let Revere steal all of the spotlight with his glove."I told him, I said, 'Hey, you're killing me out here, man,'" Span said of Revere. "Every time I tried to make a catch he turns around and dives and flips. He's killing me on the Web Gems. I can't let him do me like that. You've got to let the old man get in there once in a while."Both of Span's plays resulted in nice catches Monday, but he said the catch at the wall had a higher degree of difficultys."Normally I get to the wall, and I get a little stage fright, a little scared," said Span, who suffered a concussion last season and played in only 70 games in 2011. "Sliding catches, I do that more often. So that was definitely one that I liked the best out of the two."The one knock on Revere as an outfielder has been his below-average arm strength. Despite that fact, Revere's speed allows him to cover enough ground to make up for that. He can get to balls in the corners and the gap that most right fielders aren't able to reach."Usually I play shallow," he said. "My ground cover kind of helps my arm a lot better. I can get it to the infield real quickly."Revere spent time at all three outfield positions in 2011, including 89 in center field while Span was injured. He played just four games in right field a year ago, but he's held down that spot for most of 2012.While he may be a center fielder at heart, Revere says he's comfortable playing right field."It helps the team," Revere said. "Denard, he's our center fielder, he's our leadoff guy, and it's going to make our team a lot better having me out there with him, we can cover so much ground. I know where he can cover, and he knows where I can cover, and usually stuff like that, we're so quick, cover ground."Seemingly not too many balls end up in the gap in right-center when Span and Revere are patrolling the outfield. It gives Minnesota's starting pitchers some peace of mind knowing those two can track down most of what's hit to the outfield.And the highlight-reel catches that Revere and Span continue to make gives something for Twins fans to watch, too, despite the team's 37-52 record."That's where a lot of the triples happen, right against that wall (in right-center)," said Twins left-hander Scott Diamond, who was the beneficiary of the catches by Span and Revere on Monday. "It seems like every time the ball's hit out there, they do a great job of running it down."Follow Tyler Mason on Twitter.
Original Story:
http://www.foxsportsnorth.com/07/17/1...
THE BACKYARD
BEST OF MAXIM
RELATED ARTICLES
SMELL THE GLOVE
Not that the Minnesota Twins needed it on Monday night given the team walloped the Baltimore Orioles, slapping the ball all over Target Field as the team notched 20 hits in a 19-7 victory, but right fielder Ben Revere put on an impressive display of defense in the bottom of the 1st inning when he [...]
Twins manager Ron Gardenhire has a stomach virus that sent him home during Minnesota's game against Baltimore. The Twins announced in the eighth inning Wednesday night that Gardenhire had left the ballpark because of the illness. Bench coach Scott Ullger took over, and the Orioles won 2-1. This isn't the first time Gardenhire has been sick. He's left the dugout several...
MINNEAPOLIS As Francisco Liriano's name continues to be listed among Minnesota's top trade chips leading up to the July 31 trade deadline, the Twins left-hander hasn't let it affect him. In fact, he's continued to boost his trade value.One start after striking out 15 Oakland batters, Liriano twirled another gem Wednesday against Baltimore. The Twins lefty fanned...
MINNEAPOLIS Joe Mauer is no stranger to batting titles. The Minnesota Twins catcher won three of them in the first eight years of his career, earning titles in 2006, 2008 and 2009.After going 3-for-4 in Tuesday's 6-4 Twins win over Baltimore, Mauer is now batting .333 and setting himself up for another possible race for the best batting average in the American League. He is...
Minnesota Twins left-hander Francisco Liriano took the loss in a 2-1 setback to the Baltimore Orioles on Wednesday at Target Field, but he showed a large handful of major league scouts what they had come to see. Liriano fanned 10 in six innings in his eighth quality start since returning to the rotation May 30. With the July 31 non-waiver trade deadline approaching, the timing...
Francisco Liriano got the attention of the baseball world with his latest start, and the Red Sox may be among the teams that are interested in the Minnesota Twins pitcher. The left-hander turned in one of the best starts of his career on Friday night when he struck out 15 in a loss to the Oakland A's. Unsurprisingly, interest in Liriano is starting to increase on the heels of...
Although the Minnesota Twins aren't having the greatest of seasons, star catcher Joe Mauer turned in a pretty amazing catch from last night's game against the Baltimore Orioles. Baltimore's Ryan Flannery was attempting to bunt in the sixth inning but popped the ball up into the air. Watch as Joe makes the play in the diving fashion: Your browser does not support iframes.
MINNEAPOLIS Justin Morneau wouldn't go so far as to say this is the healthiest he's felt in a long time, instead saying he's "healthy enough" to play every day for the Minnesota Twins.After Monday's four-hit performance against Baltimore that extended his season-high hitting streak to 14 games, it appears Morneau is indeed healthy again after missing time...
MINNEAPOLIS (AP) -- Joe Mauer had three hits and an RBI and the Minnesota Twins bullpen pitched 4 2-3 innings of scoreless relief in a 6-4 victory over the Baltimore Orioles on Tuesday night. Mauer had two singles, a double and a walk to improve his batting average to .333, second in the AL behind the Angels' Mike Trout. Ryan Doumit added two hits and two RBIs for the Twins...
MINNEAPOLIS After coming onto the scene strongly during his first month in the majors, Minnesota Twins shortstop Brian Dozier has come back to reality a bit. The dazzling plays at shortstop he made in May have turned into misplays of routine grounders in July. His early tear at the plate -- he batted .279 with eight RBI and a pair of homers in his first 14 games -- has slowed down...
With each hard-hit single the opposite way, with every double to the gap, with every highlight-reel defensive play behind the plate, Joe Mauer pushes the nightmare of last season further and further behind him. The Minnesota Twins All-Star is getting cheered again by his home fans. He's in the race for the American League batting title again. And, most tellingly, he's making...
Adam Jones hit a two-run homer in the first inning against Francisco Liriano and the Baltimore Orioles hung on to beat the Minnesota Twins 2-1 on Wednesday night. Josh Willingham's home run in the fourth was all Minnesota could manage against Tommy Hunter (4-4), who returned to Baltimore's stumbling rotation with a solid performance that lasted one out into the eighth inning...
MLB News

Delivered to your inbox

You'll also receive Yardbarker's daily Top 10, featuring the best sports stories from around the web. Customize your newsletter to get articles on your favorite sports and teams. And the best part? It's free!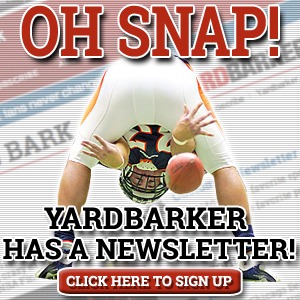 Latest Rumors
The Backyard

Today's Best Stuff

For Bloggers

Join the Yardbarker Network for more promotion, traffic, and money.

Company Info

Help

What is Yardbarker?

Yardbarker is the largest network of sports blogs and pro athlete blogs on the web. This site is the hub of the Yardbarker Network, where our editors and algorithms curate the best sports content from our network and beyond.