Found January 25, 2013 on World Series Dreaming:
It's pretty rare that I ever side with "The Man" in any business argument, and yet here I am, siding with Tom Ricketts when it comes to his little border war with the Rooftop association. To be honest, however, this isn't a case of "The Man" vs. small business. This is "The Man" pitted against a smaller "The Man" situation. Let's backtrack a bit. You see, the Rooftop association is going to be presenting an ad proposal to the Cubs brass, and they decided to make a public plea for why they should be allowed to 1. Exist, I guess, and 2. sell ad space on their property. Here's the video of their presentation, courtesy of the always outstanding Bleacher Nation: At least that's what I think this is about. It's all kind of confusing, let's go to the Tweeterboxes:   Rooftop renderings of how more advertising could/would work lockerz.com/s/279305378 — Jesse Rogers (@ESPNChiCubs) January 25, 2013 Ehhhhh ok. Whatever. They look kinda cheap and the renderings can use some work but fine, let's roll with it.   Cubs employee kicked out of room showing video. #Espionage — Paul Sullivan (@PWSullivan) January 25, 2013 That's some dirty **** right there. Clever, expected, perhaps I encourage it, but def. dirty.   Roofies plan: Let Cubs sell advertising on rooftops and let them stay in business. Say it'll bring in $10-$20 million annually. — Paul Sullivan (@PWSullivan) January 25, 2013 Ok…   According to written proposal habded out before presser 100 percent of revenue from this new advertising goes towards city and cubs — Jesse Rogers (@ESPNChiCubs) January 25, 2013 In return rooftops get assurance their sight lines aren't messed with. Presser about to start — Jesse Rogers (@ESPNChiCubs) January 25, 2013   Ok ok, I'm liking this, this is perhaps a fight where I can hope both sides come to a peaceful and meaningful agreement that will ens-   Rooftop owner stops p.c. to show framed "welcome" letter from Andy MacPhail. — Paul Sullivan (@PWSullivan) January 25, 2013 Uhhhhhhh   Roof top owners say Cubs will get $3.5million a year for 20 years. Sounds low. — Bruce Levine (@ESPNBruceLevine) January 25, 2013 Word?   Loukas: "Yes, we would go to court" if their views are blocked. "We want to be treated as people who are not blind." — Paul Sullivan (@PWSullivan) January 25, 2013   Loukas: Cubs "might not have been here" w/o Murphy's and Cubby Bear. Oh geez. — Paul Sullivan (@PWSullivan) January 25, 2013 Oh you have got to be ******** me.   Loukas says he was once Ricketts' landlord but would've jacked up the rent if he knew he'd eventually be Cubs owner. #ChicagoLandlord — Paul Sullivan (@PWSullivan) January 25, 2013 I don't know if you should be saying this during a press conference that is pleading for the PUBLIC'S APPROVAL!   Sounds like Lynch: "Without you I don't have a job?" RT @pwsullivan Loukas: Cubs "might not have been here" w/o Murphys and CubBear. Oh geez — Barry Rozner (@BarryRozner) January 25, 2013 Nailed it.   if you leave a card at your neighbor's saying "thanks for sharing your vegetable garden", do you own part of their house now? #rooftoplogic — Harry Pavlidis (@harrypav) January 25, 2013 Nailed it some more.   Cubs to Roofies: Drop Dead — Paul Sullivan (@PWSullivan) January 25, 2013 Now, it's pretty clear that Paul Sullivan is being a bit facetious here, but oddly enough I have a similar sentiment towards the rooftop owners. A part of me is sympathetic towards their cause, it makes sense that they should have a nice symbiotic relationship with the Chicago Cubs. The "Roofies" completely botched this PR opportunity, however. Oh, and if you were wonder about the letter, here it is: Long live McPhail.
Original Story:
http://worldseriesdreaming.com/2013/0...
THE BACKYARD
BEST OF MAXIM
RELATED ARTICLES
Sammy Sosa had an opportunity to go down in history as one of the best Chicago Cubs ever.  Then in 2003 a report came out that labeled Sosa as one of many players the used PED's, and well the rest is history. Sosa now says he's ready to forgive the Cubs, and during a live webcast that he set up, stated that the Cubs should have been retired his #21 jersey via ESPN Chicago. "I...
Pitcher Carlos Villanueva and the Chicago Cubs have completed a $10 million, two-year contract. Villanueva will earn $5 million annually as part of Saturday's deal. The sides had agreed to the contract in mid-December, pending a successful physical. The 29-year-old right-hander spent the past two seasons with Toronto and went 7-7 with a 4.16 ERA last year in 16 starts and 22...
The Chicago Cubs and right-handed pitcher Carlos Villanueva agreed to terms on a two-year $10 million contract. To make room for Villanueva, right-handed pitcher Lendy Castillo was designated for assignment. Villanueva, 29, joins the Cubs after pitching the last seven seasons with the Brewers (2006-10) and Blue Jays (2011-12). Villanueva has 56 starts and 245 relief appearances during...
I am not sure how closely you have been paying attention, but the Chicago Cubs have been making a number of free agent signings over the off season making their 40 man roster a mess, Their free agent signings did not stop last night when reports came out of the newest acquisition Scott Hairston, formerly with the New York Mets. Even though the ball club has not yet confirmed the...
In the 2000s, the Chicago Cubs and the owners of the rooftops surrounding Wrigley Field had quite a tiff going on. The Cubs put up fences in the bleachers blocking the view of the Wrigleyville rooftops, so the rooftop owners built their seats higher above it. Then the ballclub put up another screen blocking the view, claiming it was for "post 9/11 security screens." After years...
Sammy Sosa woke up.   Someone must've told him he didn't get elected to the Hall of Fame.  Now he's all over the media talking about he deserves to be in the Hall of Fame, and how the Cubs should've retired his number a long time ago.   To the first point, I say no. [...]
Cubs News

Delivered to your inbox

You'll also receive Yardbarker's daily Top 10, featuring the best sports stories from around the web. Customize your newsletter to get articles on your favorite sports and teams. And the best part? It's free!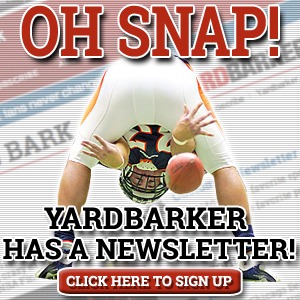 Latest Rumors
Best of Yardbarker

Today's Best Stuff

For Bloggers

Join the Yardbarker Network for more promotion, traffic, and money.

Company Info

Help

What is Yardbarker?

Yardbarker is the largest network of sports blogs and pro athlete blogs on the web. This site is the hub of the Yardbarker Network, where our editors and algorithms curate the best sports content from our network and beyond.