Found November 19, 2012 on Pirates Prospects:
Before coming to the Pittsburgh Pirates near the end of Spring Training this year, Robby Rowland spent two seasons in the Arizona Diamondbacks organization. A third round draft pick out of high school, with a strong bonus to match, he had some struggles during his two seasons in the Pioneer League. Things changed for him this season in a big way. He went from a thrower that posted an 8.07 ERA in 14 Rookie Ball starts, to a pitcher that cut his ERA by nearly five runs, while also working deeper into games.  Pirates Prospects had a chance to catch up with Rowland when he first came to the Pirates organization. He was in Extended Spring Training, set back slightly at the beginning of the year due to a bout of mono. At the time, he talked about his new three-quarter delivery he picked up during the Fall Instructional League. He also began throwing a sinker at the same time, so perhaps with all the changes, you wouldn't have expected the kind of results he put up this season. In fact, before he threw a regular season pitch, the guesses by most were that he would end up back in short-season ball. Now that the season is over, it seems like a good time to see how he went from that thrower in the Rookie Leagues getting hit around, to a pitcher that tried to get outs by making the batters hit his pitch early in the count, enabling him to work deep in games with a limited pitch count. The first sign of Rowland in the boxscore came seven weeks after he joined the Pirates, a one-inning relief appearance on May 19th in which he allowed one run on two hits. It would mark the only time he would pitch in relief. Four days later, he began a string of 19 straight starts that ran through the end of the season. During those 19 starts, he worked at least six innings a total of 12 times, including seven of his last nine outings. His innings total went from 68 in 2011, all the way to 106.1 this year, which makes his strong finish all that more impressive. For Rowland though, it was just business as usual until the end. "Through the course of a season, I don't really notice how many innings I'm at," Rowland said. "I just go out every fifth day and try to go as deep in the ball game as I can. Sure maybe the arm starts feeling a little fatigue during the end of the year, but you learn to throw through it." That brings me back to the beginning of his time with the Pirates. Was he able to maintain his pre-season game plan of working down in the zone, using his change-up when he was behind in the count and feeling confident about throwing his breaking balls for strikes? Or did his plan of attack change as the season went on? According to Rowland, for the most part the plan stayed the same. "Obviously I could have lived more down, but I'm human and make mistakes from time to time," he said about his season. "Just learning how to limit those mistakes is the constant battle. The curveball went from my strikeout pitch to a pitch I didn't throw as much." He also made a change in his arsenal during the season. He threw a cutter at the beginning of the year, changing that to a slider midway through the season. His results were a little better during his first half of the year, but he was obviously a more reliable starter during his second half with consistently deeper starts. For Rowland, that last part is more important, as is winning as a team. When I mentioned that he must have been happy about going six innings so many times late in the year, the first thing he mentioned was the team, not himself  "I would have been a lot happier if we would have made the playoffs, but I felt like I did an okay job of saving the bullpen as much as possible. I want to be the guy the team can count on each of my outings to go out and throw deep into ball games. Their is obviously still work to be done, but I feel like I'm on the right track." Rowland learned a lot his first year of full-season ball and part of that can be attributed to the Pirates practice of having their starting pitchers track pitches in the stands during three of the four games between their starts. That was something that Rowland didn't do his first two years of pro ball. "I really didn't know what to do on the days I didn't pitch," Rowland said of his time in Arizona. "After two disastrous years I took it upon myself to study the game and try to give myself the biggest advantage as possible." According to Rowland, he is willing to do anything that he can do to help himself. "I really do love this game and can study hitters, pitchers, catchers, etc. for hours," he said. "I know I may not be the most talented pitcher out there but I try to help myself out by understanding how to pitch certain guys." Along with that kind of passion for baseball and willingness to study the game, Rowland also has a father who caught for six years in the majors, which is a huge advantage. His father, Rich Rowland caught in the majors for the Tigers and Red Sox from 1990 until 1995. While he has been out of pro ball since 1997, he is a big part of his son's minor league career. "I wouldn't be where I am today if it wasn't for him," Rowland said. "It is such an advantage to have him around. Just someone I can constantly talk baseball with. I call him after every outing and get advice. Since he was a catcher I now understand what goes through their mind when trying to read hitters. It's fun to pick his brain and see how I can get better from his information." With his first year of full-season ball in the books, things won't slow down for Rowland, who will now be more active during the off-season due to weight training that he didn't do much of in the past. With a new organization, came new Winter routines. "I think personally my body is ready to do a little bit more weight stuff now," the right-hander said. "I was never really a big weight guy growing up and now that I am in an organization that believes in adding muscle, I have grown to like it." Rowland won't begin to throw again until the first week of January, but once he does, he already knows what his focus will be. "Just trying to really nail the concept down on the sinker. The pitch is somewhat new to me still and I still constantly watch video on how to better the pitch. Other than that, trying to be able to throw a pitch that can get swings and misses, most likely being the slider. Trying to create the X-Factor with the sinker slider combo." That last part he explained as the ball going to each side of the plate after starting out in the middle. Robby Rowland made great strides his first season with the Pirates organization. With good size and youth on his side (he is still a month shy of his 21st birthday), plus a great work ethic and better understanding of the game each day, Rowland is hoping to carry his 2012 success into High-A ball at Bradenton next season and beyond from there.
Original Story:
http://feedproxy.google.com/~r/Pirate...
THE BACKYARD
BEST OF MAXIM
RELATED ARTICLES
The Pittsburgh Pirates set their 40-man roster today, adding five players and protecting those players from the upcoming Rule 5 draft on December 6th. The list below includes the players who were left unprotected for the draft. Before I get to the list, I want to point out a mistake on Gift Ngoepe's eligibility. Ngoepe signed with the Pirates in late-2008 at the age of 18. This...
Tony Sanchez was added to the 40-man roster today. Today was the deadline to protect players for the upcoming Rule 5 draft in December. The Pittsburgh Pirates added five players to the 40-man roster today. The new additions were Vic Black, Tony Sanchez, Phil Irwin, Ramon Cabrera, and Hunter Strickland. Sanchez and Black were the two obvious names from the list. Sanchez was the first...
In Winter League action yesterday, Darren Ford likely played his last game of the off-season. If he did, he went out in a big way. Ford hit a fourth inning grand slam during Leones del Caracas 7-5 win. According to El Universal(link is in Spanish), the original plan for Ford was to take two weeks off, then return to the team in mid-December. He states in the article that he wants...
Tomorrow is the day for teams to protect players for the upcoming Rule 5 draft. Teams have until midnight to add players to the 40-man roster, or risk those players being exposed in the draft this December. The first time eligible players this year are high school players from the 2008 draft and college players from the 2009 draft.  The Pirates currently have six open spots on the...
'COME A LONG WAY'
People tend to focus so much on the astronomical mounts of money professional athletes make in some instances that they forget where some of them came from. By making it to the biggest stage in sports, many players rescued themselves and their families from lives of hardship. Pittsburgh Pirates outfielder Andrew McCutchen tweeted the photo you see above on Monday with a powerful...
In a second consecutive light day of Winter League action for Pittsburgh Pirates players, Darren Ford went 3-for-5 with three runs scored, an RBI and his first triple. He also picked up an outfield assist. The center fielder has a .283/.355/.362 line in 127 AB's. During the regular season, he played just 70 games for Tacoma of the PCL, missing the first two months of the season...
The Pirates have signed outfielder Felix Pie to a minor league contract. The deal includes an invite to spring training and incentives based on plate appearances if he makes the major league club.
There's success stories and then there's those success stories with a large dose of inspiration to go with it. The other day Pirates All-Star outfielder Andrew McCutchen posted this picture to his Twitter page which by all account is very inspiring. come a long way since livin here…Thank you God for all youve done n my life. #Ameninstagr.am/p/SOUy9djt_X/ — andrew mccutchen...
The Pittsburgh Pirates have signed outfielder Felix Pie to a minor league deal, according to Dan Connolly of the Baltimore Sun. Connolly reports that Pie has incentives for major league plate appearances in his contract if he makes the Pirates. The outfielder was once one of the top prospects in the Chicago Cubs system, but hasn't panned out in the majors. In 964 career at-bats...
1. Gerrit Cole, RHP – Everyone knows all about Cole.  Good results, knocking on the door.  Just a matter of time before we get to see his Ace potential in Pittsburgh, possibly this season. 2. Alen Hanson, SS – Building quite the resume.  Very Young.  Still very raw.  Much of his ranking is dependent on [...]
Middle relievers are never the sexiest names available during the offseason, but it's hard to dispute just how important a solid bullpen is to a team's success. For that reason, it's shouldn't be too surprising that Jason Grilli is reportedly drawing interest from nearly a third of the league. Grilli, who just turned 36, has transformed into a solid reliever the past two...
Here's a list of players that signed Minor League deals recently: – Outfielder Felix Pie signed a Minor League deal with the Pittsburgh Pirates according to Dan Connolly of the Baltimore Sun. The deal includes invitation for Spring Training adds Connolly. Pie hit .285/.338/.459 with 6 HR's, 51 RBI's and a .355 wOBA in 364 plate appearances with the Braves' Triple...
MLB News

Delivered to your inbox

You'll also receive Yardbarker's daily Top 10, featuring the best sports stories from around the web. Customize your newsletter to get articles on your favorite sports and teams. And the best part? It's free!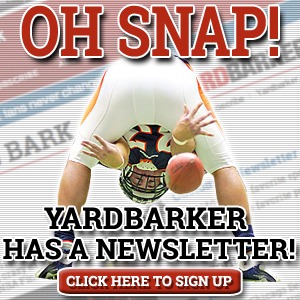 Latest Rumors
Best of Yardbarker

Today's Best Stuff

For Bloggers

Join the Yardbarker Network for more promotion, traffic, and money.

Company Info

Help

What is Yardbarker?

Yardbarker is the largest network of sports blogs and pro athlete blogs on the web. This site is the hub of the Yardbarker Network, where our editors and algorithms curate the best sports content from our network and beyond.