Posted October 04, 2012 on AP on Fox
PLAYERS:
Jim Tracy
,
Todd Helton
,
Troy Tulowitzki
,
Jeremy Guthrie
,
Jonathan Sanchez
,
Jhoulys Chacin
,
Juan Nicasio
,
Ubaldo Jimenez
,
Drew Pomeranz
,
Alex White
,
Jordan Pacheco
,
Wilin Rosario
,
Ramon Hernandez
,
Michael Cuddyer
,
Carlos Gonzalez
,
Dexter Fowler
TEAMS:
Colorado Rockies
,
Kansas City Royals
,
Cleveland Indians
,
Atlanta Braves
Jim Tracy wants a chance to put the pieces back together. The manager of the Colorado Rockies will meet with Bill Geivett, the team's director of major league operations, Friday to discuss the direction of a club that just completed its worst season ever. The Rockies' 98-loss debacle featured a historically awful starting rotation that won just 20 games at Coors Field, a realignment of their front office, a pitching coach that quit midseason, devastating injuries to Todd Helton and Troy Tulowitzki, among others, and an uncertain future for Tracy. ''Ace'' acquisition Jeremy Guthrie, who was brought in to eat up innings, went 1-5 and flirted with a 10.00 ERA at Coors Field before being traded to Kansas City for Jonathan Sanchez, who posted an 8.59 ERA at home. Jhoulys Chacin, Jorge De La Rosa and Juan Nicasio, who are expected to anchor the rotation in 2013, spent most of this season on rehab. And the two prized prospects the Rockies obtained from Cleveland in the Ubaldo Jimenez trade, Drew Pomeranz and Alex White, both went 2-9 overall and 1-5 at home. The Rockies were so desperate that they adopted a four-man rotation and a 75-pitch limit for two months and placed Geivett, the assistant general manager, in the clubhouse while GM Dan O'Dowd refocused his energies on the minor leagues. There were a few bright spots, like youngsters Jordan Pacheco, D.J. LeMahieu, Jose Rutledge and Wilin Rosario, who logged a lot more innings behind the plate than planned because of Ramon Hernandez's injury-plagued season. Rosario's power - 28 homers - was offset somewhat by 20 passed balls, hurting his chances of winning NL Rookie of the Year. The loss of Helton to a hip injury and of Tulowitzki to a groin injury for most of the summer and Michael Cuddyer to a right oblique strain in August softened the Rockies' lineup and its chances of weathering all that poor pitching. ''That was the hardest part, all the injuries,'' slugger Carlos Gonzalez said. ''It's hard for any team when you lose your shortstop, your right fielder, you first baseman, your top three guys in the rotation. That's hard.'' Gonzalez said he's so eager to get this bad taste out of his mouth that ''I won't rest. Maybe a couple of weeks and then start working again, start thinking about next year, about being better as a player and make this team better.'' It'll take a lot more than the determination of their All-Star outfielder. The Rockies will look for upgrades all over but they also hope all the innings logged by their youngsters will pay off next season. ''This is a better place to learn. There is no better,'' Pacheco said. ''The game is quicker and comes at you fast. I think we've all taken our bumps and bruises this year and know what to expect next year.'' The rebuilding of the Rockies, whether or not Tracy is in charge - he's under contract for next season at $1.4 million - will most likely begin with changes to the coaching staff and then the front office will focus on fixing the pitching problems, then a porous defense and a lack of run production. ''It's going to be an interesting offseason,'' Tulowitzki said. ''Obviously, what we had in this locker room did not work. With that being said, in professional sports there are usually changes. ... And there should be moves made after a year like this.'' Tracy is hoping he'll still be in charge after this weekend so he can get a chance to turn things around next year. ''There's been a lot that's taken place here this year, yet ... we don't lose baseball games from a lack of effort or intensity,'' Tracy said. ''The growth that has taken place in relation to several of the younger players on this team, offense is not a problem here. And it won't be next year. It won't be a problem if there's nothing added; that's how good these young players are.'' The pitching, now that's another story. The Rockies have to retool their rotation and hope Pomeranz and White become the workhorses they envisioned when they parted with Jimenez, who tamed Coors Field like no one has since. ''There's been a lot of guys who have become special pitchers who were 2-9 after five months of service time at the major league level,'' Tracy said. ''You go to the Atlanta Braves staff with (Steve) Avery and (Tom) Glavine. Go back and look how they did their first five months and it became a year after year after year type thing.'' Veteran position players such as Cuddyer and Dexter Fowler could be trade bait as the Rockies seek more starting pitching so they can avoid another free-fall in 2013. ''You don't get an opportunity to play baseball in the month of October if you screw it up in April, May, June,'' Tracy said. ''And that's what we did.'' --- Follow AP Sports Writer Arnie Melendrez Stapleton on Twitter: http://twitter.com/arniestapleton
Original Story:
http://msn.foxsports.com/mlb/story/Ro...
THE BACKYARD
BEST OF MAXIM
RELATED ARTICLES
The 2012 Colorado Rockies season came to an end on Wednesday.Congratulations! The Colorado Rockies season is over, and you made it through. It took a long time, it was painful to watch, but in the end, the Rockies avoided 100 losses and are faced with inevitable change heading in to 2013.The Rockies ended on a positive note, winning both their final game and their final road series...
Denver, CO. The Colorado Rockies acting GM Bill Geivett will meet with manger Jim Tracy to determine whether he will return for 2013. If the Rockies choose to go a different direction they will be parting with the only person with a clue. Dan O'Dowd has proven he doesn't belong running the major league club by demoting himself to the minors with scouting responsibility. Bill...
Some thought the Colorado Rockies would bring Troy Tulowitzki back for the final part of the regular season, just to give the fans a look at their favorite shortstop and to get him some work. Instead, Tulowitzki went to the instructional league in Arizona. This rubbed some people the wrong way, but Tulowitzki said he simply wasn't ready for the big leagues. In an interview...
The Colorado Rockies endured the worst season in their 20-year history and lost a franchise-record 98 games. They didn't enter the season with realistic hopes of contending after 89 losses in 2011 but expected to improve and finish with a record around .500. Instead, they regressed badly. The silver lining in this lost season was that a host of rookies and players with limited...
HAIRY SITUATION
I'm going to go out on a limb and say that's the best baseball-themed mohawk of the season. Just like FOX Sports Arizona said, "it took 162 games, but we finally have a winner for hairdo of the season." I'd love to turn this guy upside down and use him as a broom. Splendid look, splendid. And if you have any idea who this gentleman is, please email us. Go here to see all...
As the Major League regular season winds down, it becomes time for teams to start preparing for the offseason and decide what the team is going to look like for next year. The Colorado Rockies front office could have started preparing months ago, but sadly the only deadline deal made sent Marco Scutaro to the Giants for not much in return. 
An awful season ended well for the Colorado Rockies and embattled right-hander Jeff Francis. Francis earned his first victory in more than a month and the Rockies used two unearned runs to beat Ian Kennedy and the Arizona Diamondbacks 2-1 on Wednesday night to conclude disappointing seasons for both teams. Francis (6-7) allowed a run on five hits in five innings in his first victory...
PHOENIX (AP) -- Jeff Francis earned his first victory in more than a month and the Colorado Rockies used two unearned runs to beat Ian Kennedy and the Arizona Diamondbacks 2-1 on Wednesday night to conclude disappointing seasons for both teams. Francis (6-7) allowed a run on five hits in five innings in his first victory since July 27. He had gone 0-3 in six outings since then....
This guy showed up for the Colorado Rockies vs. Arizona Diamondbacks game last night and clearly won the hairdo of the year.  Seriously it looks like a pro did it for him.  Not saying I would do the same thing, but damn if I don't respect it.  Not to mention the game didn't mean anything in terms of playoffs.
Guillermo Moscoso was at-bat in the game's most crucial moment.The Colorado Rockies have been writing the same story over and over again. With one night left in the season, there was no reason to change the script.The game ended on a walk-off 3-run homer off the bat of Aaron Hill, but the turning point came much earlier than that.With starting pitcher Jhoulys Chacin rolling along...
MLB News

Delivered to your inbox

You'll also receive Yardbarker's daily Top 10, featuring the best sports stories from around the web. Customize your newsletter to get articles on your favorite sports and teams. And the best part? It's free!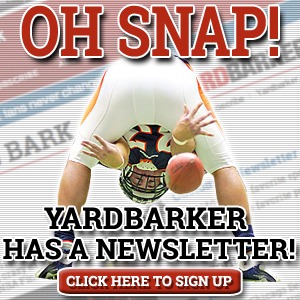 Latest Rumors
The Backyard

Today's Best Stuff

For Bloggers

Join the Yardbarker Network for more promotion, traffic, and money.

Company Info

Help

What is Yardbarker?

Yardbarker is the largest network of sports blogs and pro athlete blogs on the web. This site is the hub of the Yardbarker Network, where our editors and algorithms curate the best sports content from our network and beyond.