Posted October 07, 2012 on AP on Fox
Colorado Rockies manager Jim Tracy resigned Sunday, stepping down after the team set a franchise record for losses. The Rockies said a search for Tracy's replacement would begin immediately but they have no time frame for making a hire. Colorado finished last in the NL West this year while going 64-98. Tracy was promoted from bench coach to manager in May 2009. He was voted the NL Manager of the Year that season after guiding Colorado into the playoffs. The Rockies went 294-308 under Tracy. ''I was surprised,'' Bill Geivett, the team's director of major league operations, told The Associated Press. ''You know, Jim and I go back a long time. We worked together for three different clubs. ''Basically, Tracy called me and told me his intentions and we talked about a lot of different things, but he had already made up his mind,'' said Geivett, who also worked with Tracy in Montreal and Los Angeles. Energized by the young players and the challenge of fixing things, Tracy had said repeatedly the last several weeks that he wanted to fulfill the final year on his contract in 2013. But he changed his mind after meeting with Geivett for several hours on Friday and then mulling those discussions over the weekend. Asked why Tracy resigned, Geivett said: ''I don't think there was any one thing in particular that seemed to stand out, but you'd have to ask him that.'' Tracy didn't return phone calls and texts from the AP. Geivett said he wanted Tracy to return next season. ''I mean, that's how I started our meeting on Friday, that he was the manager of the club,'' Geivett said. ''Like I said, it was surprising.'' Geivett, however, didn't try to change Tracy's mind. ''His decision was made when he called me and I respected that,'' Geivett said. Geivett said he had no timetable for hiring a new manager: ''All the focus has been on Jim Tracy the last few days here and I just got the call today, so we'll start to formulate a plan.'' The Rockies will be the fourth team to change managers this year. Boston fired Bobby Valentine, Cleveland dismissed Manny Acta and Houston let go Brad Mills. Things changed for Tracy on Aug. 1 when Geivett, the assistant general manager, was given an office in the clubhouse and began focusing on roster management, particularly as it related to the pitchers, and evaluating the coaching staff and the rest of the players. Tracy's responsibilities were narrowed to game management and meeting with the media. ''I thought we worked together fine,'' Geivett said. ''I don't think at any time since Aug. 1 or even before that, we've had some type of difficulty working together.'' Geivett said that structure will remain in place next season but he said he didn't think that would be an issue in his search for a new manager, either. In addition to altering their front office, with general manager Dan O'Dowd focusing his attention on the minor leagues and player development, the Rockies last summer adopted a radical four-man rotation and a 75-pitch limit with several designated piggyback relievers, an experiment that lasted two months. Geivett said the Rockies will return to a traditional five-man rotation next season with pitch limits determined on a case-by-case basis, ''although I don't think we'll ever go back to the days of 120 pitches.'' ''I'm sure it'll come up'' in the search for a new manager, Geivett said of the four-man, 75-pitch experiment. ''But I mean, I don't see that being a major topic of conversation, to tell you the truth, because we're not doing it.'' Tracy, the fifth manager in club history, was given an indefinite contract extension last spring but it guaranteed only his 2013 salary of $1.4 million as field manager and really just represented the organization's desire to keep him in the organization in some capacity. Geivett said he hasn't met with members of Tracy's coaching staff to discuss their futures in Colorado. ''Any time you change the manager, things can change,'' Geivett said. ''Right now, it's all undecided. But we do have coaches that it would be our intention to retain.''
Original Story:
http://msn.foxsports.com/mlb/story/co...
THE BACKYARD
BEST OF MAXIM
RELATED ARTICLES
It should have been a good day for Colorado Rockies fans. They got their wish. Jim Tracy is no longer the manager of the club. Instead, the move sheds light on just how deep this franchise's issues are.Assistant General Manager Bill Geivett met with Tracy all day on Friday. The meeting was centered around the team's desire to bring Tracy back as their manager for 2013, despite...
Jim Tracy might be back in 2013, but it won't matter.The only reason Colorado Rockies fans were still paying attention after a brutal 2012 season was because the word was out that Jim Tracy would hear the decision on his future in a Friday morning meeting.When morning turned to afternoon, then night, no word came from the Rockies. Nothing. Finally, Troy Renck of the Denver Post...
Players who stood by Jim Tracy while the Colorado Rockies endured their worst season in franchise history are reiterating their support for him following the manager's resignation over the weekend. Left-hander Jeff Francis said he was surprised to hear Tracy had decided to step down, telling The Associated Press in an email: ''I loved playing for him and I think everyone...
In a piece of news seemingly months in the making, Colorado Rockies manager Jim Tracy has resigned his job. Tracy had been manager of the club since the middle of the 2009 season, when he led the team to the NL Wild Card and was named National League Manager of the Year. But since that 2009 season, which was deemed a miracle by many due to freakishly good seasons from Troy Tulowitzki...
Colorado Rockies manager Jim Tracy resigned on Sunday, the team confirmed. Tracy, who was due to be paid $1.4 million next season, has been involved in discussions with Rockies executives the past two days regarding whether he would return next season. Tracy was hired in 2009 and led the Rockies to the playoffs that season when they earned a wild-card berth. They lost in the...
The Colorado Rockies announced that Jim Tracy has resigned as manager, effectively immediately. "Jim Tracy is a man that has brought professionalism to the Rockies organization since 2009," Bill Geivett, Rockies vice president and director of baseball operations, said in a statement. "However, Jim has decided that he no longer wants to move forward as manager." The Rockies...
Denver, CO. With the resignation of Jim Tracy, the Colorado Rockies should roll the dice and name Jason Giambi manager for the 2013 season. Giambi has in essence been a player/coach since joining the Rockies organization. Many players such as Dexter Fowler and Troy Tulowizki participate in the Giambi off season program in Las Vegas, so he already has the ear of two of the best players...
Big Leagues Monthly is a new and up-and-coming e-magazine with some of the best baseball writing you'll find in one place. And it is humbling to be among a group of so many talented peers that write for the magazine. The new issue was just released yesterday and included is an article about where the Colorado Rockies go from this point now that they have tanked to 98 losses this...
The contracts of Colorado Rockies hitting instructor Carney Lansford and third-base coach Rich Dauer weren't renewed in the wake of manager Jim Tracy's unexpected resignation over the weekend. Lansford served two seasons under Tracy and the Rockies batted .274 this season, tops in the National League but they hit just .241 on the road as they finished 64-98, worst in franchise...
According to Troy Renck of the Denver Post, the Colorado Rockies are expected to shop outfielders Michael Cuddyer and Dexter Fowler. Before you get all giddy, this isn't about Cuddyer, but Fowler and what he could potentially bring to the Phillies as their new centerfielder.Is Fowler really the answer? (Coloradosportsdesk.com)Cuddyer never seemed to be a fit in Philadelphia, even...
I'm going to bring back a piece that I did a couple of months ago where I take a look at the headlines from some of the major sports media outlets and tell you what they are really trying to say. "Rockies' Tracy resigns following 98-loss season". Way to take the high road Jim Tracy. I'm sure this his job was as secure as Nick Saban's but he wanted to do "what was in...
The Colorado Rockies season was one of the more disappointing ones in MLB. Yes, teams such as the Phillies, Red Sox, Marlins, Angels and Indians may have had more of a failure in a search to meet their own expectations. On Sunday, it was announced that manager Jim Tracy had resigned and yesterday it was announced that coaches Carney Lansford and Rich Dauer will not return next...
MLB News

Delivered to your inbox

You'll also receive Yardbarker's daily Top 10, featuring the best sports stories from around the web. Customize your newsletter to get articles on your favorite sports and teams. And the best part? It's free!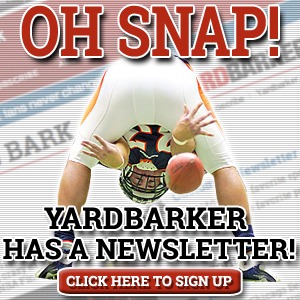 Latest Rumors
The Backyard

Today's Best Stuff

For Bloggers

Join the Yardbarker Network for more promotion, traffic, and money.

Company Info

Help

What is Yardbarker?

Yardbarker is the largest network of sports blogs and pro athlete blogs on the web. This site is the hub of the Yardbarker Network, where our editors and algorithms curate the best sports content from our network and beyond.