Found February 16, 2013 on Pirates Prospects:
ROMAN COLON RIGHT HANDED PITCHER Born: August 13, 1979 Height: 6'5″ Weight: 245 Bats: Right Throws: Right Signed: International Free Agent, 1995 (Braves) How Acquired: Minor League Free Agent Country: Dominican Republic Agent: Arn Tellem WTM'S PIRATE PLAYER PROFILES Colon is a big RHP who throws hard, usually averaging over 94 mph when pitching in relief in the majors.  He also throws a slider, a splitter or cutter, and an occasional change.  He's never had an out pitch, though, and has generally gotten hit a little hard.  He's a mild groundball pitcher and hasn't walked many or allowed many HRs, but he's also had a low K rate.  He moved very slowly through the Braves' system, not being added to the 40-man roster until eight years after he signed.  He pitched in the majors sporadically with the Braves, Tigers and Royals, without much success.  The Pirates signed him to a minor league deal for 2013. 1997 R:  3-4-0, 4.29 ERA, 1.52 WHIP, 63.0 IP, 4.0 BB/9, 6.3 K/9 Colon pitched mostly as a starter in his US debut and mostly struggled, although he turned 18 only late in the year. 1998 R+:  1-7-0, 5.77 ERA, 1.64 WHIP, 73.1 IP, 3.4 BB/9, 6.5 K/9 Colon moved up to advanced rookie ball, still as a starter, and again struggled. 1999 A-:  7-5-0, 4.54 ERA, 1.32 WHIP, 77.1 IP, 2.9 BB/9, 7.1 K/9 Colon made some improvement in short season ball. 2000 Did not play Colon missed the entire season with an injury. 2001 A:  7-7-0, 3.59 ERA, 1.27 WHIP, 128.0 IP, 1.8 BB/9, 6.4 K/9 Back from injury, Colon showed improvement in his full season debut.  He allowed very few walks or HRs, but he did have more hits allowed than innings pitched, and his K rate was low. 2002 A+:  9-8-0, 3.53 ERA, 1.28 WHIP, 163.0 IP, 2.1 BB/9, 5.2 K/9 In high A, still as a starter, Colon pitched about the same as the previous year. 2003 AA:  11-3-2, 3.36 ERA, 1.28 WHIP, 107.0 IP, 2.8 BB/9, 4.9 K/9 Colon split his time in AA between starting and relieving.  He continued to get good results despite an extremely low K rate.  The Braves added him to their 40-man roster after the season. 2004 AA:  1-0-0, 0.00 ERA, 0.33 WHIP, 3.0 IP, 0.0 BB/9, 15.0 K/9 AAA:  4-1-0, 3.65 ERA, 1.27 WHIP, 74.0 IP, 2.7 BB/9, 7.8 K/9 MLB:  2-1-0, 3.32 ERA, 1.37 WHIP, 19.0 IP, 3.8 BB/9, 7.1 K/9 The Braves moved Colon full-time to the bullpen.  He spent most of the season in AAA and increased his K rate while otherwise continuing to pitch about the same as the previous several seasons.  He made his major league debut in late August and pitched reasonably well. 2005 AA (Atl):  0-0-0, 1.17 ERA, 1.04 WHIP, 7.2 IP, 2.3 BB/9, 8.2 K/9 AAA (Atl):  1-1-0, 1.93 ERA, 1.21 WHIP, 14.0 IP, 3.2 BB/9, 5.8 K/9 MLB (Atl):  1-5-0, 5.28 ERA, 1.38 WHIP, 44.1 IP, 2.8 BB/9, 6.1 K/9 MLB (Det):  1-1-0, 6.12 ERA, 1.68 WHIP, 25.0 IP, 2.5 BB/9, 6.1 K/9 Colon spent most of the season, through the trade deadline, pitching in relief for Atlanta.  He struggled severely, posting an ERA of 8.50 through June 10, then started four games, pitching better than he had in relief.  The Braves traded him to Detroit at the trade deadline and he continued to struggle as a swing man. 2006 AAA:  0-0-0, 0.00 ERA, 0.90 WHIP, 6.2 IP, 2.7 BB/9, 8.1 K/9 MLB:  2-0-1, 4.89 ERA, 1.55 WHIP, 38.2 IP, 3.3 BB/9, 5.8 K/9 Colon pitched in 20 games, including one start, for the Tigers, but missed a significant portion of the season with elbow stiffness. 2007 AA (Det):  2-0-1, 5.91 ERA, 1.50 WHIP, 10.2 IP, 4.2 BB/9, 8.4 K/9 AAA (Det):  0-1-0, 3.60 ERA, 1.80 WHIP, 10.0 IP, 7.2 BB/9, 5.4 K/9 AAA (KC):  0-0-0, 0.00 ERA, 1.80 WHIP, 1.2 IP, 0.0 BB/9, 5.4 K/9 Colon missed the start of the season with an injury, then during a rehab assignment got involved in an altercation with a teammate that ended with Colon punching and severely injuring a different teammate.  The Tigers suspended Colon, then traded him to Kansas City.  He pitched only once after the trade and was outrighted after the season.  He re-signed with the Royals. 2008 AA:  2-0-1, 5.29 ERA, 1.29 WHIP, 17.0 IP, 2.1 BB/9, 4.2 K/9 AAA:  5-5-1, 4.64 ERA, 1.43 WHIP, 95.0 IP, 2.6 BB/9, 5.9 K/9 Colon pitched in both AA and AAA for the Royals, including ten starts in AAA. 2009 AAA:  2-3-2, 2.84 ERA, 1.38 WHIP, 25.1 IP, 2.8 BB/9, 9.2 K/9 MLB:  2-3-0, 4.83 ERA, 1.43 WHIP, 50.1 IP, 3.9 BB/9, 5.2 K/9 Colon opened the season in AAA, but the Royals called him up in late May.  He pitched 43 games, all in relief, in the majors, putting up adequate numbers with his usual low K rate. 2010 AAA:  0-0-0, 0.00 ERA, 1.00 WHIP, 2.0 IP, 4.5 BB/9, 4.5 K/9 Korea:  8-7-0, 3.91 ERA, 1.33 WHIP, 103.2 IP, 3.6 BB/9, 4.9 K/9 MLB:  0-0-0, 18.00 ERA, 3.50 WHIP, 2.0 IP, 9.0 BB/9, 4.5 K/9 The Royals released Colon in early May and he caught on in the Korean League.  After the season he signed with the Dodgers. 2011 AAA:  2-1-3, 4.85 ERA, 1.35 WHIP, 29.2 IP, 2.1 BB/9, 5.2 K/9 The Dodgers assigned Colon to Albuquerque, but he missed about half the season with a broken foot. 2012 AAA:  4-2-7, 3.09 ERA, 1.40 WHIP, 67.0 IP, 3.8 BB/9, 7.9 K/9 MLB:  0-0-0, 6.75 ERA, 1.88 WHIP, 8.0 IP, 3.4 BB/9, 3.4 K/9 The Royals signed Colon for 2012 and he spent the year in AAA, outside of a three-game callup in June.  He didn't pitch as well as his ERA indicates. The Pirates did not extend Colon an invitation to major league camp.  He'll probably serve as minor league depth at either Indianapolis or Altoona, and has little chance of reaching Pittsburgh. STATS Baseball Reference–Majors Baseball Reference–Minors Fangraphs MLB.com MiLB.com CONTRACT INFORMATION 2005: $318,500 2007: $385,000 2009: $435,000 2010: $665,000 2013: Minor League Contract PLAYER INFORMATION Signing Bonus: N/A MiLB Debut: 1997 MLB Debut: 8/21/2004 MiLB FA Eligible: 2013 MLB FA Eligible: 2016 Rule 5 Eligible: 2013 Added to 40-Man: 11/20/03 Options Remaining: 0 (USED:  2004, 2005, 2006) MLB Service Time: 3.163 TRANSACTIONS August 14, 1995: Signed as an international free agent with the Atlanta Braves. November 20, 2003: Contract purchased by the Atlanta Braves. July 31, 2005: Traded by the Atlanta Braves with Zach Miner to the Detroit Tigers for Kyle Farnsworth. July 13, 2007: Traded by the Detroit Tigers to the Kansas City Royals for Daniel Christensen. November 20, 2007: Outrighted to AAA by the Kansas City Royals. November 3, 2008: Became a free agent. January 7, 2009: Signed as a minor league free agent with the Kansas City Royals. May 24, 2009: Called up by the Kansas City Royals. May 4, 2010: Released by the Kansas City Royals. January 12, 2011: Signed as a minor league free agent with the Los Angeles Dodgers. November 2, 2011: Became a free agent. January 25, 2012: Signed as a minor league free agent with the Kansas City Royals. June 14, 2012: Called up by the Kansas City Royals. June 23, 2012: Designated for assignment by the Kansas City Royals; outrighted to AAA on June 25. October 5, 2012: Became a free agent. February 13, 2013: Signed as a minor league free agent with the Pittsburgh Pirates.
Original Story:
http://feedproxy.google.com/~r/Pirate...
THE BACKYARD
BEST OF MAXIM
RELATED ARTICLES
As we all know, Kansas City has carried a dismal baseball franchise since 1985. But as spring training rolls around, we have to again acknowledge how well the Royals have done in the Latin American talent market. Everyone who pays very much attention to the Royals will directly turn there heads up to the sky and wink at their mental image of Salvador Perez, the Royals' up and...
There's something exciting about the thought of James Shields pitching for the Royals. Maybe it's because part of me is excited about the Rays losing such an important member of their rotation. Maybe it's because I love Kansas City's young offensive core and I really want to see them do well. Or maybe it's because the Royals haven't made the playoffs even once in my entire...
SURPRISE, Ariz. (AP) Jeff Francoeur may have the most likable personality in baseball, yet he makes so many fans in Kansas City so mad. Perhaps the fact that he was, statistically speaking, the worst position player in the big leagues last year has something to do with it. And he's still with the Royals, who sent top prospect Wil Myers to Tampa Bay in an offseason trade that...
KANSAS CITY, Mo. Former Royals slugger Mike Sweeney says that while he loved his 13 years with the team, he believes he ultimately failed during his time in Kansas City. He failed the fans, the organization and team owner David Glass, he said. "The ultimate goal each year is to get to the playoffs and win the World Series," Sweeney told FOXSportsKasnasCity.com. &quot...
The Kansas City Royals made a strong case last year that Salvador Perez was worthy of a long term contract extension.  After sustaining an injury in the spring, Perez returned to action during the season and seemingly proved that the organization was right.  A rebuilt pitching staff puts a larger focus on Perez's ability behind the plate in 2013.  As the season looms in the horizon...
According to the minor league free agent tracker on Baseball America, the Pittsburgh Pirates have added two minor league free agents. The new additions are outfielder Brett Carroll and right-handed pitcher Roman Colon. Carroll had previous been with the Washington Nationals, and elected free agency this off-season. In 288 career at-bats in the majors he has a .201/.280/.319 line...
MLB News

Delivered to your inbox

You'll also receive Yardbarker's daily Top 10, featuring the best sports stories from around the web. Customize your newsletter to get articles on your favorite sports and teams. And the best part? It's free!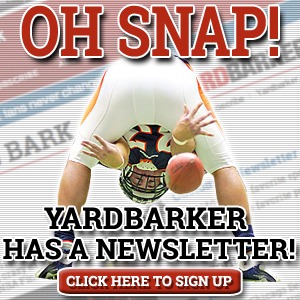 Latest Rumors
Best of Yardbarker

Today's Best Stuff

For Bloggers

Join the Yardbarker Network for more promotion, traffic, and money.

Company Info

Help

What is Yardbarker?

Yardbarker is the largest network of sports blogs and pro athlete blogs on the web. This site is the hub of the Yardbarker Network, where our editors and algorithms curate the best sports content from our network and beyond.