Found October 04, 2012 on Philly Sports World:
Darin Ruf was almost a forgotten man. At 26, it appeared as though his shot at the Major Leagues was dissipating. Then 2012 happened. Could Ruf be the Phillies left fielder next year?
The Phillies loss two nights ago to the playoff bound Washington Nationals had two highlights, and both were off the bat of Darin Ruf, bringing his major league home run total to three. The night before that, he provided the two RBIs that won the game. Yesterday, the Phillies ended their season with another loss to Washington and sure enough, it was Darin Ruf who provided the only RBI of the game. I am sure I am not alone in saying, I can't wait for next spring.
Ruf, in his 12 major league games has shown in his brief stint he is ready and able to produce big hits for the Phillies.
Much is expected to happen in the off-season for the Phillies, but left field is locked up in my mind. If you are listening to Manuel and Amaro, they just might think so as well, statements of "I like him and he has power to all fields," good words for Ruf. Assessing the obvious in Ruf's ability to hit in the majors Manuel has also addressed the unknown, his fielding. Manuel has compared his left-field skills to Raul Ibanez, calling Ruf "adequate", enough to give him the starting job. Amaro has said you "can't rule him out, he is a pretty good hitter." Not great endorsements, but certainly not negative ones.
The off-season will have Ruf playing winter ball in Venezuela to sharpen his left-field skills. Barring a complete disaster in winter ball, Ruf will open spring training as the opening day left-fielder. Not only will it give Ryan Howard protection with Ruf in the five-hole, it will free up money for the other needs of the team. Amazing, twelve games is all it takes to know that Ruf is the man.
Similar Posts:
Left-field, the Phillies have got that covered
Finding protection for Ryan Howard might not be all that Ruf
Finding protection for Ryan Howard might not be all that Ruf
Phillies fire 3 coaches; More changes coming?
Phillies playoff berth would make Charlie Manuel, Manager of the Year
Original Story:
http://phillysportsworld.com/ruf-smac...
THE BACKYARD
BEST OF MAXIM
RELATED ARTICLES
The Phillies 2012 season ended with a quiet 81-81 whimper.  To say that this season was a disappointment for Phillies fans is a major understatement. But it is time to look for the highlights of the 2012 season.  A review of the Phillies play leads me to just two players that could be the Phillies 2012 MVP. Pitcher Cole Hamels had a career high 17 wins this season and could have...
The Philadelphia Phillies finished their season with a loss to the division champion Washington Nationals today. With the loss, the Phillies dropped to 81-81. After winning 102 games last year, this was most certainly a disappointment. As is usually the case when a team under performs, changes are made.The Phillies informed bench coach Pete Mackanin, 1B/INF coach Sam Perlozzo and...
The 2012 Philadelphia season is in the books.  Below you will find the MLB ranks for the offense, pitching, and defense.  It's not pretty...Offense:R - 684 (19th)AVG - .255 (15th)OBP - .317 (17th)SLG - .400 (17th)OPS - .716 (16th)2B - 271 (16th)3B - 28 (tied 19th)HR - 158 (18th)SB - 116 (11th)SB% - 83% (1st)BB - 454 (24th)K - 1094 (27th)Pitching:W - 81 (tied 16th)ERA - 3.83...
The only more appropriate way for the Philadelphia Phillies' season to end would have been if it was more like 2011, when Ryan Howard fell to the ground in agony after rupturing his left Achilles tendon. The 2012 Phillies were bruised and battered with injuries all season, from Chase Utley's knees to Roy Halladay's shoulder to Howard's aforementioned foot. But the...
May the Philadelphia Phillies 2012 season rest in peace.
Immediately after finishing with a .500 record, the Philadelphia Phillies fired first base coach Sam Perlozzo, bench coach Pete Mackanin and hitting coach Greg Gross. The club announced the changes after its season ended with a 3-1 loss at the Washington Nationals on Wednesday. The Phillies finished 81-81 and in third place in the NL East, ending a run of five consecutive division...
The Phillies will have to wait about 15 more hours if they want their 10th straight winning season.The Phils fell to the Nationals 4-2 in Game 161 of the 2012 season. Darin Ruf accounted for both runs with a pair of solo homers. He's been a bright spot over the last week, hitting in eight straight games and slugging .774 with two doubles, a triple and two homers in his 11-game...
The Phillies will not bring back bench coach Pete Mackanin or hitting coach Greg Gross for the 2013 coaching staff, reports Todd Zolecki, via Twitter. Bench coach Pete Mackanin and hitting coach Greg Gross also will not be back next season. — Todd Zolecki (@ToddZolecki) October 3, 2012 With the earlier news of Sam Perlozzo not coming back, the Phillies have already cut ties...
The 2012 season may be over for the Philadelphia Phillies but a number of former Phils will continue to play baseball this October in both leagues. If you are the type of Phillies fan who will pick up a rooting interest in a team based on a former Phillie being on the roster, you certainly have some options this fall. Atlanta Braves, NL Wild Card Michael Bourne, Chad Durbin ...
Ryan Madson is the reliever that fans of the Philadelphia Phillies would like to see on the mound in the 8th.  Will that become a reality in 2013?TAL'S HANDY CAPS WELCOME, NEWCOMERS:I will publish after every battle that is not washed out.  I will have many summer-long highlights of puzzle pieces, especially important after drubbings and defeats. If you were directed here by...
At the All-Star break, at 37-50, any honest broker would have said the Phillies were done. Oh sure, the 2010 team wasn't in first at the break, but they were breaking .500. That this team got to 81-81 is a minor miracle of it's own. What we should make of it isn't hard though. On July 31st, the Phillies traded Hunter Pence and Shane Victorino, two former All-Star outfielders...
MLB News

Delivered to your inbox

You'll also receive Yardbarker's daily Top 10, featuring the best sports stories from around the web. Customize your newsletter to get articles on your favorite sports and teams. And the best part? It's free!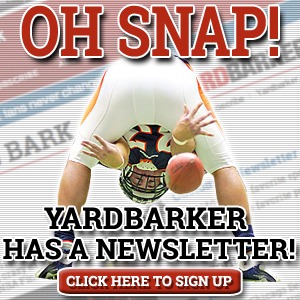 Latest Rumors
Best of Yardbarker

Today's Best Stuff

For Bloggers

Join the Yardbarker Network for more promotion, traffic, and money.

Company Info

Help

What is Yardbarker?

Yardbarker is the largest network of sports blogs and pro athlete blogs on the web. This site is the hub of the Yardbarker Network, where our editors and algorithms curate the best sports content from our network and beyond.