Found September 12, 2012 on Fox Sports Ohio:
CINCINNATI It hasnt come to the point where Cincinnati Reds catcher Ryan Hanigan considers changing his first name to Rodney, but its close.When it comes to respect outside of Cincinnati, Hanigan makes Rodney Dangerfield seem like The Man of the Year.Not long ago, a sports network polled fans with the question: What catcher can a contending team least afford to lose? There were five choices and Hanigan smiled and said, Let me guess, I wasnt one of the five choices.No, he wasnt. But Hanigan has come to expect it.Never mind that when he catches the Cincinnati pitchers have a 3.01 earned average, the best ERA for a catcher in the majors.Never mind that he throws out 42 per cent of runners trying to steal, one of baseballs best percentages.Never mind that when Hanigan catches the Reds have a .651 winning percentage when he catches, 50 points higher than the teams .601 winning percentage for all games.Never mind that he is hitting .290 and has more walks (39) than strikeouts (33), something he does every year.Hanigan is not a household name for the people, said manager Dusty Baker. In the modern game most people see offense on everything.You lose games on defense and it is especially important for a catcher, he added. Especially important. It is a tremendous confident factor for the pither to know that he can bounce a pitch and it is going to stay right there in front of the catcher. Hanigan is great at that.And Hanigan will throw you out and he calls a good game, said Baker. He has had to work for everything he has got. He was an undrafted freee agent and it is tough to make it that way.Hanigan played at Rollins College and was unnoticed, then Reds scout John Brickley spotted him play in the amateur Cape Cod League in 2002 and signed him.He didnt have any money invested in him so he had to impress and he still had to wait his turn, said Baker. He had to jump over some guys, but I liked him the first day I saw him camp.Baker likes to conduct skull sessions, ask his players what to do in different situations and he said, I had to quit looking at Hanigan, look the other way, because he had all the answers. He never misses a sign from the bench and he knows all the bunt plays the little things that go unnoticed that you have to do to win. And the first day I met him, he promptly told me, Im the only guy in the organization who has more walks than strikeouts.A scout from another major-league team loved Hanigan from the first day he saw him and implored his general manager to try to trade for him.When the Reds extended his contract during spring training last year, my GM told me, This is the best day of the year for me, said the scout. I asked him way and he said, Because the Reds extended Hanigans contract and now I dont have to listen to you tell me every day that we should try to get him.If Hanigan is bothered by the lack of identity, he doesnt show it. He was sitting at Joey Vottos locker before Tuesdays game when a writer approached and he said, I can be Joey Votto, if you want me to be. I can imitate him. He was surprised to learn the writer wanted him, not Votto.I dont worry about that aspect of things of recognition. I worry about what matters in terms of games, he said. I worry about my teammates. If we keep having success and winning games then people will take notice of all of us, not just me or any one player.Im proud of our guys and with what weve done despite missing Votto for so long and a lot of guys out of our bullpen, Hanigan added. Weve seen guys step up and no guy on this team wants more credit than the next guy.Hanigan, 31, is a 6-0, 208-pounder and even more so than most catchers is known as a down-and-dirty guy. You know if his uniform isnt brown after a game he didnt play.I take pride in my job and base it on the success that our pitching has, he said. Thats the huge part of winning games and you have value that and put a lot of work into it. Thats what I do. Make sure the guys are always doing what they are supposed to do pitch smart, be aggressive. It has paid off.Hanigan, though, is extremely proud of the fact he has the lowest catchers ERA in baseball.Yeah, thats a big stat, he said. People tell me this stuff because I dont go looking for numbers. But I heard that one and I was very proud of that one because it shows a unity with the guys. They lean on me, dont shake me off very often and they have confidence in my preparation.When his astounding percentage of throwing out baserunners was mentioned, Hanigan finally couldnt resist and said with a broad grin, Yeah, Ive always been a pretty damn good defensive catcher.Of that, nobody can argue, and if a sports network doesnt think so, at least one of his pitchers does. Said Bronson Arroyo, Nobody talks about him, but he is one of the most important players on this team.
Original Story:
http://www.foxsportsohio.com/09/12/12...
THE BACKYARD
BEST OF MAXIM
RELATED ARTICLES
Last Game The Reds completed the sweep of the Pirates last night by a score of 1-2. Homer Bailey put in a very nice start for his 11th win, which is a career-high number of wins for him. J.J. Hoover pitched in the ninth inning for the first save of his career. The 2 RBI belong to…Wilson Valdez? And Scott Rolen? Lots of unusual things happening tonight. Next Game Today the Reds...
CINCINNATI Most major-league pitchers are enthralled and ecstatic when their fastballs consistently hit 95 or 96 miles an hour on the radar guns.But when you are Aroldis Chapman and the reading says 94 and 95 it is time to call the pressbo and ask, What wrong with the radar gun.Unfortunately for Chapman and the Cincinnati Reds, there is nothing wrong with the radar gun. There is...
No, that wasn't a pack of wild dogs you heard during Monday's Cincinnati Reds game against the Pittsburgh Pirates.It was a group of fans near the outfield that decided to start howling as the game went into extra innings.The howling became so loud that you could hear during the broadcast and might have been unbearable if you were watching the game on television: Your browser...
Aroldis Chapman is referred to as the Cuban Missile, because Chapman is from Cuba, and we used to associate Cuba with missiles, and missiles are fast, and Chapman throws really fast, and we are horrible. It would at least make a little more sense if we just referred to Chapman's fastballs as Cuban missiles, but even there, fastballs don't travel nearly as fast as missiles do...
It was a good old-fashioned pitcher's duel in Cincinnati on Wednesday night as Homer Bailey (11-9) put together one of his better Great American Ballpark performances and put away Pittsburgh, 2-1. The win inches the Reds closer to October as their magic number continues to shrink. It now stands at just eight after St. Louis fell to San Diego, 3-2. For more details on the...
"I stunk," [Ludwick] said. "I stunk the entire game. I felt like I had a thousand chances to win the game. I finally did it on 1,001st. Every time I got up, there were runners in scoring position and less than two outs. I stunk. I'm glad I got the job done in the 14th."That was a very, very long game. In a game that took 5 hours and 22 minutes to play, the Cincinnati Reds...
The Cincinnati Reds are concerned about closer Aroldis Chapman's recent erratic control and loss of velocity, though they are saying the troublesome symptoms are due to fatigue and not injury, according to MarkSheldon of MLB.com: "Yeah, because his velocity was down," Reds manager Dusty Baker said. "He didn't have any pain. He might be a little tired...
After several recent subpar outings, Cincinnati Reds closer Aroldis Chapman may be given a couple of days off to rest a fatigued shoulder. Chapman's decreased velocity Monday night in an outing against the Pittsburgh Pirates set off alarms in the Reds dugout. Known for his 100 mph-plus fastball, Chapman topped out at 97 mph and averaged a season-low 94.4 mph. Of his 23 pitches...
After averaging a measly 94.4 mph on 23 pitches against the Pittsburgh Pirates on Monday, dominant Cincinnati Reds closer Aroldis Chapman will be shelved for roughly a week to combat shoulder fatigue. The 6-foot-4, 200 pound Chapman (5-5, 1.60 ERA), … Continue reading →
This came to my attention this morning after reading a piece on Getting Blanked by Dustin Parkes, where he noted that Brandon Phillips of the Reds accused a mystery Pirate of racism during Monday's game between the two teams. After the game, Phillips tweeted this out: #RealTalk... Not really surprised by what I heard come outta another player's mouth tonite but...
One of baseball's traditional home openers will have an innovative twist next season. The Cincinnati Reds will host the Los Angeles Angels on April 1, becoming the first teams to start their seasons with an interleague matchup. The Reds, the first professional team, celebrate opening day with a parade and have opened all but four seasons at home. Major League Baseball announced...
Looky looky another loss.  Clint Hurdle still in the driver's seat though.  That really inspires confidence.  I wonder if Neal Huntington will ever comment about the absurd lineups, and awful losing streak?  Anything would be better than his awful cliches, and fruitless interviews to date. Throw us a bone Neal.  Please…… The Pirates look to [...]
Reds News

Delivered to your inbox

You'll also receive Yardbarker's daily Top 10, featuring the best sports stories from around the web. Customize your newsletter to get articles on your favorite sports and teams. And the best part? It's free!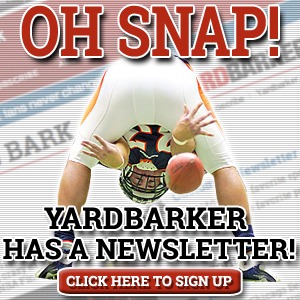 Latest Rumors
The Backyard

Today's Best Stuff

For Bloggers

Join the Yardbarker Network for more promotion, traffic, and money.

Company Info

Help

What is Yardbarker?

Yardbarker is the largest network of sports blogs and pro athlete blogs on the web. This site is the hub of the Yardbarker Network, where our editors and algorithms curate the best sports content from our network and beyond.