Found January 30, 2012 on The Nats Blog:
PLAYERS:
Ryan Zimmerman
,
Dmitri Young
,
Adam Dunn
,
Josh Willingham
,
Prince Fielder
,
Anthony Rendon
,
Ian Desmond
,
Danny Espinosa
,
Bryce Harper
,
Jayson Werth
TEAMS:
Washington Nationals
,
Chicago White Sox
,
Minnesota Twins
,
Detroit Tigers
The Washington Nationals have never had exactly what they wanted at first base since they arrived in DC.  Nick Johnson was perpetually injured, Dmitri Young had a single incredible bounce back year, and Adam Dunn was a left fielder until the Nats made him go to first base to make room for Josh Willingham.  Dunn was also terrible defensively.  Michael Morse did a great job there last year, but he may not be a long-term solution at first because of his defensive liabilities.  One guy fits the bill of exceptional power with superb defense, and he already plays for the team: Ryan Zimmerman.
The Nationals lost (or won, if you consider the financial implications) the Prince Fielder sweepstakes, but it may have been for the best.  Ryan Zimmerman is a Gold Glove-winning defender and a Silver Slugger-winning hitter at a corner infield spot.  The major drawback to Zimmerman's defense is a propensity for injury when he throws.  He missed 58 games last year with an oblique injury that required surgery.  He returned with a brand new throw to take some pressure off the right muscles and tendons, but he certainly has sacrificed some accuracy in the process.
A move to first base for Zimmerman would accomplish two very significant things. First, it would all but eliminate his need to throw the baseball, except for a few times per game.  Second, it would open the spot for the team's #2 prospect Anthony Rendon at third base.  Patrick Hilley wrote this morning that Steve Lombardozzi might be the odd man out due to Rendon's move to second base, but I argue that Ian Desmond might find the door earlier than Lombardozzi, who could easily still end up at second.  That's a conversation for a different post, though.  Zimmerman's prowess at the opposite corner would still be valuable, and it would prevent the team from having to convert yet another prospect out of his natural position.  The Nationals have converted Danny Espinosa, Michael Morse, and Bryce Harper to new positions in their minor league system just to name a few, and while this is common, the fewer players that have to learn a new position, the better off they'll be.
Comparing Zimmerman to Nationals first basemen from the recent past certainly doesn't make the case for him at first any worse.  Over the last three seasons, Zimmerman posted an .869 OPS and averaged 98 RBI over 162 games.  Both Michael Morse and Adam Dunn posted a .910 OPS, while Morse projected 91 RBI and Dunn 107 over 162 games when evaluating the seasons when the spent the majority of their time at first base.  All three players reached base in over one-third of their at-bats.  The thing that Zimmerman has that the other two don't: superb defense.
There is an issue worth noting here.  In the near future, Bryce Harper will make his MLB debut, and Jayson Werth will settle back in right field when the Nationals land a true center fielder, presumably by the end of the next offseason.  That leaves Michael Morse without a landing spot if Zimmerman has been moved to first base.  That's a problem that can be fixed in several ways, though.  Morse could be packaged in a trade for some mid-to-high level prospects; his value has never been higher, and the Nats bought out his arbitration time this offseason.  He could also be used as a bench/utility player.  Remember, Morse was stellar in the 2010 season off the bench, and he has played every position but second base and center field in his MLB career.  It wouldn't be the ideal situation considering the defensive concerns, but it would be a way to get him regularly in the line up.  This is the type of problem you want to have, but the team will always favor their franchise player in Zimmerman over someone like Morse.  It's an easy call for the front office.
Ryan Zimmerman could be a permanent solution at first base for the Nationals.  He's a power bat that hits for average, and he'd immediately be one of the best defensive first basemen in baseball. He'd also be subject to less wear-and-tear, which would likely prolong his career.  Remember, the Lerners pockets will be getting a lot lighter when they extend Zimmerman to a big deal in the next year or so, and they want to see him around DC and healthy for a long time.  It would also allow a Five-Star prospect, Anthony Rendon, to stay at third base, the position he's most comfortable with.  This type of move would be a win-win for the Nationals and their fans, and it could help ensure long-term success on the field and in the owner's bank accounts.
Original Story:
http://www.thenatsblog.com/2012-artic...
THE BACKYARD
BEST OF MAXIM
RELATED ARTICLES
...loves the Nationals though. Bryce Harper has been taking questions from his Twitter followers over past week, which is a pretty cool thing. That's how the world found out that his puppy Swag would, in fact, accompany him to Washington when he arrives, and that he showers four times before a game as part of his pregame routine. Last night, Harper reminded DMV sports fans...
Stephen Strasburg's 2nd annual 5K took place Saturday on the San Diego State campus. Video above is Baseball Jesus speaking with Marty Caswell of xx1090 AM sports radio San Diego about the race, his recovery from TJ surgery, and the upcoming year for the Nats. What's not to love about Strasburg's answer to the final question of the interview? Caswell: "Adrian...
Move over Michael Morse and that Curly W moped helmet. Ladies and gentlemen, Drew Storen and his custom Stanford fighter pilot helmet. Photo via Cleveland Indians reliever Chris Perez (@ChrisPerez54): Finally, a replacement for the Silver Elvis wig [see also, great moments in Silver Elvisdom]? Just 20 days until Nats' pitchers and catchers report... (H/T @AllStars_S2...
If Jordan Zimmermann can put together a full, 200-inning season, he'll be a fantasy force to be reckoned with. His walk rate went from very good to pretty much elite last season, and there's definitely room for growth with his strikeout rate. In fact, if Zimmermann made the standard 33 starts last season instead of just 26, his PSR would have risen from 0.79 to 2.47, which would...
Although Brad Lidge has closed for the vast majority of his major league career, he'll step into a setup role with the Washington Nationals in 2012. The Nats are hoping the 35-year-old veteran can help provide leadership to a promising young bullpen.
Last March I wrote this about Mike Morse: "Assuming 500 at-bats, which I think is reasonable, we could be looking at a 20-homer, 80-RBI season with a good batting average coming from a widely undrafted player." Morse ended up getting 522 at-bats, put up a "good" .303 average (and a .288 xBA, which is more what I expected) but crushed my power projections. That season was...
A little more than three weeks ago, on January 6th, I wrote an article exploring the options the Washington Nationals have with newly acquired third baseman Anthony Rendon.   However, I didn't mention the odd man out, another major league ready second base man, Steve Lombardozzi. Lombardozzi, 23 years old now, was drafted in 19th round of the 2008 MLB Amateur Draft by the Nationals...
Should the Nationals hold Stephen Strasburg until mid-May in case of a postseason run, considering his innings limit? Beat reporter Bill Ladson answers this question and more in the Inbox.
The amount of hype surrounding the drafting and development of both Stephen Strasburg and Bryce Harper is something completely unprecedented in baseball. Some of the hysteria can be attributed to the sports media who are always looking for the next best thing and at times can embellish the potential of young stars. But most of the excitement surrounding these two standouts stems...
(NatGio meets Sexy Rexy. Photo via @GioGonzalez47) And so, Gio Gonzalez continued his full-on embrace of all things Washington DC sports over the weekend, posing with (and endorsing) Rex Grossman at a charity bowling event in Miami Saturday night: Love the sentiment, but it would seem NatGio thinks Rex is the answer at QB? (pssst...Gio, there's a good chance Rex...
One of the top freshman in the SEC should be joining the Cotuit Kettleers this summer, as Hunter Cole from the University of Georgia joins the team. Cole is a 6-1/185 pounder from Moore, SC. He was a Washington Nationals 49th round draft pick this past June. Perfect Game also ranked him as the best high school senior in the state of South Carolina. Scouts say Hunter "has excellent...
MLB News

Delivered to your inbox

You'll also receive Yardbarker's daily Top 10, featuring the best sports stories from around the web. Customize your newsletter to get articles on your favorite sports and teams. And the best part? It's free!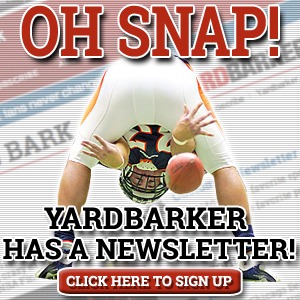 Latest Rumors
The Backyard

Today's Best Stuff

For Bloggers

Join the Yardbarker Network for more promotion, traffic, and money.

Company Info

Help

What is Yardbarker?

Yardbarker is the largest network of sports blogs and pro athlete blogs on the web. This site is the hub of the Yardbarker Network, where our editors and algorithms curate the best sports content from our network and beyond.