Found April 03, 2013 on Fox Sports:
In the sixth inning of his greatly anticipated major league debut, Hyun-Jin Ryu was booed at home after he loafed to first base on a groundout. Minutes later, Ryu received a partial standing ovation from the Dodger Stadium faithful as he departed with the Dodgers trailing in what became a 3-0 loss to the rival Giants. That summed up Tuesday night for the most celebrated pitcher to come from Korea in more than 20 years: not great, not awful, but oddly memorable and – above all – quite promising. Statistically speaking, the results were mixed: Ryu allowed 10 hits but only one earned run in 6-1/3 innings, thanks to three well-timed double plays. A skeptic would say Ryu was lucky to escape trouble so often. I, for one, think the left-hander showed Buehrle-esque savvy despite lacking an effective curveball. "A guy that knows what he's doing," manager Don Mattingly said, in a tone that suggested he will be able to trust Ryu without necessarily understanding his methods. We should be careful not to draw too many conclusions from one start, but the Dodgers can take heart in one undeniable truth: Ryu isn't in awe of his new competition – not even the defending world champions from San Francisco. "I told him I was proud of him, and I love the way he threw the ball tonight," Dodgers catcher A.J. Ellis recalled, when asked about his conversation with Ryu after he exited the game. "To me, the greatest thing about Ryu is nothing overwhelms him. [Pitching coach] Rick Honeycutt and I were talking about how some guys get intimidated by the fifth deck when you come into a major league stadium. This guy's pitched in the WBC. He's pitched in the Olympics. He never seems like he's stressed. "One thing I have to keep reminding myself and keep reminding guys is that this guy was the greatest player in his entire country . That's something nobody over here can say, outside of maybe the guy who pitched yesterday for us [Clayton Kershaw]. He's really special. And he's going to have a great major league career. I'm just happy to say I was at the start of it." It was almost exactly one year ago – April 9, 2012 – that another pitcher made his major league debut after a distinguished career in Asia: Texas Rangers right-hander Yu Darvish. On one level, Ryu and Darvish are dissimilar pitchers: Ryu is a Korean left-hander, Darvish a Japanese right-hander. But while South Korea and Japan are very different places, players – especially pitchers – from those countries must make similar adjustments when they come to the U.S. The culture, the language, the pitching schedule, the mounds, the ballparks – even the baseballs are different. Before Tuesday, Ryu's last appearance at Dodger Stadium came against Darvish and Team Japan in the 2009 World Baseball Classic. In fact, Ryu and the Dodgers should be encouraged by the fact that Darvish came within one out of a perfect game in Houston on Tuesday night. Darvish's first start for the Rangers last April was unsettling: five earned runs and four walks in 5-2/3 innings. He nibbled that night against the woeful Seattle Mariners. With Ryu, there was none of that Tuesday. He didn't walk a single batter. Darvish overcame his nerves last year, made the All-Star team, logged 198 innings including the postseason and is now a popular pick to win the American League Cy Young Award. If Ryu adapts to the major leagues as well as Darvish has, the Dodgers will be satisfied with their investment of more than $60 million. For the record, Ryu learned of Darvish's bid for perfection after he left the game. When asked about the Darvish comparison, Ryu said through interpreter Martin Kim, "I, as well, plan on adjusting to Major League Baseball. I've been here three months. So, I think it will be OK." Now, as for the baserunning blunder ... With one out in the home sixth, Ryu sent a slow roller to Pablo Sandoval at third base. And Ryu ran even sssslllllooooowwweeerrrr. He wasn't injured. Ryu explained later that he figured he was going to be thrown out and wanted to conserve energy. Donnie Baseball didn't approve and plans to have a conversation with Ryu about it. "He's slow – but he can't be that slow," Mattingly said. "That might be one thing we have to talk about. I'm not sure if he understands it." Having been booed, he does now. At his postgame news conference – attended by roughly 50 members of the Korean media – Ryu was contrite about his lack of hustle. He called the boos "embarrassing." "That was actually my mistake," Ryu said. "Now I know I have to run a lot harder. But as soon as I hit the ball, it wasn't a well-hit ball. At that time, when I was running, I felt I should have conserved energy just so I could continue pitching. But I learned my lesson. I understand it's not a good thing. I will try harder next time." Ryu doesn't seem like the type to make the same mistake twice. He realizes the magnitude of his place in the major leagues, as the first player to move directly from Korea Professional Baseball to MLB. The historic nature of Ryu's arrival was underscored by the fact that Ellis was instructed to toss the ball used for his first pitch into the dugout for preservation. "I don't know where that ball is headed," Ellis said. "It's probably safeguarded by three armed guards right now in a metallic case like a nuclear football." In time, the newness will wear off. Ryu will learn some English. Ellis will learn some Korean. Then it will be about pitching, which is a good thing. That's what Hyun-Jin Ryu came here to do.
Original Story:
http://msn.foxsports.com/mlb/story/hy...
THE BACKYARD
BEST OF MAXIM
RELATED ARTICLES
The Dodgers beat the rival Giants on Opening Day at home to begin 2013, but it wasn't so much the win that was surprising as how they did it. Leading off the bottom of the eighth inning of a 0-0 tie game, Clayton Kershaw was left in to hit, and he justified the decision, not with his arm, but with his bat. That was his first career homer, and it made people lose their minds. ...
The franchise has been sold, the stadium renovated, the roster overhauled, the payroll boosted to more than $200 million. But one truth of the Dodgers' universe remains unchanged: They need Matt Kemp. And because they don't have him yet - at least, not the Kemp of 2011 - the Dodgers lost their season-opening series to the defending world champion Giants. That alone is...
Many around the league believe Los Angeles Dodgers left-handed starting pitcher Clayton Kershaw could be the next high-profile player in line for a lucrative contract extension. However, as of yesterday, a deal between the Dodgers and their young ace "didn't appear imminent," according to Dylan Hernandez of The Los Angeles Times. Kershaw's representatives...
The Dodgers are either playing the splits early or Carl Crawford's elbow is bothering him.  He sat out for the second-straight game to start the season yesterday.  No real reason has been given for Crawford not being in the lineup, but considering his ongoing soreness after Tommy John surgery, it would seem the elbow is the real reason he hasn't played. Dylan Hernandez...
Image courtesy zimbio.com Clayton Kershaw threw a complete game shutout, scattered 4 hits, struck out 7, and didn't walk a batter. Oh, by the way, he hit a go ahead home run in the 8th to break open the scoring for the Dodgers against the defending World Series Champions. Kershaw was efficient, throwing only 94 pitches, and dominating all at the same time. He throws a low to mid...
Clayton Kershaw launched his first career home run to break a scoreless tie in the eighth inning, then finished off a four-hitter Monday that led the Los Angeles Dodgers over the San Francisco Giants 4-0 on opening day. Kershaw became the first pitcher to throw a shutout and hit a home run in an opener since Bob Lemon for Cleveland in 1953, STATS said. Kershaw struck out seven...
The San Francisco Giants came into today looking for revenge against the hated rival Los Angeles Dodgers and they got exactly that. After starting off the season being shutout 4-0 by Clayton Kershaw, San Francisco sent 23-year-old Madison Bumgarner to the hill and he delivered in a big way. Bumgarner (1-0) shutout the Dodgers offense for 8 innings while only allowing 2 base runners...
Clayton Kershaw provided the fireworks for the Dodgers on Opening Day. Tonight, the new-look Indians and new-look Blue Jays will face off, with R.A. Dickey`s return to the AL.
MLB News

Delivered to your inbox

You'll also receive Yardbarker's daily Top 10, featuring the best sports stories from around the web. Customize your newsletter to get articles on your favorite sports and teams. And the best part? It's free!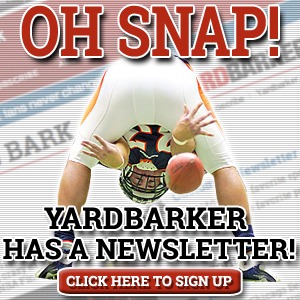 Latest Rumors
The Backyard

Today's Best Stuff

For Bloggers

Join the Yardbarker Network for more promotion, traffic, and money.

Company Info

Help

What is Yardbarker?

Yardbarker is the largest network of sports blogs and pro athlete blogs on the web. This site is the hub of the Yardbarker Network, where our editors and algorithms curate the best sports content from our network and beyond.