Found October 08, 2012 on Fox Sports:
PLAYERS:
CC Sabathia
,
Lew Ford
,
David Robertson
,
Mariano Rivera
,
Russell Martin
,
Mark Teixeira
,
Tommy Hunter
,
Alex Rodriguez
,
Buck Showalter
,
Nate McLouth
,
Nick Swisher
,
Chris Davis
,
Adam Jones
,
Matt Wieters
,
Mark Reynolds
TEAMS:
New York Yankees
,
Baltimore Orioles
CC Sabathia retold the conversations he had with New York Yankees manager Joe Girardi in the final two innings of Sunday night's opening game of the American League Division Series. "I'm good, let's go," the massive Yankees ace said he told his manager. Girardi bought the line a couple of times -- even before a five-run Yanks' rally in the ninth -- and Sabathia was allowed to go to the Camden Yards mound again in search of his first career postseason complete game. When Girardi approached the mound after Baltimore's Lew Ford doubled with two outs, Girardi was immune to the plea and closer David Robertson recorded the last out in 7-2 Game 1 victory. It's a win that not only gives the Yanks an early edge on the road versus the Orioles in a best-of-five series, but Sabathia's longevity in Game 1 also preserves a Yankees bullpen that played its first playoff game without Mariano Rivera (torn ACL) since 1981. "Any time you can give your bullpen a rest, it helps," Girardi said. "We had had three days off, so it wasn't necessary to do it. But he was throwing the ball so well, I continued to stay with him. It allows us to use our bullpen a lot tomorrow, though." In contrast, the Orioles used six relievers. That list included Jim Johnson, who didn't look like the same closer who paced the majors and set a franchise mark with 51 saves. Johnson gave up a home run to Russell Martin and allowed four more hits and four runs. (He was tagged with a fifth earned run on a Mark Teixeira sacrifice fly as reliever Tommy Hunter came in to record the final two outs.) The lone bright spot was a strikeout of Alex Rodriguez, who could be in for another rocky postseason if his 0-for-4, three-strikeout performance is an indicator. "There's not much margin for error," Orioles manager Buck Showalter said. "Jimmy has been great for us all year and will be again. Tonight just wasn't his night. ... Those things happen." The Orioles, in their first home playoff game since the ALCS against the Yankees in 1997, had their sellout crowd in a frenzy after a two-run single by Nate McLouth in the third put Baltimore up 2-1. "This is an amazing ballpark, especially when it's packed like this," Yankees right fielder Nick Swisher said. "It's really fun to play these games. That crowd was rowdy early. They had the orange towels going." The fervor quieted an inning later after a ball hit by Teixeira that was just feet from being a home run. The ball bounced off the top of the right field wall and Teixeira was thrown out at second, but Rodriguez scored from second on the play to tie it 2-2. Sabathia had to wait a while to get some more help. "He was awesome," Teixeira said. "He got every big out he needed. He kept us in the game. We didn't decide to score any runs until the ninth inning for him. I'm glad he got the win. He deserved it." In the meantime, Sabathia largely avoided trouble. He did have two runners on in the sixth, but that was with two outs and he got Chris Davis to fly out. Sabathia allowed a leadoff double in the eighth before he struck out Adam Jones and then got Matt Wieters and Mark Reynolds to pop out and ground out, respectively. Not bad for a pitcher who has struggled at times this season and spent part of the season on the DL with elbow tendonitis. He also missed starts due to a groin issue. His arm was plenty good enough to throw a first pump at the end of the eighth as well. "Being able to get out of that with a tie and give us a chance to get up and score some runs, which we did, was just a big spot," Sabathia said. "I normally try not to show a lot of emotion, but it just came out." Sabathia's seventh and final strikeout of the night resulted in the second out of the ninth as he got Davis swinging. No, he wasn't able to get that last out -- not that it matters. His 8-2/3 innings did something more grand: It put the Yanks closer to a 28th World Series championship.
Original Story:
http://msn.foxsports.com/mlb/story/ne...
THE BACKYARD
BEST OF MAXIM
RELATED ARTICLES
The story of the Baltimore Orioles making the playoffs this year, something they haven't done in fifteen years has been a good one. Tonight the Orioles played the first game of the American League Division Series against the New York Yankees. The game was tied 2-2 until the top of the 9th inning when Russell Martin hit a home run off of Orioles closer Jim Johnson. It seems that...
CC Sabathia and the Yankees will square off against the Baltimore Orioles in Game One of the 2012 ALDS tonight at Camden Yards. The Yankees and Orioles last played each other in the playoffs in 1996. The Orioles haven't played postseason baseball since 1997. Right-hander Jason Hammel (Reg. season 8-6, 3.43 ERA) is on the mound for the Orioles. He hasn't pitched in a big-league...
Displaying his customary brilliance on the mound, CC Sabathia helped lead the New York Yankees to a 7-2 victory over Baltimore in Game 1 of the ALDS last night at Oriole Park at Camden Yards. Sabathia, who came within an … Continue reading →
BALTIMORE -- Russell Martin led off the ninth inning with a tiebreaking home run off Jim Johnson, CC Sabathia turned in a sparkling pitching performance and the New York Yankees beat the Baltimore Orioles 7-2 Sunday night in the opener of their AL divisional series. Sabathia allowed two runs and eight hits in 8 2/3 innings to help the Yankees spoil the Orioles' first home playoff...
People in Baltimore were flying pretty high, with the O's hosting their first play-off game since 1997. Orioles. Yankees. The two teams fought until the bitter end for the AL East title, and now square off in the AL Division Series. New York sent ace CC Sabathia to the mound, while the O's countered with Jason Hammel, who was their best pitcher this year but had...
The New York Yankees beat the Baltimore Orioles 7-2, in game one of the ALDS tonight at Camdem Yards from Baltimore, MD. Yankees lead series over Orioles 1-0 in the ALDS. W - CC Sabathia (1-0), L - Jim Johnson (0-1). Game Stats: CC Sabathia pitched a dominant game by going 8.2 innings while allowing 8 hits, gave up 2 runs, walked 1 and struck out 7 batters. David Robertson...
It was a hard-fought battle for eight innings...until Jim Johnson opened the floodgates in the ninth, leading to a 7-2 win for the Yankees over the Orioles in game one of their ALDS, giving the Yankees a 1-0 series lead. CC Sabathia started for the Yankees, and quite frankly, he was awesome. Sabathia threw 120 pitches for the Yankees, with 80 strikes in those 120, completing 8...
English: New York Yankees at Baltimore Orioles April 24, 2011 (Photo credit: Wikipedia) The New York Yankees found out their opponent in the ALDS will be their AL East division rival Baltimore Orioles. So down to Baltimore they go, to an all-familiar Camden Yards where the Yankees have played, time and time again. The two teams have spilt games this series 9-9, and that pretty much...
Orioles rookie third baseman Manny Machado was a 4-year-old when Baltimore and the New York Yankees last met in the postseason. The year was 1996, a lifetime ago for Orioles fans and a rather meaningless event in the development of Machado, who grew up to become a No. 1 draft pick and a key player in Baltimore's improbable, magnificent 2012 season. Sixteen years after the Yankees...
Before we take a look forward at what is to come in the ALDS, let's travel back in time to the beginning of the season in late March and early April. Just about six months ago the Yankee faithful had serious questions about the pitching staff and how the Bombers were going to match up against the Rays and Red Sox. The Yankees had to deal with the injury bug as it bit them when...
I'm not sure we'll do this for every O's playoff game, but we'll do it for this one, a 7-2 loss in Game 1 to New York. Winners Jason Hammel — Hadn't pitched in a month but matched CC Sabathia for five and two-thirds. Too bad CC went three more. Nate McLouth — Picked up a two-RBI basehit, plating both of Baltimore's runs. Chris Davis — Made two great defensive plays...
MLB News

Delivered to your inbox

You'll also receive Yardbarker's daily Top 10, featuring the best sports stories from around the web. Customize your newsletter to get articles on your favorite sports and teams. And the best part? It's free!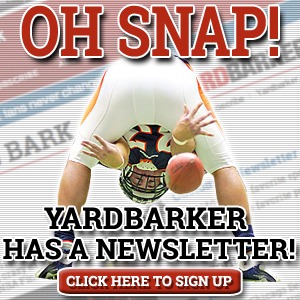 Latest Rumors
The Backyard

Today's Best Stuff

For Bloggers

Join the Yardbarker Network for more promotion, traffic, and money.

Company Info

Help

What is Yardbarker?

Yardbarker is the largest network of sports blogs and pro athlete blogs on the web. This site is the hub of the Yardbarker Network, where our editors and algorithms curate the best sports content from our network and beyond.