Found March 30, 2013 on hardballchat.com:
  San Francisco Giants fans can rejoice, Buster Posey will likely never wear another uniform again. The icon of the Giants signed a 9-year deal that will keep him in a San Francisco jersey until 2022. The contract extension includes a full no-trade clause and can include incentives if Posey achieves certain accolades. It is an 8-year deal but could include a 9th year on a team option. If San Francisco were to pick up the option Posey would make $22 million, or they could decline it and pay the $3 million buyout. He will make $3 million in 2013, $10.5 million in 2014, $16.5 million in 2015, $20 million in 2016 and $21.4 million from 2017-2022. Posey's new deal almost ensures he will be a Giant for life, or at least the next decade. Both the Giants and Posey wanted to get a deal done before opening day, and that's exactly what they did. This deal was different though, because both team and player come out victorious. For the Giants, they just locked up the best player in baseball for at least the next 8 years. The player who brought them 2 rings, season sell outs and fame will be with them for the foreseeable future. Even better for San Francisco is the price they got him at, with the biggest annual salary amounting to just 21.4 million starting in 2018. If Posey were to have hit the free agent market after the 2017 season, he easily would have receiver over 25 million. San Francisco walks away with a player who will play at an MVP-caliber level, lead their clubhouse and provide the role model and genuine person every team wants. It may have cost them truckloads of money, but it has already been worth it for the team and city. For Buster Posey, this contract represents the best of both worlds for the young catcher. First, he now has the security of a long-term contract. 9 years is the longest ever for a catcher, and it provides him with the assurance that he will be a Giant forever. He can now focus on working hard every day to become a better player and focus on his team, rather than a new contract. Posey also becomes the second highest paid catcher ever, right behind Minnesota Twins catcher Joe Mauer. Posey becomes the highest paid player in San Francisco history, and it could just be the beginning as he has 9 years to become the best player in San Francisco history. Posey showed part of what makes him such a great person as well, adding to his contract that $50,000 dollars every year will go to charity. Posey worked every single day of his life to be where he is now, and it has finally paid off with this new contract extension. He could have received more money in free agency in a few years, but chose to stay with the team where his success started. At the age of 26, Buster Posey has done things in three seasons that many players wish they could achieve in their entire careers. It started in 2010 when he won Rookie of the Year and helped lead the Giants to their first World Series win in team history. 2011 was a much different story, as just 45 games into the season he was lost after a scary collision with Scott Cousins. The Giants collapsed down the stretch without Posey and didn't make the playoffs. He came back in 2012, although many questioned how well he could play coming off a fractured fibula and strained ligaments in his ankle. Posey came back with a vengeance this past season, leading the National League with a .336 batting average and career highs in home runs (24) and RBI's (103). He was named National League MVP and won Comeback Player of the Year. Posey carried his success into the playoffs, where he helped lead the Giants to comebacks over the Cincinnati Reds and St. Louis Cardinals and captivated by sweeping the Detroit Tigers in the World Series. When you look at Posey's resume, it is hard to find another player who can even come close to his level of success. If you take away his 2011 season when he only played 45 games, Posey's success is unprecedented; Rookie of the Year, Comeback Player of the Year, MVP, and 2x World Series champion. Not only is Posey a great player on-the-field, he is a leader in the clubhouse and a role model in the San Francisco area. While some will question if Posey is worth a 9-year deal, he has earned every penny of it. There is always a risk to giving a catcher a long-term deal especially of this magnitude, but players like Posey don't come around very often. An MVP caliber player, a leader in the clubhouse and one of the true gentleman of the sport describes Buster Posey. This new contract won't be the end for Posey, he will work even harder now for a team that gave him everything. This record breaking contract is Giants committing to their franchise player, someone who has turned their franchise around. Before Posey, the team could barely make the playoffs. Now in just 3 seasons with him they are one of the best team's in baseball and turning into a dynasty. No matter the years or money given, San Francisco wins with Buster Posey. The post San Francisco Giants: Buster Posey signs long-term deal with Giants appeared first on Hardball Chat Baseball Blog.
Original Story:
http://www.hardballchat.com/2013/03/s...
THE BACKYARD
BEST OF MAXIM
RELATED ARTICLES
Buster Posey will be counted on to lead the Giants for the next several years. Tools of ignorance indeed.   Try telling that to Giants catcher Buster Posey. He just signed a nine-year, $167 million contract extension. It's the largest guaranteed contract in history for a player with three or fewer years of major league experience.   Posey rebounded from an horrific injury in...
POCKETS FULL FOR POSEY
Brian Sabean said he wanted Buster Posey to be a Giant for life, and that could very well be the case with the news that they have signed the reigning NL MVP to a massive deal.
Buster Posey is the San Francisco Giants' new franchise man. The Giants rewarded NL MVP and batting champion with a $167 million, nine-year contract Friday, a deal that includes a club option for 2022 that could raise the value to $186 million over a decade. The agreement is the longest for a catcher and the largest in Giants history, surpassing Matt Cain's $127.5 million...
It's been a good Friday for a few Major League Baseball players. Earlier, we reported that the Detriot Tigers and pitcher Justin Verlander agreed to $180-million contract, now the reigning World Series champions San Francisco Giants, have followed suit and locked up their best player Buster Posey to a long term contract according to the team's beat reporter Andrew Baggarly. Posey's...
After leading their teams to last year's World Series, Justin Verlander and Buster Posey cashed in just hours apart Friday. The All-Star pitcher and MVP catcher were guaranteed nearly $350 million in contracts by the Tigers and Giants, a sure sign of the baseball times: Teams are awash with revenue from television and high-priced tickets. Verlander, an AL MVP and Cy Young Award...
Credit: Steven Robles – SF Giants Rumors The San Francisco Giants have announced that they've extended GM Brian Sabean and manager Bruce Bochy's contracts through 2016, and have options for 2017. It's nice to see the team taking care of their GM and manager after winning two World Series in a three year span. Jon Heyman of CBSSports.com reported earlier that the Giants and...
"We goin' Sizzler. We goin' Sizzler." That's one of my favorite lines from from one of my favorite movies, "White Men Can't Jump." The line comes early in the movie when Sidney (Wesley Snipes) and Billy (Woody Harrelson) put money on a shooting contest. When it appears Sidney is about to make Billy look like the chump that he is, Sidney's friend starts mocking...
If you hadn't noticed, Major League teams have decided that the best way to use their current financial windfall is to keep their best players for essentially their entire careers. It wasn't long ago that single team lifers like Cal Ripken and Tony Gwynn were the outliers, but now, it is becoming unusual for an elite player to not sign a mega-contract with his original franchise...
There are some players who become premium draft targets despite statistical shortcomings (Buster Posey) or injury concerns (Troy Tulowitzki) solely because of how they compare to the available talent at their respective positions. Robinson Cano has no such flaws, producing annual stat lines that rival the game's best overall players, and the fact that he plays at a position with...
With the season opening on Sunday night, it's time for our last look at some of the risers and fallers in the recent ADP rankings. Again, since we're just looking to identify simple trends we're going to stick with the trend report on Mock Draft Central rather than be too concerned with actual ADP rankings from the NFBC as we have used through most of the spring. Besides, the...
1. Giants 0-0 -- Buster Posey & Co. are the defending champs until someone knocks them off. They won 94 regular-season games in 2012, and Tim Lincecum wasnt his usual self, going 10-15 with a 5.18 ERA. 2. Angels 0-0 -- Trout, Pujols and Hamilton, oh my. Mike Scioscias club is one of the four favorites in Vegas thats good enough for us. 3. Nationals 0-0 -- They had a...
Today is the eve of Opening Day eve. There are elite eight games on tonight and the Astros vs. Ranger opener tomorrow evening. Plus Wrestlemania 29 is on Sunday night. And then the main event of Opening Day on Monday. Here's all of the muck that's fit to rake in the way of baseball reads: -How the Nats went from ugly to elite, by Joe Posnanski. [NBC Sports] -ESPN's expert award...
MLB News

Delivered to your inbox

You'll also receive Yardbarker's daily Top 10, featuring the best sports stories from around the web. Customize your newsletter to get articles on your favorite sports and teams. And the best part? It's free!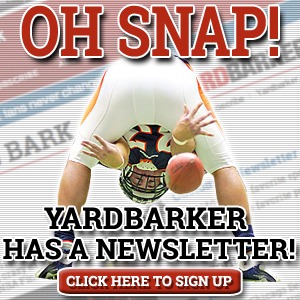 Latest Rumors
Best of Yardbarker

Today's Best Stuff

For Bloggers

Join the Yardbarker Network for more promotion, traffic, and money.

Company Info

Help

What is Yardbarker?

Yardbarker is the largest network of sports blogs and pro athlete blogs on the web. This site is the hub of the Yardbarker Network, where our editors and algorithms curate the best sports content from our network and beyond.