Found November 26, 2012 on Fox Sports Detroit:
PLAYERS:
Anibal Sanchez
,
Justin Verlander
,
Zack Greinke
,
Cliff Lee
,
Cole Hamels
,
Edwin Jackson
,
Danny Haren
,
Hiroki Kuroda
TEAMS:
Detroit Tigers
,
Los Angeles Angels
,
Philadelphia Phillies
,
Washington Nationals
,
New York Yankees
,
Boston Red Sox
DETROIT -- The going rate for starting pitchers is becoming movie-star money. That trend is almost certain to see the Tigers and free-agent pitcher Anibal Sanchez part ways. Sanchez appears to be seeking something in the neighborhood of 90 million over five years. If he can command anything near that, the Tigers will wave goodbye. Justin Verlander has two years remaining on a five-year deal worth 80 million. Do you think Tigers are going to pay their No. 4 starter as much or more than Verlander gets? Id love to have Anibal Sanchez back if we could, Tigers GM Dave Dombrowski said. I know its not going to be an easy pursuit by any means. Heres why: Zack Greinke, the top pitcher in this free-agent class, is looking for six years at 150 million. And the 2009 Cy Young Award winner probably will get or come close to that 25 million average salary, which would surpass CC Sabathias current 24.4 million contract average. Cliff Lee and Cole Hamels are right behind that with 22.9 million averages. Brad Pitt makes about 25 million per movie, and now thats about what Greinke will get per season. What Sanchez gets could be much more than hes worth. The vast majority of general managers polled by ESPN.coms Jerry Crasnick had him the No. 2 starter option behind Greinke in a weak free-agent field. Sanchez was the choice of 14 general managers, while ex-Tiger Edwin Jackson and Dan Haren were tied for the third spot with three votes apiece. Tim Dierkes of MLBTradeRumors.com wrote that for Sanchez a C.J. Wilson-type contract seems fair. Last year, Wilson got 77.5 million over five years (13.5 million average) from the Angels. He went 13-10 with a 3.83 and was grossly over-paid. Hiroki Kuroda, an aging pitcher rated the No. 5 free-agent starter by Dierkes, got 15 million for 2013 from the Yankees. So it looks like Sanchez will get that kind of money and will probably end up being somebodys payroll headache, unless he can equalize what he did for the Tigers in September and the postseason. His career numbers suggest that his performance, though clutch, might very well have been an aberration. Sanchez was 9-13 with a 3.86 ERA overall for the Marlins and Tigers last season. He was 10-3 with a 2.83 ERA and a no-hitter as a Marlins rookie in 2006, but missed most of the next three seasons with broken fingers and a broken hand. Sanchez, only 28, has proven durable since then. Hes reached 195 innings pitched in three consecutive seasons. But he hasn't put up knock-out numbers, going 13-12 with a 3.55 ERA in 2010 and 8-9 with a 3.67 ERA in 2011. However, what he did in September (2.43 ERA , 37 strikeouts, five walks in 40 23 innings) and the playoffs (1.77 ERA, 18 strikeouts, five walks in 20 13 innings) turned heads. His walks plus hits per innings pitched (WHIP) was 0.98 in the postseason and 0.96 in September. Those are Cy Young Award-winning numbers if done over six months. Maybe it was working with Tigers pitching coach Jeff Jones or simply getting away from the stench in Miami with the Marlins. But there's no doubt Sanchez kicked it into high gear down the stretch. Can he keep it up? Or will he go back to being a dependable middle-of-the-rotation starter and nothing more? Those are the questions teams must answer before bidding high on Sanchez. The Red Sox and Dodgers are interested in Sanchez, and both have money to spend. Also look for the Angels to enter the picture in a big way if they lose Greinke to the Dodgers or Rangers. Boston GM Ben Cherington oversaw the Red Sox's international scouting when they signed Sanchez as a free agent out of Venezuela. Boston then traded Sanchez to the Marlins, but it would seem Cherington would have a connection with Sanchez. One thing is certain: The Red Sox or some other team is going to pay Sanchez big money. It won't be the Tigers. They simply will not offer him anything near what Verlander, who will earn 20 in each of the next two seasons, got over the length of his contract signed before the 2010 season. You can take that to the bank.
Original Story:
http://www.foxsportsdetroit.com/11/26...
THE BACKYARD
BEST OF MAXIM
RELATED ARTICLES
Much has been made of the Detroit Tigers adding Torii Hunter to the roster and how much that will improve the offense and defense of a team that was so frustratingly close to winning it all last year. Indeed, Hunter will provide a huge piece to the Tigers' puzzle, but he doesn't cure all of the ills. Most people with an opinion have the Tigers' 2013 Opening Day lineup looking...
DETROIT The going rate for starting pitchers is becoming movie-star money. That trend is almost certain to see the Tigers and free-agent pitcher Anibal Sanchez part ways. Sanchez appears to be seeking something in the neighborhood of 90 million over five years. If he can command anything near that, the Tigers will wave goodbye. Justin Verlander has two years remaining on a five...
SHOOTER!
Tigers ace Justin Verlander tweeted a photo of himself in a tough spot on the golf course and a Twitter account ascribed to Happy Gilmore villain Shooter McGavin replied.
Jarrod Washburn was a left-handed pitcher for the Anaheim Angels, Seattle Mariners and Detroit Tigers between 1998-2009. His best year came in 2002, where he went 18-6 and had a career best 3.15 ERA for the Angels. However, Washburn experienced from postseason struggles that season. Washburn won his only ALDS start against the New York Yankees, and pitched extremely well in the ALCS...
 Justin Verlander tweeted this picture of him playing golf out to his twitter followers saying this is where his ball ended up at Kinloch Golf course.  Haha, had to write about this story for two reasons.  One being that I use to caddy at that course in Richmond, Va back when I was in high school.  One of my good friends still caddies there full time and probably is the person...
Over the weekend, Tigers ace Justin Verlander decided to take in a round of golf at the Kinloch Golf Club in his native Virginia. During the outing, Verlander had a pretty amazing errant shot that ended up landing on top of a tree stump in what looks to be a pretty unforgiving rough. Verlander also tweeted an image of his unfortunate situation. Check out where my ball ended up on...
Bruce Rondon, a young flamethrower, is expected to be in the mix for the job during spring training. Continue reading →
Can M's make a splash? Should they? With a deep farm system, sturdy ace and offensive building blocks the Seattle Mariners are on the fringe of becoming relevant in the American League once more. But first they have some holes to fill. That's where this crop of free agents come in. It's not particularly deep, but there's plenty of established players that could have a huge...
Stop me if you've heard this one before, "The Dodgers are considered the front runners to sign Zack Greinke."  Or was it Hiroki Kuroda?  Or Anibal Sanchez?  Or Kyuji Fujikawa?  Or Kevin Youkilis?  Or how about just every free agent ever? It seems that no matter what position a player plays or how much money he wants, the Dodgers want him.  Their greed and...
MLB News

Delivered to your inbox

You'll also receive Yardbarker's daily Top 10, featuring the best sports stories from around the web. Customize your newsletter to get articles on your favorite sports and teams. And the best part? It's free!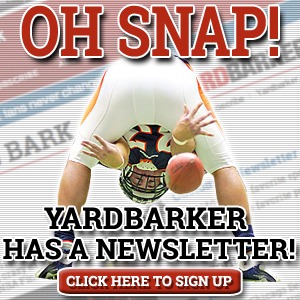 Latest Rumors
The Backyard

Today's Best Stuff

For Bloggers

Join the Yardbarker Network for more promotion, traffic, and money.

Company Info

Help

What is Yardbarker?

Yardbarker is the largest network of sports blogs and pro athlete blogs on the web. This site is the hub of the Yardbarker Network, where our editors and algorithms curate the best sports content from our network and beyond.