Found February 18, 2013 on Fangraphs:
By December it became clear Sandy Alderson would trade R.A. Dickey before his Cy Young Award could collect a spec of dust. The only questions remaining were where the knuckleballer would land and who the Mets would receive in return. It came as little surprise that Alex Anthopoulos was lurking — ...
Original Story:
http://www.fangraphs.com/blogs/index....
THE BACKYARD
BEST OF MAXIM
RELATED ARTICLES
The biggest surprise about R.A. Dickey's 2012 season — Cy Young Award aside — was the drastic increase in strikeouts. Last year was Dickey's seventh year featuring a knuckleball, but in the previous six seasons he'd never topped 5.88 K/9 (2009 with the Twins). It's true that he now features what could rightly be termed a high-velocity knuckler (his average knuckleball...
As the paid media ramps up their detailing of all things Blue Jays in this most optimistic of springs, it seems to me that the link dumps have already been done elsewhere (DJF is very through, and you can follow Blue Jays Aggregator on Twitter for another fine source) s rather than do that, I think I'll just do a player-by-player rundown on the items that have caught my eye and...
Spaceman here, and I'll be keeping tabs on spring training battles to watch by position, in each division. I'll hopefully convey a common sense approach that assists with your draft prep and roster depth. If not, I'll head back to my farm in Vermont to sprinkle grass on my pancakes. Blue Jays 2B Starter: Toronto brought Emilio Bonifacio over in Jeffrey "Expo Killer&quot...
DUNEDIN, Fla. – Mark Buehrle won't be experiencing the dog days of summer. While the pitcher is headed to Toronto, his family will split the season between Broward County in Florida and their home in St. Louis. One of their four dogs, Slater, is a mix of bulldog and American Staffordshire Terrier — which is of pit bull lineage. Pit bulls are banned in the province of Ontario...
Despite having a terrible bullpen, last year at the All-Star break the Mets were 46-40. Shortly after the break, on July 14th, Dan Stack noted that the Mets "rank last in bullpen ERA (4.94), 28th in WHIP (1.48) and 27th in batting average against (.267)." The bullpen is one of the easiest areas to improve around the All-Star break because teams out of the race are willing to...
Almost everyone is going to pick the Mets to finish n the division. That's a given. They are looking up and down at team rosters, and giving their projections based on the players on those rosters. A roster is simply a list of names. It can't tell you if a player is going to have an up year or a down year, it can't tell you if a player is going to get injured or not, nor can...
The Blue Jays are not going to win the World Series. Well, I mean, not, not ever. I am sure they will win the World Series again at some point in time, but not in 2013. Yes, you read that correctly. It is not my opinion, it is a fact. No, I did not ride a Delorean into the future and steal Biff Tannen's Sports Almanac. I am not a soothsayer. Well, you got me, I almost never say...
Just before Thanksgiving 2010, the Mets hired Terry Collins to shepherd the Mets into their new era. The talk at the time was based in GM Sandy Alderson's history – apocryphal though it might be – of disdain for the position. There isn't a copy of Moneyball handy, but the quote was something about the man in the dugout being nothing more than a "middle-manager," a...
They lost R.A. Dickey but kept David Wright. More importantly, the Mets' owners might have actually sorted out their financial mess. With potential money to spend and some top prospects on their way, 2013 could be the start of the Mets' resurgence. Mets on TOC End of Season Postmortem Hope for the Hopeless 2013 Season Preview You May Say I'm a Dreamer (11:30...
Mets third baseman David Wright flew back to New York to have his sore ribs examined by team doctors. General manager Sandy Alderson said he expects Wright will return to Port St. Lucie on Saturday. ''In terms of the injury and its severity, we just don't know any more than David has related already publically,'' Alderson said. ''So until he's actually...
Blue Jays News

Delivered to your inbox

You'll also receive Yardbarker's daily Top 10, featuring the best sports stories from around the web. Customize your newsletter to get articles on your favorite sports and teams. And the best part? It's free!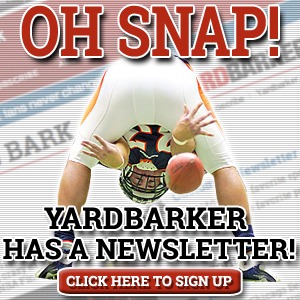 Latest Rumors
Best of Yardbarker

Today's Best Stuff

For Bloggers

Join the Yardbarker Network for more promotion, traffic, and money.

Company Info

Help

What is Yardbarker?

Yardbarker is the largest network of sports blogs and pro athlete blogs on the web. This site is the hub of the Yardbarker Network, where our editors and algorithms curate the best sports content from our network and beyond.