Posted October 24, 2012 on AP on Fox
PLAYERS:
Pablo Sandoval
,
Justin Verlander
,
Al Alburquerque
,
Babe Ruth
,
Albert Pujols
,
Barry Zito
,
Miguel Cabrera
,
Jim Leyland
,
Max Scherzer
,
Aubrey Huff
,
Angel Pagan
,
Marco Scutaro
,
Gregor Blanco
,
Prince Fielder
,
Tim Lincecum
,
Jhonny Peralta
,
Madison Bumgarner
,
Doug Fister
,
Mickey Mantle
,
Carl Yastrzemski
TEAMS:
San Francisco Giants
,
Detroit Tigers
,
Los Angeles Angels
,
Los Angeles Dodgers
,
New York Yankees
Pablo Sandoval became just the fourth player to hit three home runs in a World Series game, connecting twice against Justin Verlander and once off Al Alburquerque to boost the San Francisco Giants into a 6-1 lead over the Detroit Tigers after six innings of Wednesday night's opener. Sandoval hit a solo home run to right-center in the first, a two-run, opposite-field drive to left in the third and another bases-empty shot into the center-field batter's eye in the fifth. He joined Babe Ruth (1926 and 1928), Reggie Jackson (1977) and Albert Pujols (2011) as the only players with three-homer games in the Series. Barry Zito, who like Sandoval watched the 2010 Series opener from the dugout, allowed one run and six hits in 5 2-3 innings. Given a 6-0 lead, he gave up an RBI single in the sixth to Triple Crown winner Miguel Cabrera. Verlander was chased after allowing five runs and six hits in four innings, his shortest start this year. He threw 98 pitches, and Detroit manager Jim Leyland could alter his rotation and start him in Game 4 on short rest instead of Max Scherzer. That would enable Verlander to pitch a possible Game 7, again on three days' rest. Verlander was 0-2 as a rookie in the 2006 Series against St. Louis but had been superb this October, entering with a 3-0 record and a 0.74 ERA. Sandoval hit the first bases-loaded triple in All-Star game history off Verlander in July, and kept on going against the reigning AL MVP and Cy Young Award winner. He connected on a high 95 mph pitch with an 0-2 count in the first inning and sent the ball just over the wall in right-center. Then, on the very next pitch after a mound visit by Tigers pitching coach Jeff Jones in the third, Sandoval hit a two-run, opposite-field drive into the seats in left for a 4-0 lead. Verlander simply said, ''Wow!'' Sandoval had been benched for four of five games in the Giants' 2010 Series win over Texas when he entered in a 3-for-14 slide. The Giants then told Sandoval, nicknamed Kung Fu Panda for his roly-poly physique, to get in shape or start the next season in the minor leagues. Winning by home run is unusual for the Giants, whose 103 home runs were last in the major leagues. The only other three-homer game at the ballpark was by the Los Angeles Dodgers' Kevin Elster in the very first opener, in 2001. The last three-homer game by a Giant was Aubrey Huff at St. Louis in June 2011. Angel Pagan had another of the Giants' unusual postseason hits with two outs in the third when his one-hopper kicked off the corner of the third-base bag and ricocheted past Cabrera at almost a right angle into short left field. Marco Scutaro, who struck out just once in 48 at-bats during the NL playoffs, fouled off two 98 mph full-count pitches and lined a single into center field to bring up Sandoval. Zito, dropped from the Giants' roster for the 2010 postseason after a four-year slump, finally justified the $126 million, seven-year contract the Giants gave him after the 2006 season. The 2002 AL Cy Young Award winner was helped when left fielder Gregor Blanco made neat diving grabs of liners by Cabrera in the third and Prince Fielder in the sixth. In addition, Zito added an opposite-field RBI single to left in the fourth. After getting just four hits during the regular season, Zito has singles in consecutive postseason appearances. Tim Lincecum, who won twice in the 2010 Series, came out of the bullpen with two on and two outs in the sixth and struck out Jhonny Peralta. Coming off its first AL pennant since 2006, Detroit had nearly a week off after sweeping the New York Yankees in the AL championship series. San Francisco had just a day to rest after overcoming a 3-1 deficit against defending champion St. Louis in the NLCS. The winner of the opener has claimed the title 66 of 107 times, including eight of last nine. The NL is seeking to win three straight Series for first time since 1979-82. Madison Bumgarner, 0-2 with an 11.25 ERA for the Giants in two postseason outings, starts Game 2 on Thursday against Detroit's Doug Fister, who has a 1.35 ERA with no decisions in two postseason appearances this year. The Series then shifts to the Motor City for Game 3 on Saturday. Detroit had just the seventh-best record in the 14-team AL at 88-74, and no previous World Series team had been lower than fifth, according to STATS LLC. San Francisco was tied for third in the NL at 94-68. Back in San Francisco's bayside ballpark for the second time in three years, the World Series took on the Giants' Halloween colors of orange and black as fans waved towels and pompons. The Grateful Dead's ''I Will Survive'' and ''Friend of the Devil'' were among the songs played as the Tigers took batting practice. Renel Brooks-Moon, who in 2002 became the first woman to be serve as public-address announcer for a Series game, skipped over Detroit's reserves during the pregame introductions. Hall of Famers Willie Mays, Willie McCovey, Gaylord Perry and Orlando Cepeda were on the field for the ceremonial first pitch - thrown by Perry. Detroit also brought along some baseball royalty in Hall of Famer Al Kaline, a team adviser. Seeking their first World Series title since 1984, the Tigers helped create the first title matchup between teams from the AL Central and NL West. Notes: The team hosting the first two games has won 21 of the last 26 World Series: the exceptions were Toronto (1992), the Yankees (1999), Florida (2003), St. Louis (2006) and Philadelphia (2008). ... Cabrera became the fourth player to appear in the Series in the year he won the Triple Crown, joining Mickey Mantle (1956), Frank Robinson (1966) and Carl Yastrzemski (1967). ... Delmon Young hit into only the second 2-4 double play in postseason play, with Fielder tagged out at second. The other was on a bunt by the Boston Braves' Sibby Sistsy in Game 6 of the 1948 World Series, STATS said.
Original Story:
http://msn.foxsports.com/mlb/story/wo...
THE BACKYARD
BEST OF MAXIM
RELATED ARTICLES
We keep preaching to you guys that the World Series might be boring TV when compared to NFL football games, but some of the best stories come from baseball maniacs. Take this chick, Dawn Price. She was all smiles yesterday even after being arrested for snagging one of Pablo Sandoval's home runs. Read this. Please. (She hid the ball down her pants.) Giants fan Dawn Price told CBS...
Pablo Sandoval started off the World Series quite hot. Sandoval homered his first two at-bats off Justin Verlander and then his third homerun came off Al Alburquerque.First homerun:Second homerun:GIFs via Bleacher Report
Pablo Sandoval got the Giants off to a quick World Series start, homering against Justin Verlander in the first and third innings as San Francisco took a 4-0 lead over the Detroit Tigers in Wednesday night's opener. Sandoval hit the first bases-loaded triple in All-Star game history off Verlander in July, and kept on going against the reigning AL MVP and Cy Young Award winner...
The San Francisco Giants cruise past the Detroit Tigers 6-3 behind the bat of Pablo Sandoval and his 3 homer night. In Postseason play, Sandoval has already halved his regular season total by accumulating 6 homeruns. He hit a total of 12 homeruns in 108 games during the regular season. Sandoval's three homerun game was the first at AT&T Park since 2000.  Sandoval's performance...
The San Francisco Giants beat the defending World Series champion St. Louis Cardinals 9-0 Monday night in Game 7 of the NL Championship series.Matt Cain pitched his second clincher as the Giants won their sixth elimination game of the post season. Marco Scutaro matched an LCS record with 14 hits in the series while Pablo Sandoval drove in a run for his fifth straight game.The Giants...
I tried to tell you guys this morning that great things besides baseball happen year after year at the World Series. This morning it was a chick putting Pablo Sandoval's 3rd home run ball down her pants before being arrested. Now comes this Fox guy, Paul Robins, taking a bird deuce to the side of the head and on his coat. It wasn't exactly a Doug Fister shot to the head, but...
Baseball has apparently been taken over, "conquered" if you will, by a master race of giant space pandas. And I, for one, welcome our new panda overlords. Frankly, I've been asking for it with all the fat jokes/Thai Cashew Chicken Breast references. I don't know what Justin Verlander did though.Pablo Sandoval hit home runs in each of his first three at bats against...
SAN FRANCISCO -- Babe Ruth, Reggie Jackson, Albert Pujols … and the Kung Fu Panda. Pablo Sandoval hit three home runs, tying a World Series record held by Ruth, Jackson and Pujols to lead the San Francisco Giants to an 8-3 victory over the Detroit Tigers in Game 1 on Wednesday night at AT&T Park. Sandoval homered in each of his first three at-bats, including two off Tigers...
Completely unbelievable.  It's not torture, and it's not surprise. It's just completely unbelievable. I warned you to expect the unexpected. The unexpected is now an understatement. What we all witnessed in Game 1 was the same thing we all witnessed in Game 7-- complete and utter domination of a team that was expected to take care of the Giants like a garden hose...
(Eds: With AP Photos.) By TIM DAHLBERG AP Sports Columnist The empty champagne bottle sitting in the clubhouse as players passed by on their way to the showers was the only remaining sign of the celebration of a few nights earlier, when the San Francisco Giants somehow found their way into the World Series. There would be no celebration on this night, because the Giants understand...
Yesterday's game was all sorts of crazy, and I think that's best illustrated by the fact that the following sentence is a perfectly valid, accurate arrangement of words: Barry Zito singled off Justin Verlander in the fourth inning to give the Giants a 1-0 lead in Game One of the World Series. Let's see here… Barry Zito started Game One of the World Series for the Giants...
MLB News

Delivered to your inbox

You'll also receive Yardbarker's daily Top 10, featuring the best sports stories from around the web. Customize your newsletter to get articles on your favorite sports and teams. And the best part? It's free!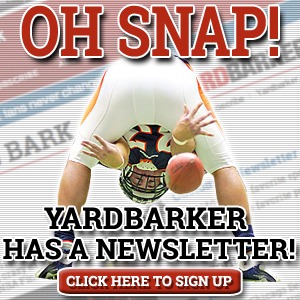 Latest Rumors
The Backyard

Today's Best Stuff

For Bloggers

Join the Yardbarker Network for more promotion, traffic, and money.

Company Info

Help

What is Yardbarker?

Yardbarker is the largest network of sports blogs and pro athlete blogs on the web. This site is the hub of the Yardbarker Network, where our editors and algorithms curate the best sports content from our network and beyond.