Found March 03, 2012 on Miller Park Drunk:
We get a lot of requests to post other people's content on our page. (I guess this is one of the downsides of being the best Brewers blog in the world.) We usually just delete them because we try to be original. However, sometimes people do good work and we want to recognize it. Or the video stars John Axford and since we are now best friends we feel obliged to link it. You know, either way. 12 Angry Mascots Channel Get More: Atom.com | Funny Videos | Tournament | Upload Everyone else got a "fake tweet/what tweet discreet did" thing except for Axford. WAZUPWITDAT? If I made this video it would have looked like this. JohnAxford: @RRoberts14 lol c u next season *** After Tweet Discreet: JohnAxford: @RRoberts14 sweet neck tat bro! Then we have these dudes at Nine More Outs. Their stuff is pretty hit and miss for me and this one is no different. It seems like they are trying too hard sometimes, you know? It's worth a watch just for the people who let them draw on t...
Original Story:
http://www.millerparkdrunk.com/baseba...
THE BACKYARD
BEST OF MAXIM
RELATED ARTICLES
The Milwaukee Brewers renewed the contract of right-handed pitcher John Axford on Saturday.Axford will make $525,000 in 2012 with the understanding that talks will resume for a multi-year extension.Axford is arbitration eligible for five more seasons and is interested in working on a five-year deal with the Brewers before the start of the upcoming season.The closer converted 46 of...
After winning a franchise-record 96 games a year ago, all eyes are watching to see if Milwaukee Brewers can repeat as National League Central champions. But after losing Prince Fielder, who anchored the lineup for the last six-plus seasons, is that a realistic goal? Second baseman Rickie Weeks sure thinks so. "You know, a lot of times people look at Prince not being here...
MILWAUKEE For the Brewers, 2011 was one of the most memorable seasons in franchise history. For Manny Parra, it was nothing short of a disaster. The left-hander was plagued by injury from the start of spring training and after a couple of minor league attempts, finally saw his season end with elbow surgery. While his teammates celebrated a division title, Parra recovered and rehabbed...
Milwaukee rookie Taylor Jungmann made a nice start in an intrasquad game Saturday, striking out Brewers stars Ryan Braun and Rickie Weeks. Jungmann, a first-round draft pick last June, pitched two perfect innings. The 22-year-old right-hander also struck out Mat Gamel, retired Nyjer Morgan and Corey Hart on grounders and got Aramis Ramirez on a fly ball. Braun received shouts of...
The players' association believes the leak of NL MVP Ryan Braun's drug test was an isolated occurrence. Speaking Sunday at the Milwaukee Brewers' training camp, union head Michael Weiner says ''the leak was specific to this case'' and ''does not threaten the confidentiality of the program.'' ESPN reported in December that Braun tested...
Phoenix - Place an obstacle in front of Ryan Braun, and he usually surmounts it, often with ease. That well-documented fortitude will be challenged in a different and daunting way this season in light of the drug-test controversy that haunted the Milwaukee Brewers' star leftfielder throughout the off-season. The outcome was better than many expected when Braun avoided a 50-game...
Milwaukee Brewers left fielder Ryan Braun heard taunts from fans in his first exhibition game of the season. Braun heard a combination of cheers and jeers in reaction to his offseason saga involving a 50-game drug suspension that was overturned upon appeal. When he stepped to the plate for his first at bat, Braun heard chants of "Urine sample! Urine Sample!" from one...
By JOHN PESETSKI Special to FOXSportsWisconsin.com PHOENIX Tough. It doesn't take long for a member of the Milwaukee Brewers organization to say that word when describing second baseman Rickie Weeks. Whether its players, coaches, manager Ron Roenicke or front office personnel, tough is almost always the way Weeks is first described. Weeks' toughness and the impact his...
Phoenix - With the big bat of Prince Fielder missing from the middle of the Milwaukee Brewers' batting order, manager Ron Roenicke is planning to run a bit more this season and try to create some runs. "I'd like to be a little more creative in what we do," Roenicke said Friday. "It's all about how you manufacture runs. Without Prince in the lineup, we...
The Milwaukee Brewers are one game into Spring Training and already have their first casualty. Today, it's come out that outfielder Corey Hart has a torn meniscus (right knee) that was discovered in an MRI this weekend. Hart is going to require arthroscopic surgery, and will likely miss 3-4 weeks. This means that the Brewers are likely to begin the season without Hart, who was...
Ryan Braun struck out in his only two at-bats in the Milwaukee Brewers' 1-all tie with a split squad of the San Francisco Giants on Sunday in the reigning NL MVP's first game since getting caught up in a drug case during the offseason. Although the game was at Milwaukee's Maryvale Baseball Park, about half the crowd of 6,619 cheered for the Giants and they countered...
After the fallout from the overturning of his 50-game drug suspension, Ryan Braun looks like he might end up saving face. Well, in Wisconsin, at least. According to a recent poll of Wisconsin voters, 59% said they still have a favorable opinion of the Brewers' reigning NL MVP. But, interestingly, 34% of those polled said they still weren't sure how they feel about Braun. The...
Brewers News

Delivered to your inbox

You'll also receive Yardbarker's daily Top 10, featuring the best sports stories from around the web. Customize your newsletter to get articles on your favorite sports and teams. And the best part? It's free!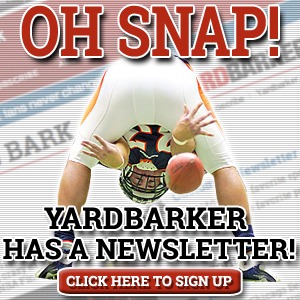 Latest Rumors
Best of Yardbarker

Today's Best Stuff

For Bloggers

Join the Yardbarker Network for more promotion, traffic, and money.

Company Info

Help

What is Yardbarker?

Yardbarker is the largest network of sports blogs and pro athlete blogs on the web. This site is the hub of the Yardbarker Network, where our editors and algorithms curate the best sports content from our network and beyond.