Found September 10, 2012 on Obstructed View OLD:
Following the 2010 season the Cubs decided to trade a bunch of players to acquire an overrated middle of the rotation pitcher in Matt Garza. Then he surprised many of us by having the best season of his career. His average WAR was 3.7 (5.0 fWAR, 2.5 rWAR, 3.7 WARP). His fWAR in 2011 was 1.9 higher than his previous best in 2009. His 2011 WARP was 1.5 higher than his best (also 2009). According to rWAR, both 2008 and 2009 were better than his 2011 season with the Cubs.
He had a career best ERA, FIP and xFIP. His K% was the best and his BB% was the 2nd best in his career. Naturally, we heard all about how Matt Garza is a different pitcher. To a large extent he was. He threw his fastball considerably less often. He replaced it with sliders and changeups. Since Garza was having a career year, different was meant to mean that he's a better pitcher.
From 2008 through 2010 Garza had a 3.85 ERA and 4.24 FIP. In his injury shortened 2012 season he posted an ERA of 3.91 and an FIP of 4.17.
This is a bit unfair. Garza has been a bit unlucky this season while at the same time being a little lucky. His HR/FB rate is over 16%. There's no reason to think it would remain that high and if we adjust that to 10%, which xFIP does for us, it's a solid 3.60. Not as good as the 3.19 from a year ago, but still plenty good. His BABIP last season was about league average while this season it's just barely over .270, which interestingly is the same as it was from 2008 through 2010.
Garza has been more of a groundball pitcher since joining the Cubs. He's struckout more and walked a bit less than before.
He was more than likely going to be traded prior to the July 31st deadline, but went on the disabled list with soreness in his triceps. It was later relealed he had a small fracture in the elbow and since we're so late in the season he's been shut down for good.
Prior to the injury he had thrown 103.2 innings, allowed 90 hits, struckout 96 and walked 32. In 2011 he allowed 14 home runs in just over 200 innings. He allowed 15 this year. His 3.91 ERA was just a little better than league average and his FIP is right in the same area as average. Fangraphs uses FIP-, which is similar to stats like ERA+ and OPS+ except that less than 100 is better than average. His ERA- in 2012 was 94 and his FIP- was 102.
His fWAR was 1.3, rWAR was 1.1 and his WARP was -0.5. The WARP was below replacement level because his FRA (Fair Run Average) was 5.53, which was more than a half run higher than his worst FRA in 2010.
Garza will be eligible for arbitration for the fourth and final time this offseason. Due to his injury it's highly unlikely the Cubs could find a trading partner. In all likelihood he opens the 2013 season atop the Cubs rotation. He earned $9.5 million this past season and since he wasn't nearly as effective as 2011 and pitched just half a season, he won't get much of a raise. Both Garza and the Cubs will hope he returns to form early on so that they can trade him at the deadline. Garza will be hoping for a return to form in part to get to a contender at midseason, but also because he'll be a free agent following 2013.
While we're at this, we may as well take another look at the trade for Garza. I did so last June and then again in August, but we're another year into the trade so why not? I liked the trade by that time, but when the trade was completed, I hated it.
Garza has a total WAR (average of fWAR, rWAR, bWARP) over the first two seasons with the Cubs of 4.3. The Cubs also acquired Fernando Perez who had a short-lived career as a Cub and Zachary Rosscup. Rosscup was injured much of the season (only 29 innings at A+/AA), but will report to the Arizona Fall League. Rosscup strikes a lot of people out and has better than average control. The lefty has the potential to be a late-inning reliever, but he needs to return to form following the injury before that's even a possibility.
Chris Archer made his big league debut this year and in 3 starts has an impressive 25 to 4 strikeout to walk ratio. His command is still below average (this year in the minors it was 4.4 per 9). He could end up a back of the rotation pitcher, but more than likely will find himself in middle relief.
After a breakout season in High A last year, Hak-Ju Lee returned to AA where he slumped toward the end of the 2011 season and was only mediocre. He's still young, but he has no power. Speed is his best tool. If he can't stick at SS he has no MLB future ahead of him.
Robinson Chirinos missed the entire season with a concussion after an umimpressive debut in 2011. Guyer also missed most of the season and he was also unimpressive in his big league debut a year ago. Chirinos is 28 and Guyer is 26.
Sam Fuld has provided 2.4 WAR in his time with the Rays and he's done it for league minimum.
Because of Fuld's decent production for little money and Garza's step back this year, you once again have to give the edge to the Rays in this trade. Not much of one, but a slight edge.
Original Story:
http://www.obstructedview.net/comment...
THE BACKYARD
BEST OF MAXIM
RELATED ARTICLES
The Chicago Cubs' rotation these days is part patchwork and part open audition for 2013. After the Cubs shut right-hander Jeff Samardzija down for the season after Saturday's complete-game victory over the Pirates, they are without four key pitchers from earlier this season: Samardzija, injured pitcher Matt Garza and traded starters Ryan Dempster and Paul Maholm. Assuming...
The other day The Hardball Times wrote that Alfonso Soriano is not overpaid. I'm a big fan of anyone who doesn't talk about Soriano in a way that makes him seem like he's a lazy, overpaid player. However, THT relied on fWAR, which uses UZR as its defensive metric. His 2007 UZR is so high that my iPad probably won't let me type it out. It's ridiculous to think...
Your browser does not support iframes. Anthony Rizzo left Tuesday's Cubs-Astros game early after getting hurt in a collision with Astros first baseman Brett Wallace. The Cubs first baseman grounded a ball to Houston second baseman Jimmy Paredes in the third inning. Paredes' throw to first was high, causing first baseman Brett Wallace to leap for the ball. Wallace's legs kicked...
SCARY SITUATION
via MLB.com Anthony Rizzo had to exit the ballgame after a massive collision with Brett Wallace at first base in the top of the third inning in a game between The Chicago Cubs and The Houston Astros. Rizzo hit a slow ground ball to second baseman Jimmy Paredes who launched a high throw to Brett Wallace which caused him to jump and in the process his legs nailed a very fast running...
The Chicago Cubs got a big injury scare during Tuesday night's 1-0 loss at Houston. First baseman Anthony Rizzo had to come out of the game in the third inning after he grounded to second base and collided with Astros first baseman Brett Wallace, who had to leap for the throw. The two players got tangled up, and Rizzo landed hard on his upper body. He came with a sore right...
Exploring the Arsenal will run prior to each game, providing you with a brief scouting report on the starting pitcher expected to oppose the Pirates. The chart below shows the horizontal and vertical movement of every pitch thrown by that particular pitcher in 2012. This chart is from the catcher's point of view. Click here for a general guide to pitch types and classifications...
Chicago Cubs slugger Anthony Rizzo has been injured in a collision with Brett Wallace while running to first base against the Houston Astros. Rizzo hit a grounder to second baseman Jimmy Paredes in the third inning Tuesday night, and his throw to first was high, causing Wallace to jump to try and catch it. Rizzo collided with Wallace while he was in the air and tumbled violently...
Dave Sappelt scored the go-ahead run on a wild pitch and had three RBIs, leading the Chicago Cubs to a 4-1 win on Monday night in a matchup of the teams with the worst records in the majors. Sappelt, who was recalled from Triple-A Iowa on Sept. 1, drove in his first run for the Cubs with a double to the left field corner to put Chicago up 1-0 in the second inning. The game was...
HOUSTON (AP) -- Dave Sappelt scored the go-ahead run on a wild pitch and had three RBIs, leading the Chicago Cubs to a 4-1 win Monday night in a matchup of the teams with the worst records in the majors. Sappelt, who was recalled from Triple-A Iowa on Sept. 1, drove in his first run for the Cubs with a double to the left field corner to put Chicago up 1-0 in the second inning. ...
Alfonso Soriano hit a two-run homer in the eighth inning to give the Cubs the go-ahead runs and Chicago completed a three-game sweep of the Pittsburgh Pirates with a 4-2 win on Sunday. Soriano followed Anthony Rizzo's leadoff single in the eighth with his second homer in as many days and 28th of the season, sending the first pitch from Jason Grilli (1-6) into the Cubs bullpen...
The Pirates missed a bunch of opportunities and the Cubs made them pay with three long balls, as Chicago finished the weekend series sweep that was extremely disappointing for the home side. Jeff Locke delivered a solid start. The Cubs punished two mistake pitches for solo homers, both in the fourth inning, but other than that he did a very nice job. Locke struck out six and didn't...
I can't believe the Pirates are in the position they are in.  Playing their way to allowing idiot Cubs fans to bring brooms to PNC Park?  Pathetic.  Second year of collapses and I've had enough of Clint Hurdle as Bucco manager.  He brings nothing to the table.  If he did we wouldn't have these ridiculous [...]
MLB News

Delivered to your inbox

You'll also receive Yardbarker's daily Top 10, featuring the best sports stories from around the web. Customize your newsletter to get articles on your favorite sports and teams. And the best part? It's free!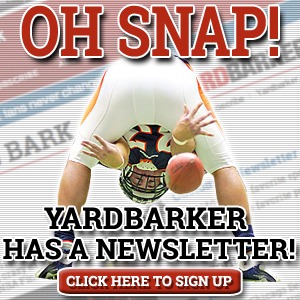 Latest Rumors
The Backyard

Today's Best Stuff

For Bloggers

Join the Yardbarker Network for more promotion, traffic, and money.

Company Info

Help

What is Yardbarker?

Yardbarker is the largest network of sports blogs and pro athlete blogs on the web. This site is the hub of the Yardbarker Network, where our editors and algorithms curate the best sports content from our network and beyond.