Found August 09, 2012 on isportsweb.com:
The Seattle Mariners had a lot of confidence before departing on their most recent road trip.  They were on a season-high seven game winning streak after sweeps of the Kansas City Royals and Toronto Blue Jays at home.  Before going on the road, they had improved to 50-57, their best mark since they went to 27-33 after their combined no-hitter over the Los Angeles Dodgers.  However, trips to New York and Baltimore proved to be unkind to the surging Mariners.  Seattle lost two of three to the Yankees, and they dropped all three games to the Orioles in Camden Yards. The Yankee series.  The Mariners had already seen the Bronx Bombers at the beginning of their last home stand.  The result of that series was the same as this one; they dropped two out of three games.  Felix Hernandez, though, continued to shine for Seattle.  The Mariners won on Saturday 1-0 behind a complete game shut out from King Felix.  Against the A.L. East leaders, Felix gave up two hits and struck out six.  He moved up to 10-5 with an impressive 2.63 ERA.  Over his last ten starts, Hernandez has been unbeatable going 6-0 with a 1.42 ERA with two wins over the Yankees and a win over Texas in that span.  There was too much Yankees in the other two games, however, as New York won Friday 6-3 behind CC Sabathia and won 6-2 on Sunday behind former Mariner Freddy Garcia. Kevin Millwood was roughed up last night by the Baltimore Orioles, as they finished a three-game sweep of the Seattle Mariners. Millwood is 1-4 in his last six starts. The Oriole series.  As they moved south from the Bronx to take on the Orioles, the Mariners ran into a buzz saw as the Orioles are fighting for their Wild Card lives.  The Orioles took all three games moving to 5-1 vs. Seattle on the season.  Former Mariner Chris Tillman, who came over in the Erik Bedard deal, handcuffed Seattle in the series opener taking a shut out into the eighth inning in a 3-1 Oriole win.  The offense got going for Seattle in Tuesday's night affair, but they ended up on the wrong end of a 8-7 decision losing in 14 innings.  Seattle had a 7-2 lead after the sixth inning, but they couldn't hold it.  Adam Jones, another former Mariner who went to Baltimore in the Erik Bedard deal, singled in the game-winning run in the bottom of the 14th.  Baltimore completed the three-game sweep last night winning 9-2.  They jumped all over Kevin Millwood, who fell to 1-4 in his last six starts.  Millwood gave up seven ER and two home runs in 4.0 innings of work. On the Horizon.  Seattle, once seven away from getting back up to .500, now finds themselves at 51-62.  The Mariners now finish up the nine-game road trip by going across the country for three in Los Angeles.  The Angels lead the season series 5-2, but Seattle is 2-1 in Anaheim.  Los Angeles of Anaheim needs every game, as they are 1.5 games out of the Wild Card and behind four other teams.  Seattle's rotation lines up nicely for this series led by the red-hot Felix Hernandez on Friday, Iwakuma on Saturday, and Jason Vargas on Sunday.  The Angels will have three strong veterans going with Ervin Santana on Friday, Dan Haren on Saturday, and Cy Young candidate Jered Weaver on Sunday.  Weaver has been brilliant coming off a D.L. stint.  Since coming off the D.L., he has won all nine of his decisions and leads the A.L. in ERA at 2.13.
Original Story:
http://feedproxy.google.com/~r/isport...
THE BACKYARD
BEST OF MAXIM
RELATED ARTICLES
Plenty of bats to go around Seattle is an organization that's been mired in hitting woes. That's why when mega prospects like Nick Franklin and Mike Zunino come along, they're all everybody talks about. Believe it or not, there are some other top bats in the farm system besides those guys. Their ceilings might not be quite as huge, but they still have the chance to become great...
What about relievers? A lot of stock is put into the Mariners Big 3 pitching prospects of James Paxton, Danny Hultzen and Taijuan Walker. With their phenomenal upsides it's hard to not get excited. That's why, to date, they've been the only three covered in this column. Today, we're taking a different path. We're going to be examining another pitching Big 3 in the Mariner's...
Seattle Mariners outfielder Eric Thames caused sparks to fly, literally, as he collided with a metal garage door in the outfield fence during Wednesday night's game at Camden Yards against the Baltimore Orioles. It happened in the bottom of the third inning as Thames was chasing a foul ball in deep right field hit by Orioles batter Chris Davis. After being unable to catch...
This really looks like it hurt the fence. Seattle Mariners outfielder Eric Thames collided with a metal garage door in the outfield fence during Wednesday night's game at Camden Yards against the Baltimore Orioles. Here's the video. Video courtesy MLB.com.
Your browser does not support iframes. Who would have ever imagined baseball cleats could be a fire hazard? All I can say is Eric Thames is lucky there was no gasoline or dry grass under his feet during the third inning Wednesday night, otherwise he may have had to stop, drop and roll. Thames went into the right field corner to chase a foul ball during a game against the the Orioles...
I'm Going to Disneyland! August 10-12 The Seattle Mariners finish up their road trip and hope to regain their dignity. Pitching match ups: Game 114: Mariners RH Felix Hernandez (10-5, 2.63 ERA) vs. Angels RH Ervin Santana (5-10, 5.83) Matchup | Preview Angels Felix has faced the former National League slugger Albert Pujols for 3 at bats and he has 2 hits a strike out and a...
ELECTRIC ATMOSPHERE
While chasing down a foul ball off the bat of Chris Davis during a game against the Baltimore Orioles at Camden Yards on Wednesday, Seattle Mariners right fielder Eric Thames provided a literal "spark" with his effort. After colliding with a gate in the right field corner, a cascade of sparks were clearly produced off [...]
With just about one month of minor league action left to go -- and in advance of our post-season updated Top-50 list -- SeattleClubhouse takes a look at 10 prospects that have improved their stock and 10 that have hurt their stock with their performances in 2012 for the Mariners. The quick look at these 20 players includes profiles, stats, scouting reports and projections.
This week in Mariner-land was a time of births, plane rides, and great baseball. A bunch of good stuff happened. The Mariners first faced the Blue Jays at home, and then flew to New York to face the Yankees for the second time in as many weeks. They faced their now friendly foe, Ichiro, who has gotten a hit for his Yankees in every game that he's started for them; this week he...
The Los Angeles Angels might be in trouble if Ervin Santana can't go deep into the game. With Felix Hernandez set to take the mound, the Seattle Mariners' bullpen might get another night off. Los Angeles, which hasn't scored in 23 straight innings at home, will try to rebound from a rough road trip when it faces a red-hot Hernandez on Friday night. With LaTroy Hawkins...
Momentum has not been with the Angels much this season. It has felt like one slow climb out of a large hole, only have someone throw dirt on your face just as you reach the top. The team has been frustratingly inconsistent all season; hot for a spell, then seemingly disintereted for other stretches. But one walk off win can change the whole equation. A win like tonight can get the...
Mariners News

Delivered to your inbox

You'll also receive Yardbarker's daily Top 10, featuring the best sports stories from around the web. Customize your newsletter to get articles on your favorite sports and teams. And the best part? It's free!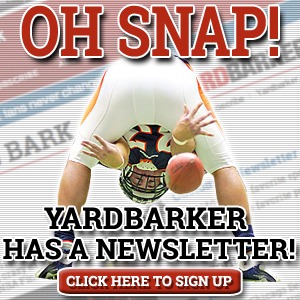 Latest Rumors
Best of Yardbarker

Today's Best Stuff

For Bloggers

Join the Yardbarker Network for more promotion, traffic, and money.

Company Info

Help

What is Yardbarker?

Yardbarker is the largest network of sports blogs and pro athlete blogs on the web. This site is the hub of the Yardbarker Network, where our editors and algorithms curate the best sports content from our network and beyond.