Found February 18, 2013 on Bush League Chronicle:
Seattle Mariners prospect Nick Franklin arrived at spring training nearly 35 pounds heavier than he weighed at the end of last season. And the infielder credits a daily caloric intake of 6,500 during the winter as the primary reason. Franklin reportedly binged on the likes of Carrabba's, Chick-Fil-A, and Chipotle to increase his weight from 162-pounds to 196.From The Seattle Times:It's part of a plan the former first-round draft pick hopes will take him from the 6-foot-1, 162-pound frame he finished last season with to a 200-pound body by opening day. He arrived at spring training weighing 196 pounds — a 34-pound gain from last September — and drawing plenty of second glances wherever he goes."Last year, during the season, I felt my body starting to collapse on me," Franklin said of a 2012 season split between Class AA and AAA. "At the end of August, I weighed 162 pounds and I was hitting balls to the gap that probably should have been out and they ended up going off the wall. One of them bounced to the wall."You may remember gold medalist swimmer Michael Phelps employing a similar high-calorie diet in preparation of the Olympics. However, Phelps downed 12,000 calories a day -- almost twice the amount of calories Franklin is currently consuming. Nonetheless, it's still a massive amount of food.Franklin said he worked with a performance coach to make sure the extra influx of food didn't turn to complete body fat. His coach, Fred Higuera, warns that the rapid weight gain only worked for Franklin because of his rare blend of youth, work ethic, and high metabolism. So, for those of you who may be thinking about giving this diet a try, you may want to think twice.Franklin's eateries of choice include Chick-Fil-A for breakfast, Chipotle Mexican Bar and Grill for lunch, and Carrabba's Italian Grill for dinner. He says his mother tries to reduce meal costs by sending him gift cards to the aforementioned restaurants.The 21-year-old says his ultimate goal is to reach 200 pounds by Opening Day. I believe he is well on his way.Franklin, a Florida native, batted .278 with 11 homers and 55 RBI in split time between Double-A and Triple-A last season.Via USA TODAY
Original Story:
http://www.theblcblog.com/2013/02/sea...
THE BACKYARD
BEST OF MAXIM
RELATED ARTICLES
Usually, reporting to spring training is a time when players make news for how much weight they've lost. Just this year, for instance, Josh Hamilton made news for showing up to Angels camp in Tempe 20 pounds lighter than he played at last season. Well, tell that to Mariners infield prospect Nick Franklin. According to The Seattle Times, Franklin, who is 6-foot-1, spent the 2012...
Whenever we see anyone in professional sports get bigger, we figure it had to be something that we injected from a bottle. We are so jaded by steroids and HGH, that we just roll our eyes at anyone gaining weight. But sometimes, just sometimes, there are guys doing it the old fashion way. Take Seattle Mariners prospect Nick Franklin for example. The 165 pound shortstop has to run...
Seattle Mariners infield prospect Nick Franklin is looking to gain weight. The 21-year-old wants to bulk up for the upcoming year to better prepare himself for handling the rigors of a long baseball season, but he is not relying dietary supplements like most other pro athletes would. Instead, Franklin has just been stuffing his face and pounding shakes. According to The Seattle Times...
Last week, the Seattle Mariners inked their ace, Felix Hernandez, to a $175 million extension for the next seven years. The dominating righty will be entering his age-27 season this year, meaning the contract will through his age-33 season. That is, unless, he injures his right elbow. Embedded within Hernandez's contract is a clause that gives the Mariners a club option for...
It has been no secret throughout Major League Baseball  that the Seattle Mariners offense the last few seasons has been, well, offensive.  Lowest scoring output in the American League since 2009.  The only team in all of baseball last season to have a team On-base Percentage of less than .300.  The last time the Mariners did not finish last in the American League in runs scored...
The Seattle Mariners have opened camp in Peoria fresh off another last-place finish in the AL West, facing the same problem that's hounded the club for the past decade—they can't score any runs.  In 2012, the Mariners ranked 27th in baseball in runs scored, and last in batting average, on base percentage and slugging percentage.  They've finished last in the American League...
SeattleClubhouse's Rick Randall has had a few one-on-one sit downs to talk Mariners' prospects and player development over the past few weeks, as well as being in attendance for some quotes from General Manager Jack Zduriencik at the Media Luncheon. Pieces of those conversations ring true today in looking what the club has accomplished in putting together their 2013 roster.
Dave Niehaus would have turned 77 today. The longtime Seattle Mariners broadcaster was the face of the organization since the club's inception in 1977. His catch phrase "My, Oh, My" is certainly what Niehaus will be remembered for. He was the team's broadcaster for the first 34 years of the club's existence until his sudden death on November 3rd, 2010. There may never be...
This will be updated periodically with additional photos from Seattle Mariners spring training in Peoria, Arizona. (Photo Credits: Alex Gallant/SeaTown Sports)  
We begin our position-by-position look at the prospect depth of the Seattle Mariners minor league system around the diamond from behind home plate. This list of the top catchers represents a lot more quality depth than the club had a few short years ago.
  Seattle Mariners general manager Jack Zduriencik has said that he is on the verge of trading first baseman Mike Carp, whom the team designated for assignment last week.   But the Milwaukee Brewers, a team with a glaring need at first base, are not in the mix for Carp, major-league source say.   The Brewers lost Mat Gamel to a season-ending ACL injury on Monday. They also will...
In the first edition of The Hot Corner with John Czech, Felix Hernandez is now the games highest paid pitcher. With free agency just around the corner for Justin Verlander, how will Hernandez's new contract affect the Tigers' ace when he becomes a free agent?
Mariners News

Delivered to your inbox

You'll also receive Yardbarker's daily Top 10, featuring the best sports stories from around the web. Customize your newsletter to get articles on your favorite sports and teams. And the best part? It's free!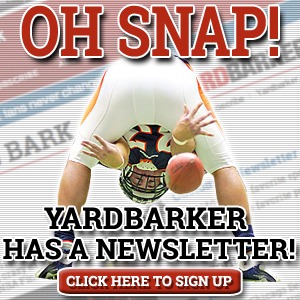 Latest Rumors
Best of Yardbarker

Today's Best Stuff

For Bloggers

Join the Yardbarker Network for more promotion, traffic, and money.

Company Info

Help

What is Yardbarker?

Yardbarker is the largest network of sports blogs and pro athlete blogs on the web. This site is the hub of the Yardbarker Network, where our editors and algorithms curate the best sports content from our network and beyond.