Found November 07, 2012 on Busted Coverage:
Do you see random sh$% while driving to work and think it needs to be seen by the masses? Does the guy who sits next to you at work look like a tool on a daily basis? Does your dog lick his balls in an odd fashion? Is your neighbor working on some sort of outer space vehicle behind his shed? We want your WTF photos. Email us: mail@bustedcoverage.com Filed under: Daily WTF
Original Story:
http://bustedcoverage.com/2012/11/07/...
THE BACKYARD
BEST OF MAXIM
RELATED ARTICLES
With the World Series win still fresh on most fans minds. It's now time for the San Francisco Giants front office to start focusing on 2013.   It's going to be a big decision for them to decide if Brian Wilson should be offered arbitration or non-tender him. Wilson made $8.5 million in 2012. The Giants could be considering a deal that doesn't guarantee as much for 2013 but...
Jerry Crasnick of ESPN.com says San Francisco Giants GM Brian Sabean can guarantee that Hunter Pence will be with the Giants in 2013. However, Sabean can't make the same guarantee for Brian Wilson. "Pence is going to be coming back," said Sabean. "We think there are some things he can do to fix what went wrong this year. We like the player. We made a big trade to get him...
Gary Brown is one of the Giants top prospects, and is the potential center fielder of the future. After destroying pitching in High A San Jose, he ran into a bit of a wall in AA Richmond.  This morning Baseball Prospectus has him as their prospect profile (for free!). It's a nice little glimpse into what has been going on with him if you haven't been following his...
San Francisco Giants fans got rowdy following their team's World Series win over the Detroit Tigers, and at least one fan has lost his life in the aftermath. CBS San Francisco reports that 37-year-old Sean Moffitt has passed away, due to injuries he suffered during Giants fans' celebration of last week's world championship. Giants fans took to the streets following the decisive...
For those who don't know, Money For Nothing is a wonderfully terrible John Cusak movie from the early 90's.  Look it up, watch it, live it.  But also realize this article has nothing to do with John Cusak or that movie.  Instead, we are talking about the formerly suspended, formerly great, formerly inspirational Melky Cabrera.  Cabrera was suspended for 50 games for...
The baseball players' union concluded Melky Cabrera's agents didn't know about a scheme to create a phony website in a defense of his positive drug test but said they failed to properly manage the employees of the firm who tried to carry out the scheme. Brothers Sam and Seth Levinson, the heads of ACES Inc., were probed by the Major League Baseball Players Association...
Although the World Series is behind us, that doesn't mean there is a shortage of musical tributes done by San Francisco Giants fans. In case you forgot, singer Ashkon became a viral sensation in 2010 for his remaking of "Don't Stop Believing" for the Giants World Series run against the Texas Rangers. Now, here is his 2012 version using "We Are the Champions...
I don't think I've seen an episode of Survivor since the days Elizabeth Hasselbeck wasn't a Hasselbeck.  That's been about 63 seasons ago and somehow the show is still around.  Evidently, former San Francisco Giants second basemen Jeff Kent was booted off the island last night and was none too pleased.  While you can watch the entire tribal council thingy here...
The baseball players' union concluded Melky Cabrera's agents didn't know about a scheme to create a phony website in a defense of his positive drug test but said they failed to properly manage the employees of the firm who tried to carry out the scheme.
While one Cabrera was leading his team into the World Series, another was sitting on the sidelines, left off the playoff roster after a suspension for testing positive for testosterone. Everyone knows of Miguel Cabrera's exploits in winning the first Triple Crown in 45 year, and likewise everyone knows that potent bat was absent in a World Series loss to the San Francisco Giants...
What do you get when you mix a couple of World Series heroes with a bunch of middle-of-the-road middle infield free agents? Why, this top 10 free agent list of course! 1. Marco Scutaro - For over half of the season, Marco Scutaro looked like a baseball player in decline. Over 415 plate appearances for the Rockies, Scutaro hit .271/.324/.361. Then, after a trade to the Giants...
With all apologies to Meat Loaf for the admittedly ripped off title, after watching the best hitter in baseball barely move as the third strike crossed the plate to end the 2012 baseball season, my mind turned to what seems to be the question of the day in sports and I wondered to myself what the legacy of the Giants will be in this current era. At this present time, I...
Giants News

Delivered to your inbox

You'll also receive Yardbarker's daily Top 10, featuring the best sports stories from around the web. Customize your newsletter to get articles on your favorite sports and teams. And the best part? It's free!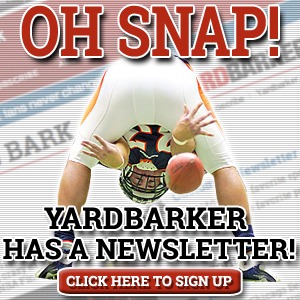 Latest Rumors
Best of Yardbarker

Today's Best Stuff

For Bloggers

Join the Yardbarker Network for more promotion, traffic, and money.

Company Info

Help

What is Yardbarker?

Yardbarker is the largest network of sports blogs and pro athlete blogs on the web. This site is the hub of the Yardbarker Network, where our editors and algorithms curate the best sports content from our network and beyond.