Found July 12, 2012 on Fox Sports Arizona:
PLAYERS:
Kevin Towers
,
Justin Upton
,
Stephen Drew
,
Martin Prado
,
Theo Epstein
,
Starlin Castro
,
Hanley Ramirez
,
Ryan Roberts
,
Ian Desmond
,
Jurickson Profar
,
Elvis Andrus
TEAMS:
Arizona Diamondbacks
,
Atlanta Braves
,
Boston Red Sox
,
Chicago Cubs
,
Miami Marlins
,
Washington Nationals
,
Texas Rangers
It's hard to know exactly what to make of Kevin Towers' calculus regarding Justin Upton. Towers has clearly taken the "situation" beyond the rumor stage by talking openly about his willingness to listen to offers for the closest thing the Diamondbacks have to a superstar. For the media, such candor is a refreshing and dramatic departure from 99 percent of what we routinely get from front-office types. (For that matter, so were Ken Kendrick's comments on Upton and Stephen Drew earlier this year.) But logic tells you there's more at play here than just shooting from the hip or being honest to a fault. Is it a motivational tactic? A daring, raise-the-stakes gambit to see just how far teams are willing to go while jockeying among one another for a potentially elite talent? A proactive public relations ploy to grease the exit and ensure that the fan base doesn't feel blindsided? We'll probably never know. But this much we do know: Towers explicitly said the D-backs are looking for major-league-ready talent, their biggest areas of need are on the left side of the infield, and they are in a "win mode" -- those are Towers' words -- rather than a future mode. Taking that for what it's worth, the best we're left to do is speculate on what fits those parameters. Roll call, in alphabetical order: Braves: This one is getting a lot of traction in various internet reports. Martin Prado could slide in at third base. He's 28, makes 4.7 million this year and is hitting .321 with five home runs. He's arbitration eligible in 2013 and a potential free agent in 2014. He's a good player, but no one's ever mistaken him for a superstar. The Braves could sweeten the pot with some young pitching talent, but the D-backs seem to have that area covered. Cubs: There have been whispers and innuendo, publicly denied by Theo Epstein, that the Cubs would consider moving All-Star shortstop Starlin Castro under the right circumstances. He's 22, a .301 career hitter, has just begun to scratch the surface of his potentially immense talent, doesn't become eligible for free agency until 2017 and has had enough moments of lackadaisical play that some question his desire and baseball IQ. Sound like anyone familiar? Marlins: Hanley Ramirez would certainly be an upgrade over Stephen Drew and Ryan Roberts, but he's due 31.5 million over the next two years. Would the D-backs be willing to take on that type of salary, and would the Marlins even be willing to move him? Nationals: Shortstop Ian Desmond, 26, is having a fabulous season (17 home runs, 11 steals, .285), is being paid 513,000 and is ineligible for free agency until 2016. Flip side: He's never hit anywhere close to his current level in previous seasons and is not regarded as a stellar defensive player. He could be a starting point, but only that. Rangers: Texas has two premier minor-league prospects in 19-year-old shortstop Jurickson Profar and 23-year-old third baseman Mike Olt. Both are playing at Double-A, which doesn't necessarily mean they aren't "major-league ready," but it's a tough argument to make. Many consider Profar the top minor-league prospect in all of baseball, and he might be hard to pry loose, even if he is blocked by Elvis Andrus at shortstop. Which leads us to Andrus, who is 23 years old, in the first year of three-year, 14.4 million contract and hitting .293. He has already established himself as one of the AL's top shortstops -- albeit with minimal power. The Rangers gave him a starting job at age 20, so if they think Profar is a superior talent and close to ready at 19, the temptation to add Upton to an explosive lineup could be hard to resist. Reds: Shortstop Zack Cozart is a 26-year-old who isn't eligible for free agency until 2018 and figures to have a lengthy and solid but unremarkable career. He's hitting .252 with nine home runs and a .298 on-base percentage. It's hard to see how the D-backs could sell a Cozart-based deal as a win-now proposition. By my calculations and Towers' parameters, that seems about it. Castro or Andrus might fill the bill. The other pots need considerable sweetening. We shall see, but in a city that's just had its heart ripped out by its favorite sonSun, giving up on Upton for a discounted return would be an especially bitter pill to swallow.
Original Story:
http://www.foxsportsarizona.com/07/12...
THE BACKYARD
BEST OF MAXIM
RELATED ARTICLES
The Justin Upton trade rumors haven't tapered off and one has to wonder why the Diamondbacks would trade a budding young superstar? Upton doesn't turn 25 until August 25th. He is a two-time All-Star, coming off a 31 homer, 88 RBI season and seemed poised to take a titanic leap in 2012. However, at the All-Star break Upton was hitting .273 with just seven homers and 37 RBIs...
Arizona Diamondbacks General Manager Kevin Towers says the team is still in "win mode" and is dangling 24-year-old outfielder and general all-around good player Justin Upton out there, but he apparently only wants players in return who will help the Major League club, not prospects. You know, because Upton still IS a prospect at this point. Upton is hitting .273 with a with...
CHICAGO -- The Diamondbacks on Friday finalized their starting rotation for the second half of the season, with rookie Trevor Bauer keeping a spot and Josh Collmenter returning to the bullpen to make room for Joe Saunders. D-backs manager Kirk Gibson announced the decision before the opener of a series with the Cubs. "We just think it's the way to go," Gibson said...
The Diamondbacks recovered so nicely in the final weekend of the pre-All Star Game schedule that it's easy to see them carrying that momentum into another September stretch drive. Winning three straight from the NL West-leading Dodgers represented a big step forward, and it came at just the right time. By shaving three games off the division lead in less than 72 hours to conclude...
The Arizona Diamondbacks and Chicago Cubs had their issues during the season's first half, though both have reasons for optimism after finishing strong before the break. Ian Kennedy looks to guide Arizona to a fourth straight victory while Chicago rookie phenom Anthony Rizzo tries to stay hot in the opener of a three-game series Friday at Wrigley Field. The defending NL West...
Justin Upton is a former No. 1 overall pick. At the time of his being drafted, scouts were prone to compare him to Ken Griffey Jr. He is now 24 years old and fresh off a fourth-place finish in the 2011 National League MVP voting. He is the face of the Arizona Diamondbacks and, considering his pedigree and talent, signed to an extremely team-friendly deal for the next several seasons...
Arizona Diamondbacks What Went Right: Aaron Hill looks like his pre-struggle self from Toronto, even if you discount his two cycles. After a slow start, catcher Miguel Montero and Paul Goldschmidt have started hitting like they're capable of. Gerardo Parra has gotten more playing time than expected, and remains one of the best fourth outfielders in baseball. Wade Miley has...
Today and tomorrow are two of the lamest days of the sports year, so for now I'm just going to post a bunch of links to interesting things I've seen the last couple of days. If we want to go back to the Justin Upton front, Nick Piecoro reports that Kevin Towers wants "Major League" players for Upton. It seems insane to me to trade a player like Upton and not ask...
The Arizona Diamondbacks and Chicago Cubs had their issues during the season's first half, though both have reasons for optimism after finishing strong before the break. Ian Kennedy looks to guide Arizona to a fourth straight victory while Chicago rookie phenom Anthony Rizzo tries to stay hot in the opener of a three-game series Friday at Wrigley Field. The defending NL West...
July 30, 2004 the Mets lost to the 1st place Braves in Atlanta by the score of 3-1, dropping them back to seven games behind in fourth place with a record of 49-53.  The team responded by trading their top prospect Scott Kazmir for then Rays ace Victor Zambrano.  Kazmir is now out of baseball and couldn't even get an invite from his old team (Mets) after an audition but that...
MLB News

Delivered to your inbox

You'll also receive Yardbarker's daily Top 10, featuring the best sports stories from around the web. Customize your newsletter to get articles on your favorite sports and teams. And the best part? It's free!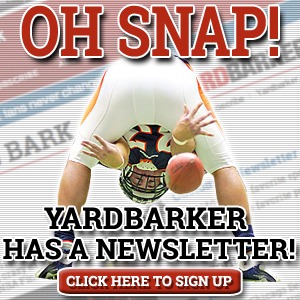 Latest Rumors
The Backyard

Today's Best Stuff

For Bloggers

Join the Yardbarker Network for more promotion, traffic, and money.

Company Info

Help

What is Yardbarker?

Yardbarker is the largest network of sports blogs and pro athlete blogs on the web. This site is the hub of the Yardbarker Network, where our editors and algorithms curate the best sports content from our network and beyond.