Found December 03, 2012 on Mets360.com:
In light of David Wright's extension, the issue has come up about making Wright the official team captain.  A title held only three times in team history, and one that, well, is a tad overrated, over blown and very much reeks of pulling what the guys in the Bronx do. The guys in the Boogie Down do it, because George Steinbrenner really,really loved him some college football and brought that "spirit" onto his baseball team.  Often as a position of derision and a sign for that player to wake up a little.  This had no basis in truly "honoring" a locker room leader.  Oh sure stories you hear and read about Thurman Munson, Graig Nettles, Don Mattingly, and Derek Jeter being "the guy" in terms of a team leader.  But for the most part "Yankee Captain" is more of a PR gimmick than say a hockey or football team's captain is. Yes, other teams do have them, and those thusly anointed do have a "C" on their jersey, but considering how few teams publicize "captains" it probably would b
Original Story:
http://feedproxy.google.com/~r/Mets36...
THE BACKYARD
BEST OF MAXIM
RELATED ARTICLES
At first glance, the eight-year, $138 million deal David Wright signed early Friday morning didn't appeal to many. Originally, reports indicated that the Mets wanted to offer a little less than $120 million, and the Wright camp started out well above $140 million, so I was very surprised that the two sides settled for such a high amount. However, when you dig deeper into the deal...
David Wright and the New York Mets have finalized a $138 million, eight-year contract, the largest deal in the team's history. The deal was agreed to last week, subject to a physical, and the team announced in Tuesday. The Mets said Wright planned to discuss it Wednesday at the winter meetings. Wright says, ''I've grown up in this organization and made life-long...
The New York Mets today announced that they have agreed to terms with David Wright on a new contract through 2020.  Wright will be in Nashville, Tenn. at Baseball's Winter Meetings for an 11:00 a.m. (CST) press conference tomorrow which will be carried live on SNY and Mets.com. "I'd like to thank Fred Wilpon, Saul Katz and Jeff Wilpon for their commitment to me since I was...
David Wright has passed his physical, essentially making his new eight-year, $138 million contract official. Both Wright and Jeff Wilpon will fly to Nashville on Wednesday to hold a press conference announcing the deal. Also some news on Scott Hairston from Kevin Burkhardt who says that the Mets will be meeting with Scott Hairston's agent today in Nashville. Both Hairston and...
Hello Mets faithful and Happy December!  It will certainly be Happy Holidays for all of us because…he's ours!  At long last, after all the rumors, false reports, speculating, praying, hoping, rain dancing, etc., David Wright is now a Met for life (barring any future trades).  We finally have our generation's version of Ed Kranepool…someone we can rally around and cheer...
I discuss the Mets contract extension wih David Wright. Former big league pitcher and Instream Sports contributor John D'Acquisto talks about the impact the late Marvin Miller had on the game. What will the new cost-conscience Yankees do this offseason? CLICK HERE TO LISTEN DOWNLOAD THE MP3 If you like to listen to other radio shows and podcasts, check out the Sports Media Watchdog Radio Network
The Wright Amount When Evan Longoria inked his contract extension last week, many thought that the new money of six years and one hundred million dollars set the market for David Wright's extension. Longoria's obviously more talented and younger. So based on that, Wright at most should get the same extension, right? Wrong. Longoria set the market for Wright, but not the way you...
The Mets finally lit the hot stove last week with the extension to David Wright, and now they head into Nashville with a lot to do, but a lot of different ways to do it. There are three items that must be accomplished in Nashville, and they are all related to each other: - Dickey's future must be determined - At least one OF'er must be acquired - The Mets will decide whether...
With David Wright signed for the next eight years, the New York Mets next order of action is to figure out what they are going to do with reigning NL Cy Young award winner R.A. Dickey.  While negotiations have reportedly been slow, Buster Olney of ESPN recently reported that the team has increased it's offer to the 38-year-old knuckleballer: The Mets increased their offer to R...
They'll start showing up today for the Winter Meetings, and when they do, the Mets will have a lot on their plate, but little hope of cleaning it. Their first priority, now that David Wright is done, will be to extend R.A. Dickey's contract. Dickey prefers three years, but would take two if the dollars are higher. You can bet Dickey's agents will point to the $12-million, one...
Marc Carig of Newsday writes that the Mets will be more willing to get creative with backloaded contracts, according to a person with knowledge of the team's thinking, in order to entice free agents with more money and multi-year offers. Those tactics could come into play at this week's winter meetings in Nashville. "You can borrow some from the future," said a person with...
If there's anything the last three weeks of baseball transactions have taught us (besides the fact that Jeffrey Loria is a big jerk), it's that a third baseman is a valuable commodity. Evan Longoria signed a big-time extension to remain a Ray until 2022, and then David Wright re-upped with the Mets until 2020. Longoria got $100 million for six years, while Wright pulled down...
MLB News

Delivered to your inbox

You'll also receive Yardbarker's daily Top 10, featuring the best sports stories from around the web. Customize your newsletter to get articles on your favorite sports and teams. And the best part? It's free!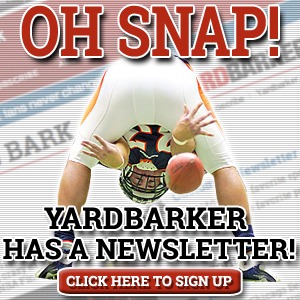 Latest Rumors
Best of Yardbarker

Today's Best Stuff

For Bloggers

Join the Yardbarker Network for more promotion, traffic, and money.

Company Info

Help

What is Yardbarker?

Yardbarker is the largest network of sports blogs and pro athlete blogs on the web. This site is the hub of the Yardbarker Network, where our editors and algorithms curate the best sports content from our network and beyond.