Found December 06, 2012 on Mets360.com:
PLAYERS:
RA Dickey
,
Sandy Alderson
,
Zach Lee
,
Leonys Martin
,
JP Arencibia
,
Anthony Gose
,
Jon Niese
,
Darin Gorski
,
Ryan Ludwick
,
Jesus Flores
,
David Wright
TEAMS:
New York Mets
,
Kansas City Royals
,
Texas Rangers
,
Toronto Blue Jays
,
Cincinnati Reds
,
Washington Nationals
One of the hot-button topics at the Winter Meetings in Nashville this week is what are the Mets going to do with reigning NL Cy Young award-winner R.A. Dickey? Do the Mets shop him at his highest value while trying to land a bumper crop of prospects? Or do the Mets negotiate a reasonable two-year deal and re-sign Dickey? From the rumors and vibes coming out of Nashville, it seems the Mets are trying to go with option A, although they are having a difficult time finding a partner. No doubt it's a double-edge sword the Mets find themselves in. On the one hand, you want to reward Dickey for the amazing season he just had and give the fans reason to come out to the ballpark while being committed to being a better team in 2013. On the other hand you can't be short-sighted, and if a Dickey trade can make you a better and more sustainable team for the long-term, then you have to strike while the iron is hot and deal him for prospects while you have the chance. Sandy Alderson has stated tha...
Original Story:
http://feedproxy.google.com/~r/Mets36...
THE BACKYARD
BEST OF MAXIM
RELATED ARTICLES
New York Yankees beat writer Sweeny Murti of WFAN is reporting on some of the Mets buzz he is hearing at the Winter Meetings in Nashville. The Mets are asking for too much, one GM said here, in regard to R.A. Dickey and trade possibilities, the Mets are targeting the top prospect in nearly every organization they speak with. The Royals don't appear eager to trade Wil Myers for...
Readers of this blog and all of the other Mets-related sites have been speculating on what kind of return would make it worthwhile for the Mets to trade RA Dickey at the peak of his value. Some suggest one "super-prospect".  Others suggest a package. I had my own thoughts that Dickey should bring back the kind of almost-major-leaguers-but still-prospects such as the Padres got...
Updated Post 11:00 AM Ken Davidoff sums it all up like this: As we leave R.A. Dickey's hometown, let's rank his list of admirers, from big fans down to skeptics. 1. R.A. Dickey 2. The New York Mets 3. The 29 other Major League Baseball teams. That's where things appeared to stand as the Mets and the rest of baseball packed up their laptops, slide projectors and blazers and...
It's easy to forget that R.A. Dickey is still under contract for the 2013 season.  That's because there have been so many rumors tied to him and so much discussion about the Mets working out a new deal for the knuckleballer.  However, New York does not necessarily need to worry about a new contract right now if they want him to pitch for them in 2013.  They already have...
Updated Post 1:00 PM Jeff Wilpon told reporters today that R.A. Dickey and the Mets are still far apart on the overall value of a possible contract extension, and it's possible they could go into next season with no new agreement. Dickey later told ESPN.com that he is hopeful a new deal can be worked out, but he understands that Sandy Alderson is paid to make the Mets better...
If GM Sandy Alderson spent as much energy trying to sign R. A. Dickey as he has trying to trade him, the contract would be done by now. Alderson told reporters in Nashville he's seeking a "difference maker," for Dickey, which means a power-hitting outfielder, preferably from the right side. A difference maker, by definition, would mean a proven commodity, as Alderson said he's...
According to John Harper of the Daily News, the Texas Rangers would trade top hitting prospect Mike Olt for R.A. Dickey, but only if they first lose out on free-agent Zack Greinke AND are unable to trade for James Shields who is their top preference if they have to make a swap. Meanwhile the Royals and Blue Jays are not that interested in Dickey and and prefer the Mets young...
John Harper of the New York Daily News reports the Dodgers are willing to send shortstop Dee Gordon and right-hander Zach Lee, their No. 1 pitching prospect, to the Mets for R.A. Dickey. NBC Sports profiles the two players: Gordon, 24, opened last year as the Dodgers' shortstop and leadoff hitter, but he struggled and got hurt. He ended up hitting .228/.280/.281 with 32 steals...
Updated 7:00 PM Bob Dutton of the Royals Report believes that the Royals will NOT part with Myers for Dickey. This does not close the door on acquiring Wil Myers through another trade offer, however. #Royals say talks with #Mets for knuckleballer R.A. Dickey are dead if the price is OF Wil Myers. — Bob Dutton (@Royals_Report) December 4, 2012   Original Post 1:13 PM According...
8 a.m. ET: There wasn't much movement in the first day of the MLB Winter Meetings, but there was plenty of action and talking between teams. Fortunately for Red Sox fans, Boston was part of the biggest move of the day as Mike Napoli was reportedly signed to a three-year, $39 million contract on Monday. Angel Pagan was also reportedly re-signed by the Giants to a four-year, $40...
Updated by Joe D. at 1:00 PM Adam Rubin of ESPN New York reports that the Royals actually talked to the Mets more about Niese and Wheeler in trade variations involving Myers – not Dickey, and adds that either way it's not happening. Since rumors first floated about R.A.Dickey for Wil Myers I shot down that notion as nothing more than wishful thinking by overly enthusiastic Met...
MLB News

Delivered to your inbox

You'll also receive Yardbarker's daily Top 10, featuring the best sports stories from around the web. Customize your newsletter to get articles on your favorite sports and teams. And the best part? It's free!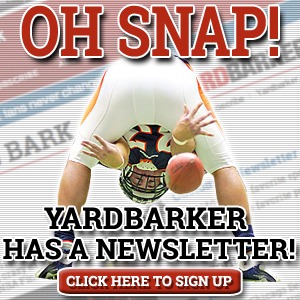 Latest Rumors
Best of Yardbarker

Today's Best Stuff

For Bloggers

Join the Yardbarker Network for more promotion, traffic, and money.

Company Info

Help

What is Yardbarker?

Yardbarker is the largest network of sports blogs and pro athlete blogs on the web. This site is the hub of the Yardbarker Network, where our editors and algorithms curate the best sports content from our network and beyond.