AP As July 16th draws near, the debate of who is or isn't an All-Star engulfs the baseball world. One of the hottest points of contention right now is the legitimacy of Yasiel Puig as a potential National League All-Star. Should a ballplayer who, as of 3 July, has just 112 plate appearances have the honor of MLB All-Star bestowed up him–either as a starter or a bench player? The All-Star game is a spectacle for the fans–an opportunity to see their favorite players on the same field all at once. The rosters are a mixture of fan-favorites and those that truly deserve to be recognized based upon their first half performance. And therein lies the heart of this question–based upon the stigma of the All-Star game and those selected, does Puig deserve to be there? Depending on who's side your on, we are at the mercy of the fans–if he's voted in, then he 'deserves' to be there. If the team were voted on by an organization such as the BBWAA or by MLB coaching staffs, and Puig is voted in based upon statistical evaluation, then I'd say no. Even if he's outplaying almost everyone right now, it doesn't necessarily make him the better overall player. Given Puig's limited sample size of offensive production and defensive metrics, it wouldn't be fair to give him a spot in front of someone like Carlos Gonzalez, Andrew McCutchen or Carlos Gomez. Those players have participated in the majority of games played this year and have performed at a consistently high level for the past three-plus months. Puig is off to a start unmatched by anyone in 2013–which is an accomplishment–but without displaying it over an extended period of time, it makes it difficult to assume that he'll continue it for another two hundred or so plate appearances. Fortunately for Puig, a lot of fans don't see it that way. They see Puig as an exciting player who has the ability to reenergize a franchise and its fan-base. He is–for the time being–the flavor of the month (though that phrase may unfairly pigeonhole a very talented player) and that's what fans grab onto. Exciting players like Puig inject adrenaline into the veins of a (publicly perceived) listless sport. We must remember that the All-Star game is nothing more than who the fans want to see play. Some fans use sabermetrics to make their picks, some vote only for players on their favorite team, while others vote for who they like to watch. The players who make the squad don't always deserve to be recognized as the best at their respective division. MLB players have their opinions as well. Just ask Philadelphia Phillies' relief pitcher Jonathan Papelbon. Now that the All-Star game has a certain meaning to it, voters should take their ballots a bit more serious because of the implications of the game. If NL fans want to have home field advantage for the World Series, they'd do well to elect Puig to the team. On my ballot, I'd choose him as an outfielder for the NL. I'd do that not because I think he's better than the other options, but because I don't take the game itself seriously and I want to see the guy play. So is Puig an MLB All-Star? Since the All-Star game is nothing more than a popularity contest, why not accept the most popular player in baseball right now? The post Should Yasiel Puig Be a MLB All-Star? appeared first on Bohemian Baseball.
Original Story:
http://www.bohemianbaseball.com/is-ya...
MORE FROM YARDBARKER
MLB News

Delivered to your inbox

You'll also receive Yardbarker's daily Top 10, featuring the best sports stories from around the web. Customize your newsletter to get articles on your favorite sports and teams. And the best part? It's free!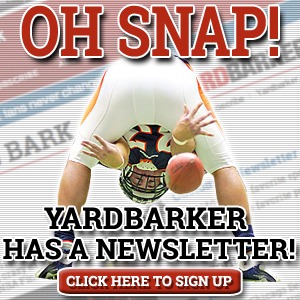 Latest Rumors
Best of Yardbarker

Today's Best Stuff

For Bloggers

Join the Yardbarker Network for more promotion, traffic, and money.

Company Info

Help

What is Yardbarker?

Yardbarker is the largest network of sports blogs and pro athlete blogs on the web. This site is the hub of the Yardbarker Network, where our editors and algorithms curate the best sports content from our network and beyond.