Found April 23, 2012 on isportsweb.com:
The Detroit Tigers were hit with a harsh dose of reality over the weekend during a 4 game series with the Texas Rangers. That reality was quite simple: they're not as good as Texas.
Yes, Verlander was his usual dominant self and got a win on Saturday. Yes, a weird bunt off the knee play in the 11th inning that shouldn't have counted plated the go-ahead run on Sunday to secure the 3-1 series advantage for the Rangers. Regardless, the Tigers were outmatched by a more talented team, not to mention one that just looked a little hungrier here in late April.
Brennan Boesch is struggling with fastballs
There is no cause for panic. There is no reason to think the 10-6 Tigers still won't stake claim to the AL Central crown. There is a little cause for worry though, because come playoff time I'm not so sure the Tigers will be the best team on the field.
The Tigers have already made several early season roster moves due to injury and ineffectiveness. The latest casualty was Daniel Schlereth's demotion in favor of Sunday's loser, Thad Weber.
In all, 30 players have already accumulated stats for the big club. Here are some very brief snippets about each, based solely on my observations:
Austin Jackson – cue Tom Petty's "Free Fallin'". Nobody thought Jackson would hit .400, or .325 for that matter, but to see his average collapse to its current .274 is discouraging. He has 17 K's (and hits) in 62 at-bats.
Brennan Boesch – no player has been more frustrating to me so far in 2012. He has swung through an insane amount of hittable fastballs. He finally connected for his 2nd homer yesterday but is hitting just .212 after another 1 for 5 effort.
Miguel Cabrera – everybody slumps, just ask Albert Pujols (but please don't ask Matt Kemp!). There's nothing to see here. Please disperse.
Prince Fielder – we love the .317 average but we want homers! Patience young Jedi, they will come. His hustle and energy is contagious….or is it? He plays with far more energy than any other Tiger.
Delmon Young – The Tongue has been decent but not destructive, which is what he needs to be hitting behind the big boys. He'll get his hot streak and drive in a pail of runs, it's just a matter of when.
Alex Avila – he has looked ok but not great so far. After last year we are expecting great. He seems to be getting more frustrated than usual with inconsistent home plate umpiring.
Jhonny Peralta – nothing has really changed here, he's the same old Jhonny. His .264 average seems about right and once the offense gets rolling I'd expect his power numbers to follow suit.
Ryan Raburn – I thought the only acceptable place for him to be this offseason was in the Antarctic swinging a bat a thousand times/day to prepare for cold weather hitting. Apparently he chose the Bahamas. He has started the season 3 for 41 (.073).
Ramon Santiago – Everybody still loves Ramon. His stick is off to a slumping start but he'll rebound and do his usual thing. The 2nd base carousel (see Inge, Brandon) probably hasn't helped him find a rhythm.
Andy Dirks – he should be back from a hamstring tweak early this week and his hustle will be a welcome sight in the lineup.
Gerald Laird – he is 6 for 15 so far with a double and a homer. In other words, don't get comfortable. He is still the perfect backup catcher for this team though.
Don Kelly – he's managed to find only 14 at-bats in the early going, not nearly enough for a man of his immeasurable greatness.

Brandon Inge is healthier, stronger, and the same old guess-hitter

Brandon Inge – off to a blistering 1 for 18 start with some shoddy play at 2nd base has Tiger fans booing. Easy now. He may not be good anymore, but you should always support the players on the field. It's not his fault management still believes.

Danny Worth – sent packing in favor of Inge, Worth has gone down to Toledo and flat out raked, further illuminating the peculiar nature of this organization's helpless love affair with Inge.
Clete Thomas – he's now a Minnesota Twin, which is hard because I love Thomas and hate the Twins. It's funny that the Tigers would sacrifice Thomas, a legit 3-tool player, when a 0-tool player like Inge is on the roster.
Justin Verlander – I think he should come in for the 1st inning to Joe Esposito's "You're the Best" from Karate Kid. He is likely the best pitcher on the entire planet. It is a fact that might as well be celebrated. Beating the Rangers on Saturday was Daniel-son'esque.
Doug Fister – 3.2 innings and a cloud of dust. Expect him back in 2 weeks. Clearly the Tigers need him in order to be able to swim with the big fish in the pond.
Max Scherzer – if you could alert me when Ugly Max is ready to make an appearance, my fantasy baseball team would really appreciate it. The allure of Good Max renders me powerless.
Rick Porcello – After 2 brilliant starts I still wasn't a believer – and then Texas came a'callin. 8 earned runs on 10 hits in 1 registered inning, which included 45 pitches, almost all of them fastballs (probably 42 of them), leaves me monumentally concerned about his inability to use an off-speed pitch to his advantage.
Drew Smyly – so far, really good. Who is the last Tiger rookie pitcher to give up 1 earned run or less in the first 3 starts of his career? JV? Porcello? Nope. The answer is nobody, at least in the live ball era (which dates back to 1920).
Adam Wilk – I actually really admire Wilk. He battles with his powerless arsenal and does fairly well with it. Texas is the type of animal that he simply won't be able to control.
Daniel Schlereth – in 2011, he owned lefties. In 2012, the only thing he has owned was the bus ride back to Toledo. Tread lightly Daniel, the Ryan Perry path should always remain the one less traveled.
Brayan Villarreal – he'll be getting the old up-down treatment all summer long. He has the ability to be very good if he can command his repertoire. If not, he is a 4-A pitcher in the making.
Thad Weber – Weber made his MLB debut on Sunday and lost to the Rangers in the 11th inning. Granted, a knee bunt and a few weak singles were the culprits. His curveball looks legit but he can't afford too many hiccups if he wants to stick in Detroit as the last reliever.
Collin Balester – He looks good enough with the potential for more if he could throw consistent strikes. Guys like Balester and Schlereth remind me how much I hate walks.
Duane Below – There is nothing I don't like about Below. Saturday afternoon (6 shutout innings of relief against the Rangers) proved that he deserves to be on this roster at all times.
Phil Coke – this lefty is also off to a hot start and is boasting 7 K's in just 5.1 innings of work. A big year is in store for Coke.
Octavio Dotel – he hasn't been scored upon in 6 innings thus far and looks every bit the part of the reliable 7th inning man the Tigers couldn't find a year ago.
Joaquin Benoit – sometimes I wonder how he'd perform as the team's closer. I suspect we'll find out in 2013 if he keeps pitching well.
Jose Valverde – someone needs to tell this guy to stop walking the first batter he faces. That is a trait unbecoming of a major league closer. Despite his erratic nature, he hasn't blown a save since Opening Day. That makes 4 straight. Do we have a new streak?
Follow me on Twitter @isportsJoe or subscribe to our Detroit Tigers Feed
Original Story:
http://isportsweb.com/2012/04/23/snip...
THE BACKYARD
BEST OF MAXIM
RELATED ARTICLES
Jacob Turner is back on the mound. Turner, who dealt with shoulder problems in spring training, made his 2012 debut for Single-A Lakeland Monday night. Turner pitched four innings without allowing a hit or a run. He did walk two batters, but picked off one of them. Turner, the Tigers' first-round pick in 2009, is considered their top pitching prospect. He spent most of last...
Detroit reliever Phil Coke is speaking out against bullying. A day after appearing before a task force in Detroit, Coke recalled Tuesday some of his experiences growing up, saying kids used to make fun of his last name. He also discussed occasional physical bullying he had to deal with. Coke said light is being shed on the issue, ''and for a good reason.'' Monday...
The one given for the Detroit Tigers this season was supposed to be offense. The defense was going to be questionable and there was some uncertainty over the back end of the rotation, but no one doubted that the Tigers would hit. Right now, they aren't hitting. In Detroit's last 10 games, the offense has produced only 30 runs at a .210 batting average - a rate that has...
DETROIT -- Yes, the umpires blew a call in the 11th inning of Detroit's 3-2 loss to Texas on Sunday. No one disputes that, including the umpires. That said, it probably didn't cost the Tigers the game. With the score tied after 10 innings, Tigers manager Jim Leyland was forced to use Thad Weber in relief. Weber was making his major-league debut and facing baseball'...
The Rangers head back to Texas to celebrate Pudge Rodriguez' retirement, and the Seattle Mariners drop into the D for a 3-game set against the 10-6 Tigers. The Rangers series may not have been as bad as it sometimes seemed: The Rangers bombed the Tigers in the first game of the series, but after a bad 1st inning in the second game, the Tigers played them even, only giving up 6...
DETROIT (AP) -- Alex Liddi had a career-high three hits, including a solo homer, and the Seattle Mariners beat the Detroit Tigers 7-4 on Tuesday night. Miguel Cabrera and Alex Avila homered for the Tigers, but it wasn't enough to overcome an early 4-0 deficit. Michael Saunders drove in three runs for Seattle, which snapped a four-game losing streak. Jason Vargas (3-1) pitched...
Good pitching beats good hitting. Or maybe the adage should be superior pitching meets incredible hitting. On a day when JV did not have his best stuff, he demonstrated why he's the best pitcher in baseball by shutting down baseball's best offense and ending the Rangers' 8 game winning streak. Ron Washington said after the game "We didn't lose, we got beat." + 1. JV's...
Current Detroit Tigers and former New York Yankees pitcher Phil Coke is taking a stance against bullying. Coke made an appearance Monday at Wayne State University in Detroit. Speaking before the National Task Force on Children Exposed to Violence, Coke exposed some of his experiences in regards to bullying. The task force is co-chaired by
DETROIT (AP) -- Alberto Gonzalez's squeeze bunt turned into an RBI infield single in the 11th inning, and the Texas Rangers went on to beat the Detroit Tigers 3-2 on Sunday. With the bases loaded and nobody out, Gonzalez bunted back to pitcher Thad Weber (0-1), who had no play at the plate on runner Nelson Cruz. Weber froze with the ball, and first baseman Miguel Cabrera struggled...
ON The road again… April 24-26 The Seattle Mariners (7-10) look for a welcome change of scenery and a change of fortune on their stop in the Motor City.  Detroit (10-6) finished 1st in the A.L. Central Division last season and are slated to end up there again. Pitching match ups Game 18: LHP – Jason Vargas vs. RHP – Max Scherzer  Jason Vargas up tonight. (Photo by Otto Greule...
3 HR's for Hamilton in the series It's safe to say that this past series between the Texas Rangers and the Detroit Tigers is one that will try and be quickly forgotten. Coming into this series the Rangers were coming into Comerica Park winners of their past six games in a row. The Tigers had just come a sweep of the Kansas City Royals and winners of their last four. This series...
FOX Sports reporter Shannon Hogan was videobombed during a live segment at Sunday's Detroit Tigers game by a Texas Rangers fan who stood right behind her wagging his tongue. The Rangers fan started out innocently enough, showing off his jersey and walking away. However, a few seconds later, the Rangers fan came back and started wagging his tongue like a crazed maniac...
Tigers News

Delivered to your inbox

You'll also receive Yardbarker's daily Top 10, featuring the best sports stories from around the web. Customize your newsletter to get articles on your favorite sports and teams. And the best part? It's free!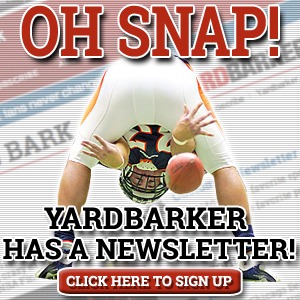 Latest Rumors
The Backyard

Today's Best Stuff

For Bloggers

Join the Yardbarker Network for more promotion, traffic, and money.

Company Info

Help

What is Yardbarker?

Yardbarker is the largest network of sports blogs and pro athlete blogs on the web. This site is the hub of the Yardbarker Network, where our editors and algorithms curate the best sports content from our network and beyond.