Found May 25, 2012 on Fox Sports Midwest:
ST. LOUIS Shelby Fetsch rushes from the mound into the arms of the love of her life. For her, everything that follows becomes a blur: the cheers at Busch Stadium, the pictures, the congratulations from strangers, the joy that comes with knowing she and her boyfriend specialist William Johanson-Kubin of the 463rd Military Police Company are now engaged. Fetsch's hands shake when the couple moves to the side of the field after Johanson-Kubin caught her first pitch prior to the St. Louis Cardinals' game against the Philadelphia Phillies on Friday night. Johanson-Kubin made the surprise visit from Bagram Airfield in Afghanistan, where he has been stationed since December. He wanted the moment to be perfect. "Oh, my God," said Fetsch, 20, shortly after Johanson-Kubin knelt near home plate. Johanson-Kubin's appearance was one to remember. He and Fetsch have grown close over the past year, and he knew his Cardinals-loving girlfriend would cherish the memory. The day, like the two that came before since Johanson-Kubin arrived in St. Louis on his stealth mission, was filled with nervous energy. At last, he was engaged to his love. After all the hours of waiting, he felt like the happiest man alive. "God," Fetsch says on the field, "I'm so glad he's home." Johanson-Kubin sits in a hotel lobby in downtown St. Louis, well awake after a restless night. It's a little after 10 a.m. Friday. He has been eager to pop the life-changing question since starting his day before 4:30. He's anxious as he leans forward on a couch dressed in uniform, but his choice to propose feels right. He has learned the value of trust and sacrifice since his relationship with Fetsch began about six months ago. He's confident in what he's about to do, because she makes him whole. "Everything has just seemed to work out perfectly," he says. Johanson-Kubin met Fetsch in St. Louis through a mutual friend more than a year ago. Their connection started with small talk, then it strengthened with more time spent together. They became a couple last winter, about a month before he left for Afghanistan. Early dates included visits by Fetsch to see Johanson-Kubin at Fort Leonard Wood, located in south central Missouri about 10 miles south of Waynesville. There also were trips to St. Louis to enjoy the City Museum and Six Flags. Those shared hours made their love grow. Johanson-Kubin has missed Fetsch while overseas, but he has learned to appreciate the depth of their bond. They speak online through Skype, and he estimates thousands of emails have been sent between the two in the past five months. They talk about the routine he lives during 13-hour shifts at Bagram Airfield. They discuss their pasts, and they try to make the more than 7,000 miles between them feel a little closer. "It's a lot of give and take," says Johanson-Kubin, 22. "She's willing to be here while I'm over there and actually make sacrifices. It showed me a lot." She showed him enough that he knew it was time to make their bond lasting. They had discussed engagement before. Johanson-Kubin remembers Fetsch telling him that she wanted a proposal to be large and memorable. Not long ago, an idea came to mind. Fetsch has been a Cardinals fan for years. So when Johanson-Kubin's superior, First Sgt. Mark Hillman, mentioned a chance for him to return to St. Louis to take part in FOX Sports Midwest's "This One's For You" pregame ceremony, asking the big question became a priority. "Probably her face," Johanson-Kubin says in the hotel, smiling, before walking away to wait out the final hours before leaving for Busch Stadium. "That's probably what I'll remember most." After the ceremony Friday night, Fetsch and Johanson-Kubin walk into a small room deep in Busch Stadium. Fetsch's hands are still shaking. Johanson-Kubin is still smiling. Both are elated. "I woke up at 4 this morning," Johanson-Kubin says to his fiance at a table. "I'm reading your emails, and I'm not responding. It was hard." "I know," Fetsch says through nervous laughter. "I didn't even email you (further), because I didn't know (if) you were going to be able to respond." "Sneaky," Johanson-Kubin continues, grinning. The shock for Fetsch hasn't gone away, but her happiness is only beginning. The couple plans to enjoy the next two weeks with each other. They will spend most of the next seven days in St. Louis before visiting Johanson-Kubin's family in Washington state. Johanson-Kubin is scheduled to return to Afghanistan after the two-week break. "In my mind, we were already married," Fetsch says. "I'm completely committed to him." Johanson-Kubin grins. For him, the past three days had been a mix of nerves and excitement. Now the worry was gone. Fetsch's love had calmed him in Afghanistan. He couldn't think of a more memorable night. At last, he anticipated their new life together. "I know it was meant to be," he says, "because it was perfect."
Original Story:
http://www.foxsportsmidwest.com/05/25...
THE BACKYARD
BEST OF MAXIM
RELATED ARTICLES
TAKE YOUR SHOTS
Former Cardinals All-Star Jack Clark was critical of ex-Cards manager Tony La Russa during a podcast appearance.
Courtesy: Cardinal Media Relations ST. LOUIS St. Louis Cardinals first baseman Lance Berkman underwent right knee surgery earlier today in Houston, Tx. The arthroscopy found a partial tear in the medial meniscus, which was removed, and also a small femoral condylar cartilage tear, which was debrided. Berkman will begin his recovery and rehabilitation in Houston. The team anticipates...
TRUE ROMANCE
Specialist William Johanson from the U.S. Army disguised himself by wearing a catcher's mask at the St.Louis Cardinals game Friday night and surprised his girlfriend,Shelby, by proposing to her.Shelby thought she was just throwing out the first pitch before the game and had no idea the catcher who caught her pitch was her boyfriend. Shelby thought her boyfriend was still deployed...
ST. LOUIS Newly promoted Cardinals reliever Chuckie Fick knows he's not the most conventional pitcher. "I'm funky," Fick said. "I'm a different look." Maybe it's because of his name. Maybe it's because of his low, three-quarters delivery. Or maybe it's because of his deceptive pattern of pitches. Whatever the reason, his funkiness has...
The St. Louis Cardinals optioned struggling reliever Fernando Salas, their closer much of last season, to Triple-A Memphis. The 26-year-old Salas, a right-hander, had a team-leading 24 saves and a 2.28 ERA last year. This year he's 0-2 with a 6.32 ERA in 18 appearances. Fick is also 26 and also a right-hander. He was expected to be in uniform Saturday night against the Phillies...
ST. LOUIS - The St. Louis Cardinals and Philadelphia Phillies game at Busch Stadium Thursday night was delayed prior to the start of the seventh inning when a streaker ran on the field. The incident occurred just as the Cardinals completed batting in the bottom of the sixth inning when a fan down the right field line jumped over wall and immediately took off his clothes. The man...
St. Louis Cardinals weekly chat on KXnO FOX Sports Radio 1460 in Des Moines. Late Friday afternoon, I joined Ken Miller and Jim Brinson on KXnO FOX Sports Radio 1460 in Des Moines in another installment of this year's series to discuss the St. Louis Cardinals, "Cardinal Talk." The Cardinals bullpen has been exposed as the club has logged a losing record so far in May. Cardinals...
ST. LOUIS -- Normally a team that takes a 6-0 lead after the first two innings should not have to worry too much about the game's final outs. Try telling that to the Philadelphia Phillies, who had to sweat the last two innings of their 10-9 win over the Cardinals on Thursday night. "Suspense is always good, as long as it comes out right," Phillies manager Charlie...
ST. LOUIS -- Normally a team that takes a 6-0 lead after the first two innings should not have to worry too much about the game's final outs. Try telling that to the Philadelphia Phillies, who had to sweat the end of their Thursday night game against the Cardinals. After watching the Cardinals battle back to wipe out 6-0 and 7-4 advantages, the Phillies got RBI singles by...
What in the hell is going on down in Tampa Bay? Scanning the news wires for 'St. Louis Cardinals News' reveals the normal stories we'd expect to see the morning after a sweep. Bad puns headlining fawning prose, etc al. But one story popped up that caught my attention from the Tampa Bay Times. "The St. Petersburg Area Chamber of Commerce plans to honor the St. Louis Cardinals…"...
ST. LOUIS -- Kyle Kendrick came into Saturday night's start for the Philadelphia Phillies with an 0-4 record, a 5.23 ERA and the knowledge that he was facing the best offensive team in the National League. That's not a combination which would have prompted many to predict he would pitch the first shutout of his major-league career. The 27-year-old right-hander, making...
MLB News

Delivered to your inbox

You'll also receive Yardbarker's daily Top 10, featuring the best sports stories from around the web. Customize your newsletter to get articles on your favorite sports and teams. And the best part? It's free!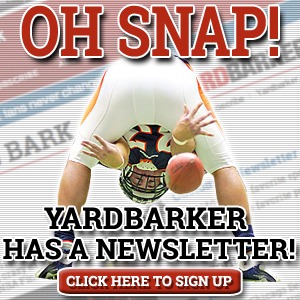 Latest Rumors
The Backyard

Today's Best Stuff

For Bloggers

Join the Yardbarker Network for more promotion, traffic, and money.

Company Info

Help

What is Yardbarker?

Yardbarker is the largest network of sports blogs and pro athlete blogs on the web. This site is the hub of the Yardbarker Network, where our editors and algorithms curate the best sports content from our network and beyond.