Kevork Djansezian/Getty Images Michael Stack Baltimore Orioles Writer At the tail end of an anemic off season, Orioles fans are gushing over the potential signing of KBO retread Suk-Min Yoon. Dan Duquette already got fleeced in one of his two Asian signings, making a sizeable contribution to Tsuyoshi Wada kid's college fund. How Wada's elbow got by the now infamous alien abduction like Orioles physical leaves us baffled, but as we learned from the Grant Balfour situation the Birds aren't going to get burned again. If Yoon passes the physical, we can rest assured that the shoulder is good to go. If he doesn't pan out at least we can have some fun word play with his name. Let's try to read between the lines in this deal, to see what the club's expectations could be for the 2011 KBO MVP. $5.75 Million over three years really isn't free agent starter money; it is more like long man/middle reliever cash. Regardless the deal doesn't sting if the O's are forced to have Yoon in the bullpen and if he turns out to be a stud starter it makes everyone look brilliant. Buck Showalter is sure to give him a long look during spring training and the mad genius of baseball will place Yoon in the position that best benefits the club. Fans are expecting to see Yoon start, mainly because the current options for the fifth slot aren't exactly rallying the base. Yoon has been on a steady decline since his stellar MVP 2011 season, posting a 4.00 ERA in 87.2 innings last season and that was in the KBO not the AL East. In limited action against big league quality hitters he has performed well, during the 2009 WBC he went 2-0 with a 1.13 ERA. There is plenty of upside to the deal, he is still young at 27 there should be plenty of good baseball left in his body. There was a time when he was considered the next big thing and the Orioles wouldn't have even been in the conversation if he decided to make the jump the MLB for the 2012 season. At least the deal gives O's fans a nice distraction from the team's inability to sign A.J. Burnett who could have commuted to Camden Yards with fellow Monkton resident Nick Markakis. In reality if Yoon turns out to be a starter and can contribute at a Wei-Yen Chen level or better then all sides will be happy. If the Orioles see anything like the pitcher he was in 2011 or the guy that struck out 14 in a gem back in 2012 it would certainly brighten their chances in the brutal AL East. If he goes bust let's hope his interpreter has a good sense of humor. The post Some Thoughts on Suk-Min Yoon appeared first on TopSportsReport.
Original Story:
http://www.topsportsreport.com/featur...
MORE FROM YARDBARKER
MLB News

Delivered to your inbox

You'll also receive Yardbarker's daily Top 10, featuring the best sports stories from around the web. Customize your newsletter to get articles on your favorite sports and teams. And the best part? It's free!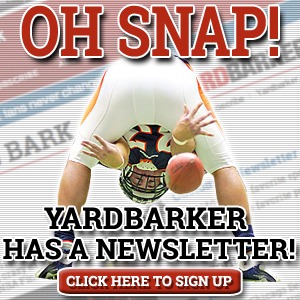 Latest Rumors
Best of Yardbarker

Today's Best Stuff

For Bloggers

Join the Yardbarker Network for more promotion, traffic, and money.

Company Info

Help

What is Yardbarker?

Yardbarker is the largest network of sports blogs and pro athlete blogs on the web. This site is the hub of the Yardbarker Network, where our editors and algorithms curate the best sports content from our network and beyond.