Found March 15, 2013 on World Series Dreaming:
Despite the angst of the fan base over the city of Chicago and the neighbors in Wrigleyville not being flexible in allowing the Ricketts Family to renovate their ballpark, I hold to the opinion that they won't leave Wrigley Field to set up a new ballpark elsewhere.  There have been countless stories written about the continued struggle between the Cubs and their local alderman, who is still hoping to negotiate for bribes/concessions.  Today, the lovely @CeeAngi shared a story on Twitter via the Tribune that is amazingly not behind a paywall. As the owners of the Chicago Cubs push to quickly wrap up a Wrigley Field rehab deal, the stadium's neighbors are calling for a slow down of the negotiations. It's been slowed down for years.  What more could they possibly want?  More concrete falling on fans?  More leverage by the Ricketts Family to say, "You know what?  Screw you guys, take this empty husk of a stadium as your local museum and we'll just go play somewhere else"?  I doubt that they can actually move out, but I wouldn't be surprised if the Ricketts decide to reverse their stance on being a good neighbor if their own neighbors aren't pulling their weight. In an interview Thursday, DeMille said he was pleased a deal was not struck by early February, as city officials had hoped. But he remains worried that neighbors won't have their concerns about parking, traffic and public safety addressed if an agreement is reached soon, DeMille said. It's as if the neighbors forgot that they were living in an area next to a major league stadium.   @ceeangi The real estate agent forgot to tell them about that. — Rice Cube (@CubicSnarkonia) March 15, 2013 It's an extremely frustrating situation for the Cubs to find themselves in.  The neighbors are complaining about noise and traffic after either being oblivious to the fact that they're next to Wrigley Field, or otherwise being assclowns.  The city is spinning its wheels trying to grab some of the Ricketts' money (I assume if all that money is now going into renovations and not towards random city taxes, that means less kickbacks).  There are lots of disadvantages that the Cubs will have to overcome if they want to remain a good neighbor.  At this point, the Cubs are Ned Flanders and the neighbors are Homer Simpson, borrowing all of Ned's tools and appliances and never returning them.  You know there's a problem when the spring training facility is going to be nicer than the actual MLB park. I do wonder, and I hope some of you are lawyers or know about this stuff, whether it'd be to the Cubs' best interest to just start building and tell everyone else to go to hell.  How much can they be fined for not having the proper permits?  How much can they possibly be sued for when they start blocking the rooftop views?  I don't know these answers, but letting the facility fall into worse disrepair while everyone else twiddles their thumbs is definitely not the answer.
Original Story:
http://worldseriesdreaming.com/2013/0...
THE BACKYARD
BEST OF MAXIM
RELATED ARTICLES
Javier Baez homered in consecutive at bats, crushing a solo home run in the 7th and a walk-off two-run bomb in the 9th, helping to rally the Cubs to a 7-5 victory over Team Japan this afternoon at Dwight Patterson Field at HoHoKam Park in Mesa, AZ.  Team Japan is in Phoenix preparing for the World Baseball Classic Championship Round that will be played in San Francisco next...
Last year, Starlin Castro split time evenly between batting second, third, and fifth—not what you'd expect from a speedy shortstop with fairly average power for a middle infielder. Ideally, you would expect him to stick in the number two hole because he lacks the on-base skills to be a leadoff hitter. Well, because of his [...]
Welcome back to another addition of how the Chicago Cubs have been stupid. I know that there are many ways that the typical Cub fans believes the Cubs are stupid, but you may be disappointed as this blog is not about what you think. This blog will not be about trading away various players, or signing others. If you read my last blog on this subject, you would get the idea of what...
My friend has completed a cycle of 28 winters and as is custom we got together to enjoy drink, song, and women. We got a fairly late start to the festivities as I was being lame and updating this site. We still celebrated with panache. As the night progressed we got the order mixed up and we started to enjoy song, women and drink, then it was drink, drink and drink. Either way it...
Jeff Samardzija scattered three hits over five scoreless innings for a Chicago Cubs split squad in a 5-1 victory over the Texas Rangers on Saturday. Samardzija struck out three and walked one. The Cubs were unable to capitalize on Nate Schierholtz's leadoff double in the second, but they took a 1-0 lead after Steve Clevenger opened the third with a double and Darwin Barney...
While it is nice to win spring training games, the Chicago Cubs are much more worried about evaluating players' performances than wins and losses this spring.  For this reason, the absence of Starlin Castro and Anthony Rizzo for most of the spring can be seen as a positive for the club, as they have been [...] [[ This is a content summary only. Visit my website for full links...
Alfonso Soriano connected for one of three first-inning homer against Bruce Chen and a Chicago Cubs split squad beat the Kansas City Royals 8-3 Saturday. David DeJesus led off the game with a homer to right field. Then after Brent Lillibridge doubled and Anthony Rizzo struck out, Soriano hit his second of spring training. The 20-year-old Javier Baez followed with another long ball...
MESA, Ariz. (AP) -- Alfonso Soriano connected for one of three first-inning homer against Bruce Chen and a Chicago Cubs split squad beat the Kansas City Royals 8-3 Saturday. David DeJesus led off the game with a homer to right field. Then after Brent Lillibridge doubled and Anthony Rizzo struck out, Soriano hit his second of spring training. The 20-year-old Javier Baez followed...
Catcher Welington Castillo hit a two-run triple off Chris Capuano in the first inning Thursday, leading the Chicago Cubs to an 8-1 victory over the Los Angeles Dodgers at Camelback Ranch. Cubs' left-hander Chris Rusin threw five innings of one-hit ball, a single by shortstop Alfredo Amezaga in the third. Rusin, who made seven starts for the Cubs after spending most of 2012 with...
I just want to preface this post by saying, you haven't read a Cubs season preview post until you've read our Cubs 2011 season preview post. It could be the Cubs preview post every year, and it should be. But I don't want anyone to accuse me of laziness other than my wife–so I'm going to give you a real Cubs preview instead of just telling you about how much the Cubs fans...
Cubs News

Delivered to your inbox

You'll also receive Yardbarker's daily Top 10, featuring the best sports stories from around the web. Customize your newsletter to get articles on your favorite sports and teams. And the best part? It's free!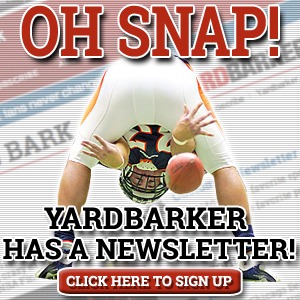 Latest Rumors
Best of Yardbarker

Today's Best Stuff

For Bloggers

Join the Yardbarker Network for more promotion, traffic, and money.

Company Info

Help

What is Yardbarker?

Yardbarker is the largest network of sports blogs and pro athlete blogs on the web. This site is the hub of the Yardbarker Network, where our editors and algorithms curate the best sports content from our network and beyond.