Found March 12, 2012 on Fox Sports North:
PORT CHARLOTTE, Fla. Twins outfielder Denard Span is confident that the stiffness in his neck is unrelated to the concussion symptoms or vestibular neuritis he's dealt with over the past few years. Span said he's "optimistic" about the recent injury, and said Monday that he hopes to be back on the field within the next few days. "It feels a lot better than it did yesterday. I have a little bit more range of motion," Span said Monday morning. "I definitely don't think it has anything to do with the concussion stuff. I'm optimistic as far as that." Span said his neck started stiffening on up him during Saturday's game against Pittsburgh in Bradenton. He was a late scratch from Sunday's lineup against the Yankees. "When I woke up (Saturday), I was fine," Span said. "It had to have happened some time during pregame because by the second inning, it started to tighten up and stiffen up on me." Span was scheduled to see a chiropractor Monday. He said he was also going to take some light swings in the batting cage, something he didn't do Sunday. The 28-year-old Span played in just 70 games last season after missing time due to a concussion. He batted .264 with a career-low on-base percentage of .328. In five Grapefruit League games this spring, Span is 5-for-13 with a pair of walks in 13 at-bats. "I've never had a crick in my neck, so this is definitely different," Span said. "I definitely don't think it has anything to do with the concussion stuff. I'm optimistic as far as that. Hopefully another day or two, I should be back on the field and be OK. Hughes homers in win: Luke Hughes is battling this spring for a spot on the Twins roster as a utility infielder. A home run can't hurt his cause. Hughes delivered the eventual game-winner, a solo homer in the 10th inning to propel the Twins to a 2-1 win over the Rays at Charlotte Sports Park. It was Hughes' first homer of the spring after he hit seven in 96 games with the Twins last season. Hughes missed Minnesota's first Grapefruit League game after injuring his shoulder during winter ball in his native Australia. On top of the homer, Hughes also played second base for the entire game Monday, a sign that his shoulder is feeling much better. "Everything felt good," Hughes said. "It was good to actually be out there and run around a little bit and get on the diamond and get in the game a little bit more. I like doing that a lot more than DHing. It was nice to get through it and everything went well, so it was good." Added Gardenhire: "I think that's a big lift for him. He's been fighting through it, because of the shoulder thing, he's been set back a ways, so that's a big deal for him hitting that homer." Dozier has a solid day at the plate: Shortstop Brian Dozier just missed a home run in the first inning of Monday's game when his drive to deep left field was ruled a triple after it hit a wooden deck area above the wall in left-center. "I thought it was (a home run)," Dozier said. "Then (Rays outfielder) Desmond Jennings, my buddy he's from where I'm from, and he was in the outfield he said it's clearly a home run. But at the same time, I'll take a triple." Dozier finished the day 2-for-4 with a walk and played all 10 innings in the field. The triple was just his second hit of the spring, and he's now batting 3-for-13 after Monday's two-hit performance. Pavano ups his pitch count: Twins right-hander Carl Pavano pitched four innings in Monday's start and threw 62 pitches (44 strikes) in the process. The 13-year veteran allowed one run on four hits and struck out three in four innings at Charlotte Sports Park. His outings have increased by one inning each time, and he said his arm is starting to get in game shape. "I think my arm strength was better," he said. "I was able to peek at some velocities. It's showing the arm strength is better and some of the pitches were sharper than they were the first two outings. So that's a good sign. My pitch count went up, and I felt a little fatigued at the end, but I still felt like I could've went another inning, which is a good sign." Pavano has had trouble in the past with keeping runners from stealing bases against him. On Monday, however, he and catcher Ryan Doumit combined to throw out two potential base runners Matt Joyce, twice. "(Pavano) actually worked his footwork really quick, and Doumit, you saw, he's got a good arm, a really good arm," Gardenhire said. "So we're excited. I think he was pumped up about it, made some really nice throws." Added Pavano: "(Doumit) threw that ball really well. It's something I need to work on, guys stealing on me. I need to be faster to the plate." Bulger finally has solid outing: Jason Bulger's first two outings this spring were not particularly impressive. The right-handed reliever had an 81.00 ERA in one combined inning of work against Boston and Baltimore. He allowed five runs on two hits and four walks on March 4 against the Red Sox and followed that up four days later with a four-run outing against the Orioles. But the 33-year-old Bulger pitched a scoreless seventh inning to lower his ERA to 40.50. "He got the ball and asked me if I'd sign it for him," Gardenhire said. "He said, 'That's the first time all spring you haven't taken it from me.' That's entertainment." Follow Tyler Mason on Twitter.
Original Story:
http://www.foxsportsnorth.com/03/12/1...
THE BACKYARD
BEST OF MAXIM
RELATED ARTICLES
FORT MYERS, Fla. With the New York Yankees in town, the Minnesota Twins rolled out what looked like a potential Opening Day lineup -- for a few hours, at least. Center fielder Denard Span was scratched from the lineup with a stiff neck just before game time. Span played in just 70 games last season due to a concussion and has also been hampered by vestibular neuritis during his...
FORT MYERS, Fla. Twins left-hander Francisco Liriano cruised through his first two starts of the spring, throwing a total of five scoreless innings. Through two more scoreless innings Tuesday against Toronto, he seemed to be continuing that trend in start No. 3. But the wheels fell off for Liriano in the third inning as he allowed four runs on four Blue Jays hits, including back...
FORT MYERS, Fla. Chartered flights. Five-star hotels. Tens of thousands of fans in state-of-the-art ballparks. Yes, things are a bit nicer in the major leagues. For several Twins minor leaguers, last season was their first taste of the bigs. Numerous injuries and 99 losses meant several young players had an opportunity to show their stuff with Minnesota late in the 2011 season...
FORT MYERS, Fla. Ben Revere's speed nearly got him in trouble last year. As he laced a triple to right field during a mid-July game at Target Field, Revere sprinted around second base and headed for third. But the Twins outfielder was seemingly going too fast and stumbled over his own feet. After a nifty somersault, Revere popped back up in stride and slid safely into third...
FORT MYERS, Fla. Brian Dozier is a pretty good baseball player, but he's also a pretty good golfer. Dozier, the Minnesota Twins' 24-year-old shortstop prospect, was a four-sport athlete at Itawamba Agricultural High School in Fulton, Miss. He was the quarterback of the football team and the point guard on the Indians basketball team, as well as a shortstop. But he always...
FORT MYERS, Fla. (AP) -- Nick Blackburn pitched three scoreless innings and the Minnesota Twins hit three home runs Sunday to beat a New York Yankees split squad 5-1. Blackburn gave up three hits without a walk. Danny Valencia, Joe Benson and Mike Holliman homered for the Twins. Minnesota had hit just three home runs in its first nine exhibition games. Yankees starter Phil Hughes...
NEW YORK (AP) -- Two minor league pitchers in the Minnesota Twins' organization have been suspended 50 games each under baseball's minor league drug program. Major League Baseball announced Tuesday that Yeison Florentino and Ezequiel Zarzuela each tested positive. They both play on the Twins' team in the Dominican Summer League team. The suspensions are effective at...
If these guys are around in the mid to later rounds make sure to invest them. 9) Ben Revere (OF, Minnesota Twins) As a late pick I REALLY like Revere. Last year in 117 games he stole 34 bags; this season he should easily steal 40+. We know Revere lacks power, but other than that he doesn't hurt you fantasy wise. Although he only hit .267, in September Revere turned it on with...
Francisco Liriano's fast spring start slowed Tuesday when the Toronto Blue Jays scored four runs off him in the third inning and beat the Minnesota Twins 8-2. The streaky lefty, who pitched a no-hitter last year while going 9-10, struck out five. But Toronto's Travis Snyder and Travis d'Arnaud hit consecutive two-run doubles off the right-field fence against Liriano...
Nick Blackburn pitched three scoreless innings and the Minnesota Twins hit three home runs Sunday to beat a New York Yankees split squad 5-1. Blackburn gave up three hits without a walk. Danny Valencia, Joe Benson and Mike Holliman homered for the Twins. Minnesota had hit just six home runs in its first nine exhibition games. Yankees starter Phil Hughes threw three shutout innings...
MLB News

Delivered to your inbox

You'll also receive Yardbarker's daily Top 10, featuring the best sports stories from around the web. Customize your newsletter to get articles on your favorite sports and teams. And the best part? It's free!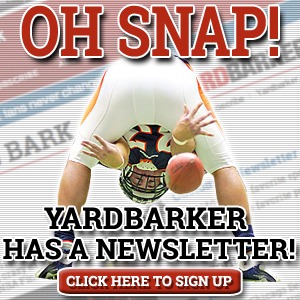 Latest Rumors
The Backyard

Today's Best Stuff

For Bloggers

Join the Yardbarker Network for more promotion, traffic, and money.

Company Info

Help

What is Yardbarker?

Yardbarker is the largest network of sports blogs and pro athlete blogs on the web. This site is the hub of the Yardbarker Network, where our editors and algorithms curate the best sports content from our network and beyond.