Found April 30, 2012 on B-More Birds Nest:
OK Orioles fans are you getting excited yet? Our birds are sitting atop the division with a 14-8 record heading into a six game road trip where they will have a chance to firmly stake their claim atop the AL East against division rivals New York and Boston. This past week showcased a lot of good baseball that the Orioles are capable of playing all year. During the six game home stand the Os compiled a 5-1 record, sweeping the Toronto Blue Jays and taking the final 2 of 3 from the Oakland Athletics. I was in attendance for the final two games of the home stand and can testify from first hand experience that the magic is coming back. Those who watched or attended the Saturday night game against the A's got to experience a great moment in Oriole baseball history when the first of six commemorative statues was unveiled in honor of Frank Robinson.  Despite the less than perfect weather a large amount of Oriole faithful came out to the yard to show respect for the legend himself and man were we rewarded. Maybe it was the fact that Frank was in attendance but something possessed our players that game as they quickly humped out to a 6-0 lead by the third inning. Wei-Yin Chen was on fire the whole night, going 7 strong while allowing only 1 run on a solo homer to Johnny Gomes. The Orioles wouldn't let up on offense as they walked away 10-1 winners on the night; what an awesome way to wrap up a day in honor of one of the greatest Orioles of all time. Sunday displayed a completely different type of win. Big Game Hunter was on the mound and a crowd of 31,000 were present in hopes of seeing their team take the series before heading out on a week long road trip. Despite trailing 2-0 in the bottom of the ninth I noticed that virtually no one had left the stadium. I was somewhat surprised as in my experience if this team is down 2 or more with 3 innings to play you start to notice fans calling it quits early and heading for the exits. Not Sunday. No, it seemed like everyone almost had a gut feeling that they were gonna pull it out. Maybe it was too many fans drinking the Orange Kool-Aid amidst the great start on the season, or maybe it was the fact that fans wanted to prove their doubts right and see first hand that this team cant come through in the do or die moments. Well they did, and my God was it awesome. To see 31,000 fans all stand in unison yelling, clapping, banging on their seats in an effort to cheer on their team in hopes of a late inning comeback was something I have only dreamed of being in attendance for. When all seemed lost in the 9th down by two some "magical"things began to happen. First Hardy reached on an infield single, giving us a small glimmer of hope as the tying run came to the plate. Next Nick Markakis would go down swinging almost deflating the crowd and any hopes of a win; but the fans kept cheering and we all kept believing that something amazing would happen. Bartolo Colon, who had held the Orioles in check the entire game suddenly made the one error that separates you from being a winner or a loser. In this case Colon would send a throw into the dirt allowing Adam Jones to reach on what should have been a routine play for an out, extending the Orioles for at least a moment. At this point Matt Weiters was making his way to the plate. The crowd knew what was about to happen. The cheers grew louder as Grant Balfour, who had come into to preserve the win for the A's, left a pitch just a little to high in the zone for Matt Weiters who proceed to crush the ball all the way off the left field wall, clearing the bases and tying the game. Oriole Magic? As Endy Chavez came into the game as a pinch runner for Weiters my friend Timmy turns to me and says "you know Paulino is gonna have to come into catch now right?" I responded with "He wont need to catch". I have never been so happy about being right in my life. After an intentional walk to Chris Davis, Wilson Betemit blasted a three run bomb off the top of the right center-field wall to end the game in a dramatic walkoff fashion while every fan in attendance went crazy and began celebrating with everyone around them. This was an amazing sight to witness and hopefully this win foreshadowed a trend we can all get used to in Baltimore. I believe in this team (you're gonna get tired of me saying that but its true) and you should believe in them also. Seeing the Yard that full and that excited is something that Baltimore has been missing out on for too long now. I'm gonna keep going to games and keep on cheering I hope to see a lot of you there. This team has found some magic. Lets hope its here to stay.
Original Story:
http://feedproxy.google.com/~r/bmoreb...
THE BACKYARD
BEST OF MAXIM
RELATED ARTICLES
Nolan Reimold will miss the final two games of the Baltimore Orioles' series against the New York Yankees because of a bulging disk in his back. The outfielder went 0 for 4 in Monday night's series opener as the Orioles lost 2-1, then called head trainer Rich Bancells. ''Last night when he got back to the hotel he called Rich and he said that he had some tingling...
Photo Credit: Keith Allison Jason Hammel will be facing the Yankees in the Bronx in about an hour. Whenever a pitcher goes against the Yankees (especially in their home park), fantasy owners tend to be shook. Me? I'm streaming the **** out of Hammel tonight, and the odds are pretty good that our partnership will last past Monday (pause). Many of you are probably thinking, "B...
Heading into the 2012 season, Matt Wieters has emerged as a leader for the Orioles. Many have argued whether or not he is a bust - despite only having played in the major leagues for less than three full seasons. That being said, he is far from that. So Wieters has not turned into the next Johnny Bench or a Joe Mauer with power. The promise of the night when he debuted is still...
Wilson Betemit hit a three-run homer in the bottom of the ninth inning after Matt Wieters doubled in two runs, giving the Baltimore Orioles an unlikely 5-2 comeback victory over the Oakland Athletics on Sunday. Oakland starter Bartolo Colon took a four-hit shutout into the ninth without allowing a runner past second base. After J.J. Hardy led off with an infield hit and Nick Markakis...
The Baltimore Orioles really weren't, and quite frankly, they're still not, expected to be a contender in the American League this season. But here we are on the final day of April, and the Orioles are in first place in the AL East with a 14-8 record. They've got the same record as the Rays, and only the Rangers have a better record in the AL. Baltimore's 3.06 ERA...
Vladimir Guerrero, who is now a free agent, will work out for Arizona Diamondbacks general manager Kevin Towers in the Dominican Republic some time this week, MLB.com reported Sunday. Guerrero, 37, hit .290 with 13 home runs for the Baltimore Orioles in 2011, but became a free agent after the season. He wants to continue to play and had said he would consider playing in Japan...
NEW YORK -- Brian Matusz pitched 6 1/3 efficient innings, helping Buck Showalter record the 1,000th win of his managerial career as the Baltimore Orioles beat the New York Yankees 7-1 Tuesday night. The Orioles broke open a close game by scoring three runs -- all with two outs -- in the sixth inning in front of 37,790 at Yankee Stadium. Showalter is 1,000-958 all-time. His milestone...
Jason Hammel seems to have rejuvenated his career since being traded to the Baltimore Orioles during the offseason, but rough outings against the New York Yankees are a part of his not-so-stellar past. The Orioles had problems with the Yankees long before Hammel arrived. The right-hander looks to continue his stellar start when he takes the mound against New York in the opener...
Is this team for real? Is this what we can expect all Summer? You know that opinions are starting to change because the level of snark on twitter has reduced significantly. No longer does it seem as some bloggers are actively rooting for a collapse, they are just in stunned silence. Whenever the Orioles are going well the general feeling among many Orioles fans is one of dread and...
MLB News

Delivered to your inbox

You'll also receive Yardbarker's daily Top 10, featuring the best sports stories from around the web. Customize your newsletter to get articles on your favorite sports and teams. And the best part? It's free!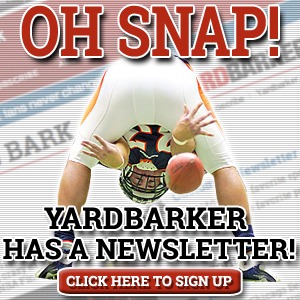 Latest Rumors
Best of Yardbarker

Today's Best Stuff

For Bloggers

Join the Yardbarker Network for more promotion, traffic, and money.

Company Info

Help

What is Yardbarker?

Yardbarker is the largest network of sports blogs and pro athlete blogs on the web. This site is the hub of the Yardbarker Network, where our editors and algorithms curate the best sports content from our network and beyond.