Found February 11, 2013 on Pirates Prospects:
With pitchers and catchers reporting today, and Spring Training starting up this week, we will be previewing the position battles to follow throughout the Spring. To keep track of the players who are in camp, and the updated status of each position battle, check out the 2013 Pittsburgh Pirates Spring Training Tracker. The Pirates have done a lot since the trade deadline to address the starting rotation. They acquired Wandy Rodriguez at the trade deadline, gave Jeff Locke and Kyle McPherson a look in September, and added Francisco Liriano, Jonathan Sanchez and a few other depth options over the off-season. The top three spots in the rotation will be held by A.J. Burnett, Wandy Rodriguez, and James McDonald. That leaves several of the above pitchers fighting for the final two spots. Contenders: Jeff Karstens, Francisco Liriano, Jeff Locke, Kyle McPherson, Jonathan Sanchez Francisco Liriano - If Liriano is healthy for Opening Day, he will get one of the open spots in the rotation. That's not a guarantee. Tom Singer reports that it could be a month before Liriano steps on a mound. Last year we saw A.J. Burnett delayed at the start of Spring Training, and he had to start the 2012 season on the 15-day disabled list. Liriano would be unlikely to make the Opening Day roster if he can't get on the mound earlier. Jeff Locke will be battling for a rotation spot in Spring Training. Jeff Locke/Kyle McPherson - I think these two will compete for the final spot in the rotation, regardless of whether Liriano is healthy. Locke is ready for the majors, and has the upside of a number four starter. He's appeared in the majors in each of the last two seasons, but both times came at the end of the year. It will be interesting to see how he performs with some experience under his belt, and while he's fresh at the start of the year, rather than after he pitches a full season in Triple-A. McPherson made a few starts in Triple-A last year, then three starts in the majors. He had some good results, but might need a bit more time in Triple-A. He's also dealt with shoulder issues over the last year. The most recent issue came in the Dominican Winter League. He was throwing off a mound yesterday, so his health shouldn't be an issue at this point. McPherson has more upside than Locke, but might have a bit more to prove in Triple-A. Jeff Karstens - The Pirates non-tendered Karstens earlier in the off-season, then brought him back in January on a one year deal. The right-hander has been good when healthy, but has had issues staying healthy. Last year he made 15 starts and pitched 90 innings. I think that would be the expected level for his 2013 performance. Anything over 15 starts or 90 innings would be a bonus. Karstens could reach those totals by serving as a 6th starter, injury replacement, or a spot starter throughout the year. I could see him stepping in the rotation for a few turns at the start of the year if Liriano starts off on the disabled list. Jonathan Sanchez - The Pirates added Sanchez on a minor league deal last week. He's coming off a horrible season in which he had issues with biceps tendonitis. He was a good pitcher the previous three seasons. If he's beyond the injury, and can return to the 2009-2011 numbers, he'd provide a lot of value under a minor league deal. I'd expect him to go to Triple-A to start the year, where he can prove that he's beyond his 2012 struggles. If he can do that, he'd emerge as a top candidate to step into the rotation when the Pirates need an extra starter. Projected Rotation: A.J. Burnett, Wandy Rodriguez, James McDonald, Jeff Locke, Jeff Karstens (Francisco Liriano 15-day DL)
Original Story:
http://feedproxy.google.com/~r/Pirate...
THE BACKYARD
BEST OF MAXIM
RELATED ARTICLES
James McDonald had a great first half and a horrible second half in 2012. Pittsburgh Pirates fans have a tendency to expect the worst. It's not really any fault of their own. In the last 20 years, pretty much every bad thing that could possibly happen to the team has happened. You reach a point where the team looks like a true contender in July, to the point where you actually...
Happy pitchers and catchers day! The Bucs (well, some of them) are in Bradenton, meaning we can officially declare that baseball season has begun!  Here are some of the most important things you should be paying attention to this spring: Who's the 5th starter? Francisco Liriano is a Bucco, but it doesn't sound like he'll be ready to start the season. That means there would...
With pitchers and catchers reporting today, and Spring Training starting up this week, we will be previewing the position battles to follow throughout the Spring. To keep track of the players who are in camp, and the updated status of each position battle, check out the 2013 Pittsburgh Pirates Spring Training Tracker. The Pirates only have one established outfielder at the major...
My initial approach with the Brandon Inge news tonight was the same as any minor league signing: acknowledge that it happened and move on. Danny Knobler reported that the Pirates are close to a minor league deal with Inge, who turns 36 this season. Like 99% of minor league deals, this one comes with no risk, and a small chance to provide some sort of reward. For that reason, there's...
Baseball players seem to suffer the most bizarre injuries imaginable.Take new Pittsburgh Pirates pitcher Francisco Liriano for example. The southpaw inked a one-year deal with the Buccos this past Friday, however, the signing almost didn't come to fruition.In December, Pittsburgh and Liriano were reportedly close to agreeing to a contract before it was announced that Liriano...
I've had a sense of dread about the 2013 season for the Pirates since the 2012 season ended. This is not because the Pirates are a hopeless mess, because they're not. Of all of the teams that the Pirates have fielded since 2005 when I started this blog, the 2013 edition of the Pirates is probably the least-Calvinistically-predestined for Baseball Doom. It's true that...
The Pittsburgh Pirates are close to a deal with Brandon Inge, according to Danny Knobler of CBS Sports. Brandon Inge is close to a deal with the Pirates. Minor-league deal with spring invite. cbsprt.co/X6iavW — DKnobler (@DKnobler) February 13, 2013 Inge would be coming in on a minor league deal with an invite to Spring Training. He split time with Oakland and Detroit last year...
Last year Michael McKenry turned into a real bright spot for the Pittsburgh Pirates.  No one really expected him to come out of nowhere and have a pretty fantastic season. Michael McKenry is a lot like Josh Harrison in my mind, though he has been much more successful. McKenry is generally derided to a point…
Instagram.com/thecutch22 With 31 home runs and a slash line of .290/.374/.484, Pittsburgh Pirates outfielder Andrew McCutchen had an MVP-like year in 2012, even though his team suffered through its 20th consecutive losing season. "Cutch" spent the off-season relaxing, and he'll soon be ready to start destroying National League pitching again. In the meantime, this five-tool...
We can finally forget all the drama and confusion that surrounded Francisco Liriano's status for the past month-plus…he's officially a Pirate now. Liriano passed his physical and is on the roster (Vin Mazzaro was outrighted to AAA to clear a spot). His contract is unique due to his broken right humerus, and honestly it's better (and by that I mean less risky) for the Pirates...
Episode 305 Though many have said it couldn't be done, managing editor Dave Cameron — in this edition of FanGraphs Audio — analyzes baseball, entirely. Of note: reviewing some first principles from Cameron's 10-best and -worst offseason transaction posts; everything regarding the Felix Hernandez extension; and the Francisco Liriano deal with Pittsburgh, if it's a bargain...
Pirates News

Delivered to your inbox

You'll also receive Yardbarker's daily Top 10, featuring the best sports stories from around the web. Customize your newsletter to get articles on your favorite sports and teams. And the best part? It's free!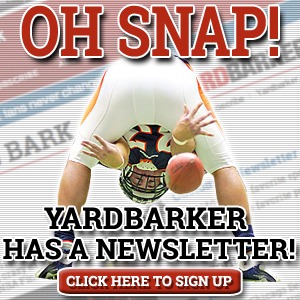 Latest Rumors
Best of Yardbarker

Today's Best Stuff

For Bloggers

Join the Yardbarker Network for more promotion, traffic, and money.

Company Info

Help

What is Yardbarker?

Yardbarker is the largest network of sports blogs and pro athlete blogs on the web. This site is the hub of the Yardbarker Network, where our editors and algorithms curate the best sports content from our network and beyond.