Found February 28, 2012 on The Golden Sombrero Baseball Blog:
  Taylor Jungmann With Spring Training finally upon us and speculation surrounding the future of baseball's brightest prospects spreads like wildfire, The Golden Sombrero will highlight some of the notable and intriguing Spring Training invitees from each organization. Wily Peralta*, RHP:  Widely considered to be the Brewers' top prospect, Peralta was signed out of the Dominican Republic as a toolsy outfielder in 2005.  But after witnessing his raw arm strength, the 6-foot-2, 240-pounder was quickly transitioned to the bump.  After missing the 2007 due to Tommy John surgery, Peralta has progressed steadily since returning. In his breakout season as a 21-year-old in 2010, Peralta posted an 8-6 record and 3.79 ERA with 104 strikeouts and 64 walks in 147.1 innings between High-A and Double-A.  He followed it up  by having his best minor league season to date in 2011.  Peralta went 9-7 with a 3.46 ERA, 117 strikeouts, and 48 walks over 119.2 innings at Double-A Huntsville.  His success garnered a late-season promotion to Triple-A where he went 2-0 with a 2.03 ERA and 1.032 WHIP in 31 innings.  Peralta also showed improved command in the hitter-friendly PCL, as he posted a 40/11 K/BB ratio. Peralta pounds the strikezone with a four-seam and two-seam fastball, and typically sits in the low- to mid-90s – although he is capable of touching the upper-90s.  His best secondary pitch is a hard slider, which, when kept down in the zone, is a legitimate swing-and-miss pitch.  He also features a change up which has come along over the years due to his role as a starter, but at the moment probably only grades out as about a 50. Although some believe he is best suited for a bullpen role, the Brewers have remained steadfast in their development of Peralta as a starter.  Therefore, it will likely take an injury to a member of the Brewers' rotation for Peralta to get his shot.  While a strong spring will greatly improve his chances of breaking camp, it's likely that Peralta will begin the 2012 season in Triple-A Taylor Jungmann, RHP:  Selected by the Brewers with the 12th overall pick in the 2011 draft, Jungmann had been one of the top collegiate pitchers since his freshman year at Texas.  At 6-foot-6, 220-pounds, the lanky right-hander throws each of his pitches on a downward plane and isn't afraid to attack opposing hitters.  Although he can reach back for a 95-96 mph fastball, he typically works in the 92-94 range with late life.  His slider continues to improve – his size, arm slot, and arm speed have always generated above-average tilt – and is considered his best secondary offering.  Like most young pitchers, Jungmann was considered a power pitcher in college and therefore lacks an above-average change up.  However, it's decent and could grade as a 60 in time. Considering he signed at the last minute, Jungmann will get his first taste of professional baseball in 2012.  Given his collegiate experience, he'll likely begin the season at High-A Brevard County – unless he wows the organization enough during Spring Training to begin at Double-A.  But keep your eye on Jungmann, if he progresses swimmingly, the right-hander could be on the fast track to the big leagues. Jed Bradley, LHP:  The Brewers netted two potential front-end starters in Jungmann and Bradley.  Selected three picks after Jungmann with the 15th overall pick, Bradley was the second-best left-hander available in the 2011 draft.  At 6-foot-4, 225-pounds, Bradley's size and collegiate experience project well, so I wouldn't look too far into his getting knocked around in the Arizona Fall League.  When you're the ace of your program, the collegiate season can become rather taxing. His fastball typically sits in the low-90s but he's been flashing 94-95s more and more which leads many scouts believe that could become his norm.  He also features a pretty nasty power-slider in the high-80s and a neutralizing change up.  His mechanics are smooth and allow him to locate each of his three pitches.  His and Jungmann's minor league careers – neither of which should be lengthy – will be intertwined as Milwaukee plans for both players to arrive in the Show around the same time. Caleb Gindl*, OF:  Drafted out of high school in the fifth round of the 2007 draft, Gindl has completed one minor league level per year and has a career line of .300/.378/.466 to show for it.  He enjoyed his best season for Triple-A Nashville in 2011, posting a .862 OPS with 23 doubles, 15 home runs, and a 93/63 K/BB in 472 at-bats.  Although those numbers are inflated due to the hitter-friendly PCL, they're consistent with his production at every level and his approach at the plate continued to improve. Gindl is a stocky, 5-foot-9, 205-pound outfielder with above-average arm strength and quiet athleticism. He played all three outfield positions last year in Triple-A – including 38 games in center field – but profiles as a corner guy in the majors due to his lack of power.  But with Ryan Braun and Corey Hart entrenched in their respective positions, Gindl is at best a fourth outfielder or left-handed hitting platoon option.  The Brewers protected the 23-year-old by adding him to their 40-man roster in November; however, they also added minor league teammate Logan Schafer who breezed through four levels in 2011, including eight games for Milwaukee at the end of the season. Cody Scarpetta*, RHP:  When he's on, Scarpetta has swing-and-miss stuff and two plus pitches in a mid-90s fastball and a big-time hammer.  But when he's off…it's ugly.  He falls out of sync with his mechanics, which results in control issues and painful ineffectiveness.  At Class-A Brevard County of the FSL in 2010, the 6-foot-3, 240-pound right-hander recorded a 3.87 ERA with 142 strikeouts and 67 walks over 128 innings.  Last season, his first full season at Double-A, Scarpetta went 8-5 with a 3.85 ERA and 98/61 K/B over 117 innings.  Still, it says something that he's kept his ERA under 4.00 despite the control issues. Scarpetta gives up far too many hits than he should considering his stuff, primarily because hitters sit on his fastball during his bouts of inconsistency.  The development of his change up will pay dividends for the right-hander and keep him in consideration for a starting role, but he hasn't adapted it as quickly as scouts hoped.  If he works out some kinks and refines his command, Scarpetta could find himself in the Show quickly, although it would likely involve a bullpen role. *on team's 40-man roster Want to discuss prospects with Mike? Follow him on Twitter (@GoldenSombrero) and join the discussion on our Facebook page.
Subscribe to The Golden Sombrero by Email
window.dctile = Number(window.dctile) + 1 || 1; window.dc_ord = Number(window.dc_ord) || Math.floor(Math.random() * 1E10); if (dctile==1) {var vdcopt = 'ist';} else {vdcopt = '';} if (17>dctile) document.write('<script type="text/javascript" src="http://ad.doubleclick.net/adj/yb.thegoldensombrero/;chan1=mlb;rating=pg;dcopt=' + vdcopt + ';yb=ad;s1=;s2=;tile=' + dctile + ';sz=300x250;ord=' + dc_ord + '?"><\/script>\n');
Original Story:
http://feedproxy.google.com/~r/TheGol...
THE BACKYARD
BEST OF MAXIM
RELATED ARTICLES
Barring injury or an unlikely meltdown, Jonathan Lucroy will be the starting catcher when the Milwaukee Brewers open the 2012 season on April 6. But by all accounts, George Kottaras will be on the roster once again as the team's No. 2 catcher. The 28-year-old returns for a third season with the Brewers. Last year, he hit .252 in 49 games with five home runs and 17 RBI. Kottaras...
Let me be clear by stating that Alex Rodriguez has never said anything about Ryan Braun's failed drug test having to do with him taking medicine for herpes. Of course A-rod wouldn't because he knows better, as Derek Jeter would have failed way before Braun… right? Kidding again. But now to the point, as this Braun saga is getting annoying but I wanted to weigh in my opinion...
Last season, Chris Narveson was one of the most pleasant surprises on the Milwaukee Brewers' roster.Installed as the fifth starter, behind aces Yovani Gallardo, Zack Greinke, Shaun Marcum and fellow lefty Randy Wolf, little was expected of the then-29-year-old.Quickly, though, Narveson established himself as a bona fide link in one of the National League's best starting rotations...
PHOENIX (AP) -- John Axford was fighting food poisoning last spring, leaving the Milwaukee Brewers uncertain about his future with the team. After a breakthrough season, they no longer have any doubts about the tall Canadian closer. "Command wasn't good, velocity wasn't good, so we weren't sure," Brewers manager Ron Roenicke recalled. "You can't make...
By John Pesetski Special to FOXSportsWisconsin.com PHOENIX -- They're big. They're strong. They're smart. And, with more than 5 million in signing bonuses between them they are also two of the highest-paid prospects Brewers history. This spring, the Brewers are getting their first extended look at 2011 first-round draft picks Taylor Jungmann and Jed Bradley. Jungmann...
During Ryan Braun's news conference last Friday, the Milwaukee Brewers outfielder made a number of insinuations about the integrity of the MLB's sample collecting process and the specific collector who took his positive test sample. On Tuesday, a man revealing himself to be the collector of Braun's test, Dino Laurenzi Jr., sent an email to ESPN The Magazine to state his...
By all accounts, 2011 was a lost season for Zach Braddock. After posting a 1-2 record with a 2.94 ERA in 2010, the 24-year-old made the opening day roster for the first time in his brief major league career last spring and figured to be a key part of the Brewers' bullpen. In early May, though, Braddock went to the 15-day disabled list with a sleep disorder. At the time, some...
((HT: Fox6now.com Milwaukee))The gentleman's name is Dino Laurenzi...And he isn't going to take being accused of a felony lightly...At his welcome back press conference, Milwaukee Brewers reigning Emm-Vee-Pee Ryan Braun basically intimated that Laurenzi was the one who tampered with both of Braun's samples to give the "false positive."On both... With exactly...
While Ryan Braun's suspension over a positive drug test has ended with it being overturned, I think everybody recognizes that his trial has only just begun. While the suspension being lifted was a boost to the Milwaukee Brewers, it probably would have actually been better for Braun's reputation had he gotten suspended but for reasons
Let the Countdown to games being as we now stand 5 days shy of the 1st game of Spring Training against the San Francisco Giants.  I've avoided talking much about what the Brewers lineup and fielding will look like because we knew so little about what would happen to Braunie.  Well now we know and it's as good a time as any to try and construct what a potential Brewers lineup...
Last year at this time, right-hander Marco Estrada was toiling in the Brewers' Minor League minicamp with little chance to make the Opening Day roster. What a difference a year makes.
Brewers closer John Axford had another successful Oscar night, correctly predicting 11 of the 15 winners at Sunday night's Academy Awards after going 11-for-13 last year. Perhaps some day, the Brewers' resident film buff will hold a statuette of his own.
Brewers News

Delivered to your inbox

You'll also receive Yardbarker's daily Top 10, featuring the best sports stories from around the web. Customize your newsletter to get articles on your favorite sports and teams. And the best part? It's free!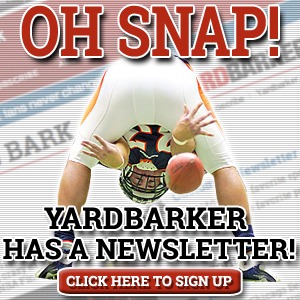 Latest Rumors
Best of Yardbarker

Today's Best Stuff

For Bloggers

Join the Yardbarker Network for more promotion, traffic, and money.

Company Info

Help

What is Yardbarker?

Yardbarker is the largest network of sports blogs and pro athlete blogs on the web. This site is the hub of the Yardbarker Network, where our editors and algorithms curate the best sports content from our network and beyond.