Found February 26, 2012 on 22gigantes:
PLAYERS:
Buster Posey
,
Jeremy Affeldt
,
Sergio Romo
,
Matt Cain
,
Pablo Sandoval
,
Hector Sanchez
,
Brian Sabean
,
Eric Surkamp
,
Barry Zito
,
Bruce Bochy
,
Pat Burrell
TEAMS:
San Francisco Giants
It was a milestone day for Giants catcher Buster Posey, who hit live pitching for the first time since May 25, 2011. I don't need to remind you what happened on that crappy day. Today, on the other hand, was glorious. Posey stood in the batter's box as Jeremy Affeldt stood on the mound waiting for the Giants catcher to get set. On Affeldt's first pitch, Posey grounded one to the right side of the infield and—just like that—all was right in the universe again. "I don't think I've ever been that excited to take live BP," Posey told reporters later. He got in a couple of good, solid hits off Sergio Romo. Elsewhere… Matt Cain was the first Giants pitcher to throw live BP this season, taking the hill against the Giants' best hitter, Pablo Sandoval. The Panda wasted no time getting his hacks in, swinging at the very first offering (it is batting practice, after all). - – - – - A somewhat scary moment occurred when Giants catcher Hector Sanchez drilled a shot up the middle and tagged Cain in his left calf. You could have heard a pin drop (and trainer Dave Groeschner's heart fly out of its chest) as Cain stumbled to the ground. But Shotgun quickly got up and let everyone know he was OK. A few minutes later, Affeldt drilled Sandoval in the ribs with a pitch, sending the Panda to the ground. Like Cain, Sandoval got right up continued working. "Don't be swinging," Affeldt joked with Pablo grinning. As GM Brian Sabean said later, "That's a rite of passage that's necessary, but nobody enjoys. Nobody's got their bearings on the mound or at the plate yet." Well, let's hope those bearings get greased up sooner than later. We don't need a repeat of 2011. - – - – - Along with Cain, Affeldt, and Romo, Eric Surkamp also threw live BP today. And so did Barry Zito—against the minor league squad. Guess manager Bruce Bochy wanted to do a little confidence boosting. For the minor leaguers. All joking aside, Bochy told reporters later that he was quite impressed with Zito's outing on the back field. - – - – - Pat Burrell dropped by the yard today to say hello to the fellas. No sign of The Machine, though.
I hope you enjoyed reading "Spring training recap—Day 9." I'm interested in your opinion on this article. Why not leave a comment at 22gigantes.com?
Original Story:
http://feedproxy.google.com/~r/22giga...
THE BACKYARD
BEST OF MAXIM
RELATED ARTICLES
What's up with all the Giants-bashing going on these days from the disgruntled and bitter members of San Francisco's discard pile? <a title="22gigantes: "Is <a target=" href="http://22gigantes.com/2012/02/is-cody-ross-bitter-about-the-giants.html" target="_blank">Last week, it was Cody Ross telling reporters how much better it is in...
Grab some pine, meat. Or at least a fishing pole. Former Giants catcher Bengie Molina has retired, according to Comcast SportsNet's <a title="CSN Bay Area: "Former Giant Molina surprised, honored by retirement bash"" href="http://www.csnbayarea.com/blog/giants-talk/post/EXCLUSIVE-Molina-surprised-honored-by-re?blockID=658550&feedID=5879" target...
Giants general manager Brian Sabean said Sunday that he's still pondering whether to add former outfielder Pat Burrell to the team's stable of special assistants and part-time coaches.
Giants president and COO Larry Baer affirmed Saturday that signing Matt Cain is a top priority. Cain said his agents are listening to any offers that they consider to be "fair value."
Buster Posey is healthy again and back behind the plate. Brian Wilson is back on the mound. Freddy Sanchez is back from shoulder surgery, eager to start turning double plays again. Aubrey Huff, he's just back in shape. Back together again as a full unit after an injury-plagued 2011 season derailed San Francisco's hopes of repeating as World Series champions, these rejuvenated...
Let's dig into the Giant's third basemen for the upcoming 2012 season. Since Edgardo Alfonzo and Pedro Feliz manned the position from 2003 through 2007, the Giants have had little offensive power coming from the "hot-corner". After Feliz hit 22, 20, 22 and 20 home runs from the 2004 to 2007  seasons respectively and Alfonzo hitting 13 and 11 home runs in 2003 and 2004, the...
A subdued Brian Wilson began Spring Training by admitting that he pitched with a sore throwing elbow and a bad hip through much of last season. Monday, a rejuvenated Wilson sounded much more like the prescient, confident, eloquent Giants closer from two years ago who hadn't yet grown his feared beard.
While Tim Lincecum and Matt Cain appear destined for $100 million contracts, it might be unwise for the Giants to sign either to a nine-figure deal. Historically speaking, that is. The success rate of $100 million...
Closer looks sharp and declares himself healthy
San Francisco Giants president and CEO Larry Baer hinted Saturday there might not be a swift resolution regarding his club's territorial rights in the South Bay and whether the Oakland Athletics will be allowed to relocate to San Jose.
Giants News

Delivered to your inbox

You'll also receive Yardbarker's daily Top 10, featuring the best sports stories from around the web. Customize your newsletter to get articles on your favorite sports and teams. And the best part? It's free!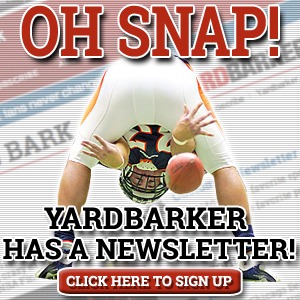 Latest Rumors
Best of Yardbarker

Today's Best Stuff

For Bloggers

Join the Yardbarker Network for more promotion, traffic, and money.

Company Info

Help

What is Yardbarker?

Yardbarker is the largest network of sports blogs and pro athlete blogs on the web. This site is the hub of the Yardbarker Network, where our editors and algorithms curate the best sports content from our network and beyond.