Found April 21, 2013 on Cub Reporter:
The Brewers go for the series sweep, their 7th win in a row overall, and their 17th win in the last 22 meetings with the Cubs. Is that depressing enough for you? Cubs v. Wily Peralta (0-1, 6.19; pitched well but took an ND in 4/9 game at Wrigley which his bullpen blew for him): DeJesus 8, Castro 6, Rizzo 3, Soriano 7, Schierholtz 9, Castillo 2, Valbuena 5, Barney 4, Feldman 1. Brewers v. Scott Feldman (0-2, 6.00; pitching for the first time since a loss to the Giants 10 days ago): Aoki 9, Segura 6, Braun 7, Weeks 4, Maldonado 2, Gonzalez 3, Gomez 8, Betancourt 5, Peralta 1.   Tags: Cubs game thread
Original Story:
http://feedproxy.google.com/~r/TCRfee...
THE BACKYARD
BEST OF MAXIM
RELATED ARTICLES
The Cubs claimed speedy centerfielder Julio Borbon off of waivers yesterday. Borbon made himself known amongst the Cubs faithful by being caught stealing to end the game. Prior to that there was a lot of speculation about the roster move to clear a space on both the 40 man and 25 man rosters. Many speculated that Borbon addition would mean the end of Dave Sappelt in the lineup...
WHAT'S ON SECOND?
Your browser does not support iframes.A wacky series of events unfolded Friday evening at Miller Park.It all began in the bottom of the eighth when Milwaukee's Jean Segura swiped second base. That's no big deal by itself. Players steal bases every night in Major League Baseball.One pitch later, teammate Ryan Braun draws a walk to put runners on first and second, with no...
MILWAUKEE -- A play that turned out to be harmless in the end left official scorers scrambling and players and coaches scratching their heads for an explanation Friday night at Miller Park. It was easy for the Brewers to laugh about it afterward because they held on to beat the Cubs, 5-4, for their fifth straight win, but they ran themselves out of a promising eighth inning in the...
Last week saw the release of OOTP14, the latest in Out of the Park Developments excellent baseball simulation series, and ever since then I have been playing it. The game is a definite upgrade from last season, but also I played as the Yankees, I played as the Pirates and I played as the Braves, but I never played as the Brewers. The reason is simple: I don't know what the hell...
MILWAUKEE -- Milwaukee Brewers starting pitcher Mark Rogers will begin a rehab assignment Tuesday with Double-A Huntsville as he tries to work his way back from a right shoulder injury. Placed on the disabled list March 26 with right shoulder instability, Rogers had the Brewers puzzled about his drop in velocity during spring training. Usually hitting the mid-90s with his fastball...
Right when you think you understand everything about the game-- you find out that someone can theoretically steal first! Your browser does not support iframes. In this case, Milwaukee Brewers shortstop Jean Segura steals second and after Ryan Braun walks the two try a double steal. The Cubs play it perfectly though with a solid throw by Shawn Camp to pick off Segura, but he...
MILWAUKEE For those who feel spring training is too long, Kyle Lohse is making a very compelling case in support of the argument. After signing a three-year, 33 million deal with the Brewers in time to make just one spring training start, Lohse was expected to go through some early season hiccups as he settled in. Instead, Lohse has had been in midseason form, showing impeccable...
MILWAUKEE -- In sports, everyone loves to recognize the first time something happens. Brewers rookie right-hander Hiram Burgos made his Major League debut Saturday night at Miller Park, so his fellow starting pitchers decided to have a little fun with his "firsts" after the game. Placed on Burgos' chair was "the first towel sat on," while baseballs signed...
I watched this a few times and am still a bit confused. The long and short of it is that Jean Segura actually stole first base on Friday night. If you don't believe me check out the insane video and even more insane play-by-play call made by the good folks at Yahoo!. Thanks to the Big League Stew we have one of the most complex step-by-step rundowns of a rundown: • Segura...
After leading the National League in batting average and slugging percentage last week, Milwaukee Brewers center fielder Carlos Gomez has been named the National League's Player of the Week. Gomez, 27, went 9-for-18 with two home runs, three RBI, scored five runs and posted a .944 slugging percentage to help lead the Brewers to a perfect 6-0 homestand.Raising his batting average...
This season hasn't gotten off to the start that the Chicago Cubs would have liked. And if you've paid even the slightest bit of attention to this organization over the course of the past couple of years, it should come as no surprise at all that they currently sit at 5-12, at the bottom of the National League Central. Despite those extremely low expectations coming in...
The Cubs lost in epic fashion tonight.  It was spectacular and glorious.  In some ways it was predictable, but they were facing a very good Reds offense and did not have their best defense in place.  This is as good a time as any to vent, even though it's still April. Things we know to be true… The Reds are good. The Cubs are bad. Dave Sappelt probably shouldn't be allowed...
MLB News

Delivered to your inbox

You'll also receive Yardbarker's daily Top 10, featuring the best sports stories from around the web. Customize your newsletter to get articles on your favorite sports and teams. And the best part? It's free!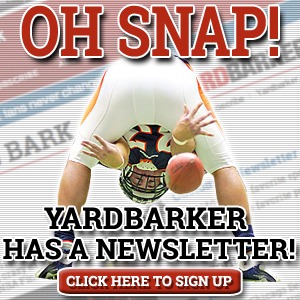 Latest Rumors
Best of Yardbarker

Today's Best Stuff

For Bloggers

Join the Yardbarker Network for more promotion, traffic, and money.

Company Info

Help

What is Yardbarker?

Yardbarker is the largest network of sports blogs and pro athlete blogs on the web. This site is the hub of the Yardbarker Network, where our editors and algorithms curate the best sports content from our network and beyond.