Found March 12, 2012 on Fox Sports Wisconsin:
PHOENIX Twice in a span of 25 months, Dale Sveum was interviewed and passed over as Doug Melvin and the Milwaukee Brewers searched for a new field manager. Under Ken Macha, who took over in 2009, the Brewers stumbled. Granted, a lack of quality pitching was as much to blame as anything, but the disconnect between the players and manager was evident during Macha's two seasons, during which time Sveum served as as a confidant of sorts. It makes sense, then, that the Brewers went outside the organization in the fall of 2010 when looking to replace Macha. Melvin wanted a fresh, outsiders perspective on his roster. He wanted to bring in somebody with a winning mindset. He wanted somebody who could take this team of young stars to the next level. And to his credit, Sveum still stuck around. "I was disappointed," Sveum said earlier this week when he brought his new team to Maryvale Baseball Park to face his former team. "I wanted to manage, but it wasn't to the point that I wanted to leave. One, I know how precious these jobs are at the big league level. When I was notified they wanted me back in some capacity, I wasn't going to jump ship because I didn't get the managing job. "I wanted to stay," he said. "At that time, the Milwaukee Brewers were the place I wanted to be. It was a good organization, and the organization is obviously getting to the point where it got last year. I didn't want to leave. I wanted to come in and manage, but I didn't want to go coach somewhere else." Handing the job to Sveum would have made sense and created a seamless transition. But how would Sveum have faired having moved from buddy to boss? Nobody is questioning Sveum's qualifications. He's regarded as one of the best minds in the game, but at the end of the day the Brewers needed Roenicke. They needed his style. They needed his attitude. They needed his perspective. They needed his leadership. They needed his pedigree. They needed him. In 10 seasons working on Mike Sciocia's staff with the Los Angeles Angels of Anahiem, Roenicke helped lead a team that posted just two losing seasons, went to the playoffs six times and won the 2002 World Series. His calm, cool and collected demeanor was the perfect recipe for the Brewers fun-loving and hard swinging ways. He gives the players the freedom to be themselves see Nyjer Morgan, Beast Mode and the team-wide western-themed flight from Houston as leading examples but also has enough respect from the players to demand a commitment to excellence, perfection and a professional attitude. Roenicke has a good sense of humor. Not many managers would appreciate a young reliever doing a (fairly accurate) impression of him, but Roenicke laughs it off. He wants his guys to have fun, he wants his guys to enjoy their jobs and play carefree and loose. That's not to suggest that Sveum wouldn't have been able to elicit the same amount of professional courtesy. In six seasons as a coach, he no doubt had the respect of his players and had their support both times his name came up as a candidate for the full-time field manager's job. But as good as he was, he wasn't the right guy for the job. Sveum is a no-nonsense guy. There's no frills too him. He talks baseball. He knows baseball. It's been his life. For a team that's wandered in the desert the last few seasons and needs a change in attitude and approach, he's the guy. He will have his work cut out for him on the North Side, but with Theo Epstein running the show, it's not unfathomable to think that the rookie skipper will experience success. It may not be this season, but chances are it will happen sooner rather than later. Ideally, Sveum would have stayed in Milwaukee and fulfilled his professional dream. It wasn't meant to happen, though. And the Brewers, who very well could make another run to the playoffs in 2012, couldn't have found a better candidate to lead the team.
Original Story:
http://www.foxsportswisconsin.com/03/...
THE BACKYARD
BEST OF MAXIM
RELATED ARTICLES
PHOENIX In six seasons on the Milwaukee Brewers' coaching staff, Dale Sveum did it all. Hired by Ned Yost in 2006 to serve as third base coach, he became the team's bench coach a year later. In 2008, Sveum became the unlikeliest of interim managers, taking the reins after Yost was fired with 12 games to play as the Brewers returned to the playoffs for the first time in...
PHOENIX Yovani Gallardo is one step closer to being ready for the regular season. The Brewers right-hander threw 45 pitches in a 3.1-inning effort Sunday in Milwaukee's 5-4 victory over the Colorado Rockies at Maryvale Baseball Park. Gallardo allowed a walk and three hits in his second Cactus League start of the year and has yet to allow a run in 5.1 innings of work. &quot...
PHOENIX Usually during split-squad games, Ron Roenicke stays back at Maryvale Baseball Park. Tuesday, however, the Milwaukee Brewers' manager made the 25-minute trek across Phoenix to get a good look at players fighting for a roster spot as the Brewers took on Oakland at Phoenix Municipal Stadium. Roenicke wanted to focus his attention on a few of the team's young pitchers...
Most of you were probably watching the Big Ten championship game, but the Brewers played today, too. The Crew snapped their losing streak by edging out a 5-4 victory against a split Rockies squad. Yovani Gallardo started, allowing 3 hits and a walk while striking out two over 3 1/3 scoreless innings. Marco Estrada added three innings of excellent relief, holding the Rockies scoreless...
PHOENIX (AP) -- Manny Ramirez hit his first home run of the spring and Yoenis Cespedes went hitless again in Oakland's 8-6 win Tuesday over a Brewers split squad. Ramirez blasted a solo homer to left-center in his first at-bat against Milwaukee right-hander Mike Fiers. Ramirez, who has not played in the majors since last April, had been 0 for 8 this spring. He also drew a walk...
Manny Ramirez hit his first home run of the spring and Yoenis Cespedes went hitless again in Oakland's 8-6 win Tuesday over a Brewers split squad. Ramirez blasted a solo homer to left-center in his first at-bat against Milwaukee right-hander Mike Fiers. Ramirez, who has not played in the majors since last April, had been 0 for 8 this spring. He also drew a walk and flied out...
Yovani Gallardo stayed on track for a possible opening day assignment. The former All-Star pitched 3 1-3 scoreless innings Sunday and the Milwaukee Brewers beat a split squad of Colorado Rockies 5-4. Gallardo used 45 pitches to scatter three hits and a walk with two strikeouts. He's fanned six in 5 1-3 innings this spring - he finished fifth in the NL last season with 207 strikeouts...
The 2011 Milwaukee Brewers gave their fans their first division title since 1982. Ryan Braun brought the MVP Award back to Milwaukee for the first time since Robin Yount won the award in 1989. Both feats were Milwaukee firsts since the club has been in the National League. Of course, already in 2012 we have
Zack Greinke threw three scoreless innings for Milwaukee's split squad and the Seattle Mariners came back to beat the Brewers 7-4 Tuesday. Greinke gave up one hit and struck out five. He left after issuing his lone walk to Casper Wells leading off the fourth. Alex Liddi hit a go-ahead single for the Mariners in a five-run ninth. Michael Saunders added a two-run double off Mark...
The Milwaukee Brewers are going to suck this year at a near record level.  Only once in this franchise's "storied" history have they lost 100 games.  In 2002, they were, and ouchie wow wow, 56-106.  This year I see them losing an even 100.    With all the sucky teams the Brewers have had why will this be the 2nd worst ever?   I'm glad you asked.   Pitching.  Pitching...
MLB News

Delivered to your inbox

You'll also receive Yardbarker's daily Top 10, featuring the best sports stories from around the web. Customize your newsletter to get articles on your favorite sports and teams. And the best part? It's free!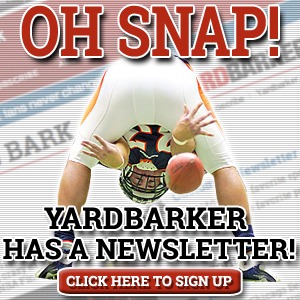 Latest Rumors
The Backyard

Today's Best Stuff

For Bloggers

Join the Yardbarker Network for more promotion, traffic, and money.

Company Info

Help

What is Yardbarker?

Yardbarker is the largest network of sports blogs and pro athlete blogs on the web. This site is the hub of the Yardbarker Network, where our editors and algorithms curate the best sports content from our network and beyond.