Found September 14, 2012 on Pirates Prospects:
Leading off the top of the second inning in the Pirates' 14-inning loss to the Reds on Monday, Jose Tabata hit a comebacker that Mat Latos knocked down and easily threw on to first for the out.
It was a harmless play, one of little significance in a game that would ultimately go down as an extremely frustrating defeat for the Bucs. However, Charlie Wilmoth of Bucs Dugout tweeted the following after the out.
Remember when Jose Tabata was fast? Those were the days.

— Charlie Wilmoth (@BucsDugout) September 10, 2012
People, Jose Tabata DID used to be fast. bucsdugout.com/2010/6/16/1520…

— Charlie Wilmoth (@BucsDugout) September 10, 2012
I nodded in agreement when I read the comments, as they were similar to some of my own observations from the recent past. About two weeks ago, I wrote the following on Twitter after Tabata grounded out to first.
Tabata has definitely lost a step or two the past couple years. Was probably a 70 runner when he came up. Might only be a 50 now.

— Matt Bandi (@MBandi) August 28, 2012
That makes a big difference when you hit as many ground balls as he does.

— Matt Bandi (@MBandi) August 28, 2012
I was thinking of the post Charlie linked to when I made those comments, in which Bucs Dugout commenter MarkInDallas created a video which showed Tabata running home-to-first in four seconds flat. Going home-to-first in 4.0 seconds is near elite speed for a right-handed batter. In fact, in the same clip, we saw Andrew McCutchen running the same distance at essentially the same speed. On his ground out in the August 27th game, I had grabbed a stopwatch and quickly timed Tabata going down to first. I measured it a few times and came up with various results in the range of 4.35 – 4.4 seconds. That is barely average, maybe even slightly below average.
Charlie's comments on Monday reminded me of plans I had previously made to put a stopwatch to a few more of Tabata's trips between home and first. I started with the comebacker he hit in Monday's loss. I was pretty surprised at the result the first time I timed him. So I timed him again. I timed him a third time. I kept replaying the ground ball, and the results remained the same. He was somewhere between 4.0 and 4.1 seconds each time I measured it. That is a plus runner, somewhere around a 70 on the 20-80 scouting scale. I was shocked at the results. Thinking that I was maybe just a little too slow starting the clock, I went back to the 2010 video and manually timed it. (I don't quite have the technology that Mark did, which allowed him to measure more precisely by counting frames.) I came up with similar results, with times in the 3.95 to 4.05 second range.
Surprised by my initial results, I took a look at video of some other Tabata ground outs. On September 4th, he grounded out to third in the fifth inning. I had him in the 4.1 to 4.2 second range on that play. On August 24th, he hit one sharply at third baseman Aramis Ramirez in the first. He hesitated slightly coming out of the box, which led to a home-to-first time around 4.2 – 4.3 seconds. He grounded out to second in the third inning of the Pirates' 19-inning win over the Cardinals on August 19th. Tabata looked extremely slow to me on this play, but the results were in the 4.1 to 4.2 second range.
I should add that none of these plays were all that close, so Tabata generally was easing up a bit in his final step or two. In the video from 2010, Tabata was barely thrown out, and was running all out the entire way. I went back and watched a few more videos from 2010, and could not find another at-bat during my brief search in which Tabata was close to the four-second mark. That ground out in Mark's post on Bucs Dugout was probably his absolute best home-to-first time.
So what conclusions can we draw from this? I think the main thing to take away is that Tabata is generally running a bit more quickly than he appears to be. He simply does not have a running style that is all that aesthetically pleasing. That was the main takeaway in the 2010 video, when he surprisingly matched McCutchen down the line, and it is probably the most important thing to remember here.
In addition, after looking at some of these various ground outs from 2012, I would say that Tabata has probably slowed down a bit from when he was a 21-year-old making his big league debut. However, his speed has not dropped off nearly as much as I expected. He was probably a 70-75 runner when he arrived in the big leagues, and he is probably closer to a 65 now. That is still well above average, particularly for a big league player that is growing older and maturing physically.
Tabata is probably going to slow down even more as he ages and his body continues to fill out, particularly when you consider all of the nagging leg injuries he has experienced early in his career. Despite the surprising results I came across in writing this article, I am still convinced that his game will need to evolve for him to regain the ability to be a productive big leaguer. He is already seeing regression in some of the speed-based aspects of the game that he excelled in when he was younger, such as defense and base running. As an extreme ground ball hitter, I am not optimistic about his ability to hit for a high average in the future either. In order for Tabata to be an everyday player, he will have to learn to get the ball in the air more often and rely less on his speed to reach base.
Original Story:
http://feedproxy.google.com/~r/Pirate...
THE BACKYARD
BEST OF MAXIM
RELATED ARTICLES
According to CAA on Twitter (via MLBTR), the projected cutoff date for Super Two players is expected to be two years and 139 days. This doesn't really impact the Pittsburgh Pirates much. Neil Walker, who entered the year with one year and 166 days of service time, was always going to be a Super Two player. None of the other players on the roster were close to the Super Two cutoff...
Five former Pittsburgh Pirates born on this date, including one that was related to a United States President. In his Jolly Roger Rewind, John Fredland takes a look back at a game from 1978 with a big hit from Scrap Iron. Rich Robertson (1968) Lefty reliever for the 1993-94 Pirates. He was a ninth round pick by the Pirates in the 1990 draft out of Texas A&M. Rich was drafted...
The Pittsburgh Pirates losing streak reached a season-high six games on Wednesday after falling 2-1 to Cincinnati. While the pitching staff kept the club in the game, the offense continues to struggle. That has been the story during the streak for the Pirates. Aside from losing 12-2 in the blow out on Friday against Chicago, Pittsburgh lost each of their next five games by two runs...
The Pittsbugh Pirates certainly don't seem to have a sense of urgency for a team that still has a chance to reach the postseason for the first time in 20 years. The Pirates lost their seventh consecutive game Friday, falling 7-4 to the Cubs in Chicago at Wrigley Field. They entered the game three games behind St. Louis for the second National League wild card before losing...
Pittsburgh Pirates Live Game Chat
Pittsburgh Pirates Live Game Chat
The Pirates lost again. It sucked. A.J. Burnett pitched well. He was in the zone early on and ended up striking out eight over six solid innings. The Reds scratched out two runs off him – both started with the leadoff man reaching second, then taking third on a productive out, then scoring on a productive out. Imagine that. The Pirates struggled against Homer Bailey for the most...
The Pirates continue to plummet, as they lost their seventh in a row on Friday to fall within one game of .500. I'm honestly at a loss for words besides simply describing the action, so here goes. James McDonald was disappointing yet again, continuing a personal second half free-fall that won't seem to end. He was shaky early on, but was able to pitch out of trouble for a few...
On Aug. 1, the Pirates were 60-44 and three games out of first place in the NL Central. They've since lost 27 of 35 games and are in danger of falling under .500 which would extend their record for consecutive lossing seasons to 20. Pirates' first baseman outfielder Garrett Jones told PiratesDugout.com's George Von Benko the Bucs are struggling to right the ship and finish strong.
Today is a popular day in team history for lefty relievers, three of them were born on this date, including one that pitched for the last team in franchise history to have a winning season and another that pitched for the 1960 Pirates team that won the World Series. We also have a player who took part in the first game in franchise history. In his Jolly Roger Rewind, John Fredland...
Pirates (72-70) at Cubs (56-87) 2:20 PM EST–Wrigley Field, Chicago Here is the MLB.com Gameday TV: ROOT Sports, WGN Well, the Pirates have gotten chance after chance after chance to stay in the wild card hunt despite their awful play recently. And here comes another chance, as they still somehow sit only three games out.  The Pirates are in Chicago for a four game set against...
MLB News

Delivered to your inbox

You'll also receive Yardbarker's daily Top 10, featuring the best sports stories from around the web. Customize your newsletter to get articles on your favorite sports and teams. And the best part? It's free!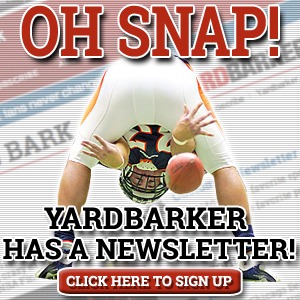 Latest Rumors
Best of Yardbarker

Today's Best Stuff

For Bloggers

Join the Yardbarker Network for more promotion, traffic, and money.

Company Info

Help

What is Yardbarker?

Yardbarker is the largest network of sports blogs and pro athlete blogs on the web. This site is the hub of the Yardbarker Network, where our editors and algorithms curate the best sports content from our network and beyond.