If you're not hip to Michael Schlact…you'remissing out.
Whether it's going back and forth with hisfollowers (nearly 11,000 of them!) or live tweeting an ill-fated bus trip…theformer Texas Rangers farmhand is no stranger to social media. Recently, therighty was even named Baseball Digest's top Minor League player to follow onTwitter.
But it was this past Tuesday that Schlact took Twitter to a whole new level and tweeted to his nearly11,000 followers where he'll be playing this upcoming season.
If you missed it, I've signed with the SouthernMaryland Blue Crabs of the Atlantic League. So excited and grateful for theopportunity!
HOVG: Michael, first off…congratulations onre-signing with the Blue Crabs. Was returning to Southern Maryland an easy decision for you?
SCHLACT: Absolutely. It's a great place to live, a beautiful stadium,an awesome coaching staff and team, plus the league has such high calibercompetition!
HOVG: You're heading into your ninth season inbaseball. What's the plan going into this year and where do you see yourself ayear from now?
SCHLACT: My mission in 2012 is to show everyone that I'm healthy. Yes,a shoulder surgery for a pitcher is a definite negative, but with hard work andtaking care of your arm, it is possible to return to full health or stronger! Iset statistical goals for myself each year. I hit those marks last year and Iplan to up the ante this year for myself.
HOVG: What's the atmosphere like there inWaldorf? I've gotta think playing for an owner like Hall of Famer BrooksRobinson has some advantages.
SCHLACT: The Blue Crabs really take care of us. Regency FurnitureStadium is beautiful, and the fan base there is phenomenal. We can always counton the fans to have our back at home or on the road! The city is close to Washington DCso there's plenty to do!
HOVG: I mentioned the infamous road trip live tweetfrom this past June earlier. Now, I know I wrote about it here at The Hall,but were you surprised to see it pop up over at The Washington Post's website?
SCHLACT: Haha! Yes, that story got around. I was surprised to see howpopular a broken down charter bus could be. Playing Minor League Baseballdefinitely has interesting stories that go along with it, but that one takesthe cake for me.
HOVG: Do you have any lasting memories from thatnight? Was there any fallout?
SCHLACT: To be honest, it was amazing to see a group of guys stayupbeat and positive in a situation that was less than appealing. We made thebest of the situation. If you're referring to fallout from the story beingpublished, no. It showed that even in a bad situation, we could be positive andmake the best of it. I think it was a more noticeable story because at thetime, 3 or 4 other teammates were tweeting about it too. There's a right way togo about tweeting things like that, and I feel like we all did a good job of keepingit entertaining and honest.
HOVG: Lastly, Southern Maryland is also the baseball home to Josh Caray. I had theopportunity to catch up with Josh this past seasonand we talked about his legendary family. Has anyone on the team takenadvantage of situation and attempted a Harry Caray impersonation around Josh oris it something that just isn't approached?
SCHLACT:  Oh trust me, it's approached. Justask him. I probably did it more than anyone. He has a sense of humor, andeverything was in good fun. But, in all seriousness, Harry was one of the mostlegendary announcers in history. Josh takes that very seriously but also knowsthat he'll get his fair share of impersonators...especially thanks to WillFerrell on SNL.
Thispast season, Schlact was 6-4 with a 4.61 ERA with the Southern Maryland BlueCrabs.  The best way to reach to him is via Twitter. He is also on Facebook and maintains his own blog.   
Original Story:
http://www.hallofverygood.com/2012/01...
MORE FROM YARDBARKER
Rangers News

Delivered to your inbox

You'll also receive Yardbarker's daily Top 10, featuring the best sports stories from around the web. Customize your newsletter to get articles on your favorite sports and teams. And the best part? It's free!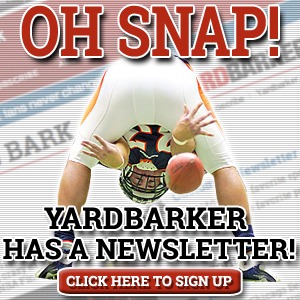 Latest Rumors
Best of Yardbarker

Today's Best Stuff

For Bloggers

Join the Yardbarker Network for more promotion, traffic, and money.

Company Info

Help

What is Yardbarker?

Yardbarker is the largest network of sports blogs and pro athlete blogs on the web. This site is the hub of the Yardbarker Network, where our editors and algorithms curate the best sports content from our network and beyond.