Found August 31, 2012 on Fox Sports North:
MINNEAPOLIS These days, the clapping is a bit thinner. Roving vendors' neon yellow shirts glow a bit brighter silhouetted against empty green seats, their piercing advertisements ringing ever louder. It's the twilight of August at Target Field, and the three-season-old ballpark is glistening in the 90-degree heat. She's showing her age a bit, this field that Minnesota so treasures. She's still shiny and clean, still a novelty, but for the first time ever, her stands are not automatically full. Children are going back to school. A late summer heat wave doesn't help fill those stands, nor does the Twins' 53-78 record. Through the rose-tinted glasses of this glorious post-Metrodome era where baseball again means sunlight and breeze and an errant rain shower, Thursday's 32,578 crowd appeared grim. It followed a night when the Twins posted their worst attendance in Target Field history, 29,281, for a 10-0 win over the Mariners. It was the byproduct of the date and time (Aug. 30 at noon) and the opponent (the 63-68 Mariners), and as September looms, it's hard to imagine too much improvement. Yet still, it's really not that bad. Really. In fact, it's pretty good. Take heart, Twins. The novelty has not yet worn off. The team's season ticket base of 23,000 full season equivalents has bolstered an attendance average that stands at 34,987, good for 11th best in the majors. That's markedly better than the MLB average, which stood at 31,347 after Wednesday's games, and it is made more impressive by the Twins' lackluster record. The team isn't winning, but the fans are coming out, sometimes in droves. Numbers like these can cushion the hurt of losing for the team's owners and personnel, but they know it might not last. For though in many cases the correlation between winning and attendance is weak, the Twins are all too aware that sustaining the numbers they've posted in their new stadium's first three seasons won't be easy. In Target Field's inaugural season, 2010, the team ranked sixth in attendance behind the Yankees, Phillies, Dodgers, Cardinals and Angels. Four of those five franchises boast rich histories and are devoted fan bases (the Angels, perhaps not so much), and the Twins should be proud to have competed with them. But that year, it was almost expected. It was the perfect confluence of circumstances: The Twins won the AL Central and boasted a new park. There should be no shock in such high numbers. Last season, Target Field was still a novelty, as was the concept of outdoor baseball, and attendance proved it. The Twins had the worst record in the American League but still brought in the fourth-largest crowds in the majors, attracting just 55,533 fewer fans than in 2010. They're still riding that wave in 2012 despite continuing last year's losing trend, and the team is on pace to bring in 2,837,072 fans this year. If the pace holds, it'll be the first time that Target Field's attendance has slipped below the 3 million mark for a season, but in context, it's still noteworthy. Before 2011, when they held the worst record in the American League, the Twins hadn't finished at the bottom of their division since 2000. That year, by comparison, they averaged 12,355 fans per game at the Metrodome, filling just 26.5 percent of its capacity. In fact, the team hadn't averaged more than 30,000 fans at the Metrodome since 1992, and now it's a surprise when one game's attendance dips below that figure. So no matter what the record says, Target Field still marks a resurgence for the Twins as a franchise and a fan base. They're finally in step with the rest of the league, perhaps even outpacing other teams in terms of what they can offer fans in the stands, at least but perhaps not on the field just yet. Baseball commissioner Bud Selig awarded the 2014 All-Star Game to the ballpark on Wednesday, capping the Twins' maturation into a baseball destination, and even then, the disparity between atmosphere and on-field product had to be addressed. "When you own a team long enough, you're going to have good years and some not-so-good years," said Selig, a former owner of the Milwaukee Brewers. "That's the way life works, and you couldn't have over a period of time an organization that has a better reputation. This is one of those clubs that you never worry about. They always do the right thing and in the right way." The Twins did things the right way when they build Target Field, creating a product that fans wanted and that the team needed to remain relevant. That's been confirmed by these high attendance numbers, and despite the slight dip this season, Target Field should still be proud. Many fans who didn't have the means to purchase high-priced, sought-after tickets in the ballpark's first two seasons are now attending their first games. Organist Sue Nelson, who spends her time in a personalized piano bar mingling with fans, has noticed it, and she takes the new faces as the bright side of this frustrating season. Twins president Dave St. Peter has gotten feedback from everyone from new fans to stalwarts, and they all continue to enjoy the Twins' new palace. "Based on the research that we've done, they're having a great time here, and they intend to come back often," St. Peter said. "We're hoping that some of that sampling that's going on results in an even stronger base as we go forward and our on-field product improves." St. Peter said that the team, though focused on improving its personnel and record, also knows that it needs more aggressive marketing in the future. They're no stranger to that approach it was needed every season at the Metrodome and it will be easier with the current facility in place. That said, this season has somewhat threatened Target Field's status as a product that sells itself, and St. Peter and his colleagues are ready to market when necessary. Any discussion of the Twins' current attendance seems to circle back to winning. No matter that it's still 11th-best in the league, the organization does not want this to be the status quo going forward. The Twins got a taste of what it's like to be among the league's best and have a great ballpark in 2010, and they want that back. With a team like the one of two seasons ago, that would be easy to accomplish, but if there's one thing that attendance data yields, it's that this is a bit more complicated than just wins and losses. If the playoffs began Wednesday, the eight teams that would qualify would have ranged in attendance average from second in the majors (Yankees) to 29th (A's). The other teams would rank third (Rangers), sixth (Cardinals), 14th (Nationals), 15th (Reds), 16th (Braves), 23rd (Orioles) and 24th (White Sox). That's a huge range, with the median right around the league average. So winning, in some cases, means very little. Attendance is about building a fan culture that emphasizes coming back over and over. That's bred through repeated winning, through fostering a sense of history and baseball culture, and though the Twins have not established a place among the most consistently competitive teams in baseball, they do have that sense of community. This year, if teams remain on their current attendance pace, will mark the first time since 2008 that a non-playoff team leads the league in attendance. It'll be the Phillies in 2012; the Yankees did it in 2008. Both are teams with that requisite reputation and culture. Both won before they led the league, and both won and will win after. That's what fosters consistently high attendance numbers, and with a new stadium and a large fan base, the Twins have something to build on to get there. "As our on-field product improves we're going to be right back to those levels that we achieved in 2010 and 2011 in terms of drawing more than 3 million fans," St. Peter said. "I'm hoping that over time that will become more the norm." Follow Joan Niesen on Twitter.
Original Story:
http://www.foxsportsnorth.com/08/31/1...
THE BACKYARD
BEST OF MAXIM
RELATED ARTICLES
MINNEAPOLIS After sitting out his third game in a row, Twins outfielder Denard Span was officially placed on the 15-day disabled list after Thursday's 5-4 loss to the Mariners. He has been suffering from a strained right sternoclavicular joint in his right shoulder, which an MRI revealed on Wednesday.Span, who missed nine games between Aug. 13 and Aug. 22 with the same injury...
The Minnesota Twins have recalled outfielder Matt Carson from Triple-A Rochester. The Twins made the move on Friday, one day after putting center fielder Denard Span on the disabled list with a sprained right collarbone. Span was first injured on Aug. 12 and missed 14 of the next 17 games. When the injury still had not improved enough for him to feel comfortable playing on the Thursday...
In his 10th year of professional baseball, Samuel Deduno has finally gotten a chance to prove he's major league material. After going 5-2 with a 3.72 ERA in 10 starts for the Minnesota Twins, it's hard to believe it took this long. He's been showing his potential since July 8, when he made his first major league start at Texas, six days after turning 29. In his last...
As the month of September began and major league rosters expand, the Twins made a pair of roster moves Saturday. Minnesota reinstated starting pitcher P.J. Walters from the 60-day disabled list and also selected the contract of pitcher Esmerling Vasquez. Walters had a lengthy stint on the disabled list after enduring right shoulder inflammation in mid-June. The right-handed starter...
Joe Mauer hit a grand slam and Chris Parmelee added a three-run shot and the Minnesota Twins outlasted the Kansas City Royals 8-7 to complete a sweep of a doubleheader Saturday. Justin Morneau drove in two runs and Minnesota rookie Cole De Vries beat the Royals 3-1 in the first game. Mauer's grand slam in the second inning of the nightcap was the third of his career and the...
Justin Morneau drove in two runs and Minnesota rookie Cole De Vries beat the Kansas City Royals again 3-1 on Saturday in the first game of a doubleheader. De Vries (4-5) has four career victories and three of them are against the Royals. He limited the Royals to one run on seven hits, walked none and struck out three over 6 2/3 innings. De Vries has won back-to-back starts, holding...
KANSAS CITY, Mo. (AP) -- Joe Mauer hit a grand slam and Chris Parmelee added a three-run shot and the Minnesota Twins outlasted the Kansas City Royals 8-7 to complete a sweep of a doubleheader Saturday. Justin Morneau drove in two runs and Minnesota rookie Cole De Vries beat the Royals 3-1 in the first game. Mauer's grand slam in the second inning of the nightcap was the third...
It wasn't long ago when Joe Mauer was considered the premier catcher in the game. He was a St. Paul native and the face of the franchise when the Twins rewarded him with a long term deal. Just one year later they put him on waivers to check out the landscape for dumping his salary. This happened less than a year after three other teams locked committed $200M+ to first basemen.
Due to the steady rain that's lingered over Kansas City all day, the Twins' Friday night game against the Royals has been cancelled.A doubleheader has been scheduled for tomorrow, with the first game at 3:10 p.m. The Twins' Cole De Vries was scheduled to pitch against the Royals' Will Smith on Friday, and the Star-Tribune is reporting that it is still unknown how...
I was considering making this a live blog of the Gopher/UNLV tilt, but there area few issues with that: 1.  I don't care enough about the Gopher football team to write about it exclusively, even in one post.  Honestly off the top of my head right now I can name exactly one player, MarQueis Gray, and that's probably only because his name is so sweet.  It's not that...
MLB News

Delivered to your inbox

You'll also receive Yardbarker's daily Top 10, featuring the best sports stories from around the web. Customize your newsletter to get articles on your favorite sports and teams. And the best part? It's free!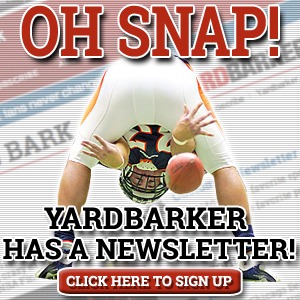 Latest Rumors
The Backyard

Today's Best Stuff

For Bloggers

Join the Yardbarker Network for more promotion, traffic, and money.

Company Info

Help

What is Yardbarker?

Yardbarker is the largest network of sports blogs and pro athlete blogs on the web. This site is the hub of the Yardbarker Network, where our editors and algorithms curate the best sports content from our network and beyond.