Found April 11, 2012 on Fox Sports:
PLAYERS:
Prince Fielder
,
Randy Wolf
,
James Loney
,
Freddy Sanchez
,
Erick Aybar
,
Miguel Cairo
,
Geoff Blum
,
Zack Greinke
,
Cole Hamels
,
Shaun Marcum
,
Kyle Lohse
,
Jeremy Guthrie
,
Jonathan Sanchez
,
Brandon League
,
Bobby Jenks
,
Mariano Rivera
,
Miguel Montero
,
Mike Napoli
,
AJ Pierzynski
,
Brandon Phillips
,
Ian Kinsler
,
Carlos Santana
,
Matt Cain
,
Joey Votto
,
Sean Marshall
,
Jay Bruce
,
Johnny Cueto
,
Aroldis Chapman
,
Mat Latos
,
Dusty Baker
TEAMS:
Detroit Tigers
,
Milwaukee Brewers
,
Boston Red Sox
,
Los Angeles Dodgers
,
San Francisco Giants
,
Los Angeles Angels
,
Cincinnati Reds
,
Arizona Diamondbacks
,
Philadelphia Phillies
,
St. Louis Cardinals
,
Colorado Rockies
,
Seattle Mariners
,
New York Yankees
,
Texas Rangers
,
Chicago White Sox
,
Cleveland Indians
On Opening Day a year ago, even Prince Fielder's Milwaukee Brewers teammates knew the power-hitting first baseman was on his way out of town as soon as the 2011 season ended. Milwaukee made a multiyear pitch to keep Fielder prior to the season, but nothing got done, which underscored the fact there was no way the Brewers were going to keep Fielder. "When you have a player like Prince, headed to free agency, really the only way you retain him is if he has a bad year,'' Brewers left-hander Randy Wolf said. "If he has a great year, the market is huge and the bar (for the contract value) gets set out of reach. Nobody's at fault. Both sides did what was best for them.'' And what clubs know is that what's best for them is to gamble on the future with a known product and sign a player in advance of him going on the open market, rather than taking the risk of waiting and seeing how the free-agent market will drive salaries. That's why big spende...
Original Story:
http://msn.foxsports.com/mlb/story/20...
THE BACKYARD
BEST OF MAXIM
RELATED ARTICLES
As reported by multiple sources including Adam McCalvey and Tom Haudricourt the talks between Brewers General Manager Doug Melvin and the agent for Zack Greinke - Casey Close, have been suspended.  According to Haudricourt Melvin stated that "... doesn't mean we won't talk again at some point but we're going to let it rest right now." The immediate reaction...
Next up for the Brewers, "CHEATER!" That wasn't exactly how the Cubs' PA guy introduced Ryan Braun in his first at-bat in a road game this year, his first at-bat in his new life. It was just how the guy in front of me in the left-field bleachers Monday night at Wrigley Field drowned out the announcement. Other people held up signs comparing Braun to Barry Bonds...
MADISON, Wis. The 73rd major league baseball All-Star Game was supposed to be a celebration of Milwaukee baseball. It was supposed to be a homecoming for commissioner Bud Selig, a Milwaukee native who helped bring his home city a professional baseball team. Instead, the 2002 All-Star Game at Miller Park turned into a debacle when both managers infamously burned through their pitching...
At times, the hatred between the Cubs and Brewers is palpable. One Milwaukee Brewers fan took his dislike for the Cubs to a new level with a tattoo starring mascot Bernie Brewer. Milwaukee Brewers mascot Bernie Brewer with an assault rifle doing a crotch grab over a bullet-filled Chicago Cub.  
AP Photo   With several of the Brewers' regulars getting a day off today, the lineup card looked a little different today. A few bench players got in a full day's work, and the batting order was rearranged somewhat. One of these was fourth outfielder/pinch hitter Norichika Aoki, who played left field and batted leadoff in the place of Ryan Braun (with Rickie Weeks moving...
By Andrew Gruman FOXSportsWisconsin.comThe Brewers had just taken the lead in the seventh inning Wednesday when Carlos Gomez drew a one-out walk. Ready to come to the plate, Yovani Gallardo glanced back at the dugout just to make sure that he was staying in the game. At that point, there was no hesitation from Brewers manager Ron Roenicke: the bottom of the seventh was Gallardo...
CHICAGO (AP) -- Alex Gonzalez hit a three-run homer in Milwaukee's five-run first inning, sending the Brewers to a 7-4 victory over the Chicago Cubs on Tuesday night. The Brewers had no problem adjusting to the weather on the chilly 40-degree evening. They sent 10 batters to the plate in the first inning against Paul Maholm (0-1). Chris Narveson (1-0) pitched five innings to...
Few things sting quite like hitting a baseball on a 39-degree night. Fortunately for the Brewers, they seemed to hit the sweet spot during several at-bats Tuesday, belting deep flies at Chicago's Wrigley Field. Alex Gonzalez's three-run homer set an early tone, and the Brewers soundly defeated the Cubs, 7-4. Milwaukee ended the bitterly cold night with three especially timely...
DETROIT -- If the Tigers win the World Series, it will go down as one of the most significant text messages in baseball history. Prince Fielder was sitting on the dais at Comerica Park, talking about his new 214 million contract at a press conference, when his cell phone went bloop. The sender: Miguel Cabrera. The message: Welcome. It might sound corny, but it means a lot, Fielder...
(Garza Dominated the Brewers in the Series Finale/Getty Images)What started out as a second straight day of a pitchers duel between the Brewers (4-3) and Cubs at Wrigley Field quickly turned into a dominating performance as the Cubs (2-5) took it to Zack Greinke in the 3rd inning in route to an 8-0 win the series finale.  After two innings of shutout baseball things fell apart for...
(AP Photo)   Starters: Chris Narveson (MIL): 5 IP, 6 H, 3 R, 2 BB, 4 K, 0 HR (85 pitches, 51 strikes) Paul Maholm (CHC): 4 IP, 6 H, 6 R, 2 BB, 2 K, 2 HR (80 pitches, 45 strikes) MIL Highlights: Jonathan Lucroy: 2-4, BB, HR Carlos Gomez: 2-5, 2B Ryan Braun: 1-4, 2 almost-home runs CHC Highlights: David DeJesus: 2-4 Alfonso Soriano: 2-4 Game Notes: -- The weather...
MLB News

Delivered to your inbox

You'll also receive Yardbarker's daily Top 10, featuring the best sports stories from around the web. Customize your newsletter to get articles on your favorite sports and teams. And the best part? It's free!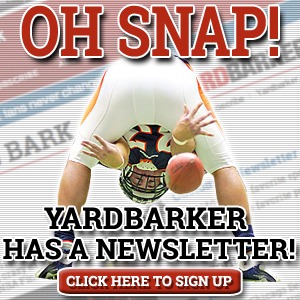 Latest Rumors
Best of Yardbarker

Today's Best Stuff

For Bloggers

Join the Yardbarker Network for more promotion, traffic, and money.

Company Info

Help

What is Yardbarker?

Yardbarker is the largest network of sports blogs and pro athlete blogs on the web. This site is the hub of the Yardbarker Network, where our editors and algorithms curate the best sports content from our network and beyond.