Found May 05, 2013 on The Daily Stache:
How much of the fault lies with the embattled Met manager? Terry Collins is a lame duck. The Mets' manager has been repeatedly denied a contract extension as the front office waits to see what he can do with this team. The problem is, they haven't given him much to work with. The 2013 New York Mets have more question marks than assets, and seem to have an unlimited number of ways to lose a baseball game. With every loss, Collins' job becomes less secure. How much of the blame should be put on the manager? The Case for Collins: His players are bad. The Mets have some strengths and some promising youngsters, but overall, the team needs more talent. The bullpen is horrible, the outfield is weak, there is no speed, and Terry has gotten nothing so far out of "slugger' Ike Davis. His GM and his owners have done very little to help him, asking him to win now while trading away Cy Young Winners for prospects and passing up on Free Agents to preserve draft picks. It is unfair to expect a playoff appearance from a team of such low caliber. Despite a lack of talent, Collins' squad has kept almost every game close. The Case against Collins:  He doesn't win games. He never has. A quick look at his stats shows that he has never surpassed 85 wins in his 8 full seasons as a skipper, and he has only won 76 games a year in his first two years in New York. The weakness of his roster is not an excuse. The Orioles, Athletics, and Nationals all earned  surprising playoff births last year and Collins should be held to the same standard. His players have tuned him out, refusing to make simple adjustment and making the same mistakes over and over again (Ike Davis is a prime example). The front office does not have his back and the fans clamor for Wally Backman. He makes questionable decisions almost every night, seemingly determining his bullpen usage by picking names out of a hat. The other day, he called for an intentional walk with a 1-2 count. He has had more than 2 years to get things going, and the team has been uncompetitive for nearly all of his tenure. The Verdict If the front office wants to judge Terry based on wins and losses alone, they must first acknowledge that they have given him very little to work with. But if Collins has lost the ability to reach his players, he cannot be the manager. Collins is a lame duck who will most likely be targeted as a scapegoat at the season's end (or sooner). The Mets should keep Collins if he can lead the Mets to a 500 season. They should look elsewhere if he cannot. Some of the criticism against him may be unjustified. But at the end of the day, a manager who does not win games cannot expect to have any job security. What are YOUR expectations for Terry? How should the Mets handle the situation? Let us know in the comments!     The post Terry Collins and the Blame Game appeared first on The Daily Stache.
Original Story:
http://dailystache.net/terrycollins/?...
THE BACKYARD
BEST OF MAXIM
RELATED ARTICLES
As of now, Terry Collins' job is safe and deservedly so. Based on getting the most out of what he has been given and basic fairness, there's nothing justifying Collins' job being in question. COLLINS: What's he thinking? (AP) However, fairness is irrelevant in sports. A manager's job security always becomes an issue when he has lame duck contractual status and his team...
Ever since Lucas Duda burst into our consciousness in 2010, nobody has been satisfied with his plate approach. Too many strikeouts and not enough walks, I frequently wrote. He gives away too many at-bats. He tries to pull too much and doesn't use the entire field. All valid in the early Duda critique. DUDA: Has the right approach (AP). Now, unbelievably, he's become too selective...
"Lucas Duda is the preeminent example of the Mets' organizational offensive philosophy of patience and power," writes Jorge Castillo of the Star-Ledger. The left fielder's .417 on-base percentage was 11th in the majors entering play Saturday and his .538 slugging percentage ranked in the top 30. But his remarkable selectivity could also be detrimental on a team that relies...
Blue chip pitching prospects are professional sports' most delicate flower. Except, unlike a flower, no scientifically proven method has been established regarding proper cultivation. There's no "right" way to bring a teenager up through an organization's system while still absolutely maximizing his production at the major league level. And in the back of everyone's mind...
When you live on the West Coast, sometimes you have to listen to the other team's broadcast. It can be excruciating. When your team starts winning, especially in clutch fashion, there's nothing better. That's what happened to me while listening to the Braves announcers last night. When the Braves made a move, the Mets had an answer. Clutch offense was the theme of the game...
Binghamton 6, Harrisburg 1 The Binghamton Mets launched a season-high three home runs and struck out a season-high fifteen Harrisburg Senators in a 6-1 victory at Metro Bank Park on Sunday afternoon. Binghamton used a ten-hit attack to secure their third series win of the season. B-Met third baseman Josh Rodriguez set the tone early. After Danny Muno worked out his team-leading 21st...
The New York Mets have had great success with Matt Harvey since he came up last year.  He has really kicked it into high gear to start this season and has become a phenom.  Zack Wheeler is in AAA Las Vegas struggling but most people rate him higher then they do Harvey.  Harvey also didn't have great numbers in AAA before he got promoted and look how that turned out.  I think...
Famed right fielder Darryl Strawberry debuted as a professional with the New York Mets 30 years ago today on May 6, 1983. The 21-year-old Strawberry, taken by New York out of Crenshaw High School in Los Angeles with the first overall pick in the 1980 MLB Draft, recorded his first hit two days later on May 8. Throughout the 1980s and early 1990s, the 6-foot-6, 200 pound Strawberry...
#Mets lineup: bit.ly/135Wm9LTejada SSMurphy 2BWright 3BBuck CTurner 1BDuda LFByrd CFBrown RFMarcum P — MetsBlog.com (@metsblog) May 3, 2013 Tonights Braves lineup vs Mets: Schafer RF, Simmons SS, J Upton LF, Freeman 1B, Gattis C, Uggla 2B, BJ Upton CF, Francisco 3B, Minor P — Braves Radio Network (@BravesRadioNet) May 3, 2013 Oh god. I just remembered we have to suffer through...
This game had a definite carnival atmosphere feel to it as the Atlanta Braves beat the Mets by the score of 9-4 to split the rain-shortened two-game series at Turner Field. What a comedy of errors for the Mets even though the box score would suggest a clean game. I hate sad stories and bad endings so this will be short and sweet bitter. What was up with Duda on that fly ball? Dude...
First off, I want to make sure that I cover the beginning of the game and give proper due to John Buck, Lucas Duda, and Marlon Byrd. All three hit home runs before the ninth inning. Buck keeps his hot start to the season alive with a two run home run. Lucas Duda's home run came in the next inning and proved that he can stop being so damn streaky and hit a home run every once...
MLB News

Delivered to your inbox

You'll also receive Yardbarker's daily Top 10, featuring the best sports stories from around the web. Customize your newsletter to get articles on your favorite sports and teams. And the best part? It's free!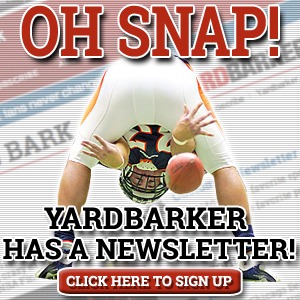 Latest Rumors
The Backyard

Today's Best Stuff

For Bloggers

Join the Yardbarker Network for more promotion, traffic, and money.

Company Info

Help

What is Yardbarker?

Yardbarker is the largest network of sports blogs and pro athlete blogs on the web. This site is the hub of the Yardbarker Network, where our editors and algorithms curate the best sports content from our network and beyond.